2009 European Brass Band Championships - The composers and their test pieces
27-Apr-2009
4BR has a look at the two men who have written the pieces for this year's championships: Jan Van der Roost and Bert Appermont
---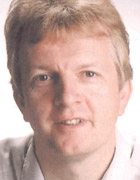 Jan Van der Roost
Jan Van der Roost was born in the town of Duffel in Belgium in 1956 and was introduced at a very early age to the prominent names and performers of both brass and wind through his family, who were associated with high quality amateur music making. Thus he was encouraged to write and compose form an early age.
He became a student at the Lemmens Institute where he received a varied high-class musical education that led to the award of a triple Music Education Laurete Diploma for trombone, music history and music education.. In 1979 he continued his studies at the Royal Conservatoire of Ghent and Antwerp where he received a further Diploma in composition.
He is currently teaching and lecturing at Lemmens Institute and conducts the colleges Wind Ensemble and Wind Band. In 1999 he became Guest Professor at the Shobi Institute of Music in Tokyo.
He is in demand not only as a composer but also as an adjudicator and conductor and his highly versatile skills as a composer have brought international recognition through performances of his works both on radio, television as well as through live recitals and CD recordings. He has composed extensively for brass, wind, choir, piano, guitar, string orchestra, solo instruments and symphony orchestra.
Many of his current works include the three part trilogy, "Stonehenge", "Arsenal" and "Albion" as well as "Flashlight", "Canterbury Choral", "Tocatta Festiva", "Slavia", "Limelight Fanfare", "Prima Luce" and "Minerva".
He has adjudicated at the National Finals of Great Britain in 2002 and at the European Brass Band Championships in 2003, 2005 and 2008.

From Ancient Times
'From Ancient Times' is a large composition for brass band. The main source of inspiration is the music of the Flemish polyphonists.
There are no literal quotes, but the composer used composition techniques from those times, which formed the basis of the further development of the Western music.

This way the 'golden age' in which composers of the Low Countries were found in the most important arts centres all across Europe, are honoured. Some names: Orlandus Lassus, Josquin Desprez, Adriaan Willaert, Johannes Ockeghem, Jacob Obrecht, Heinrich Isaac, Guilaume Dufay, Philippus de Monte, ...
The geographical borders were not what they are today, but all these composers were counted into the important 'Flemish School'. The Flemish County was also known for its painters (Rubens, Van Dijck, Breughel, Van Eyck,…), its tapestry and its book printing, a privilege which has lost over times, due to many wars.
The piece also goes back to earlier music: references to Gregorian chant in the beginning, an estampie inspired by the Middle-Ages… This composition gets its inspiration 'from ancient times', but uses composition techniques from our present times.
A few 'winks' are made: the ostinato in the basses (Estampie) is based on the notes 'EBBA' and the first chord of the estampie-theme is a pile-up of fourths, based on the notes of 'VLAMO' (this is the organising organisation who commissioned this composition).

The fact that all this happens in a brass band setting has a second dimension: Adolphe Sax is often mistakenly called a Frenchman, while he was born in the Belgian Dinant and lived there for a long time.
Apart from the saxophone he also developed the 'saxhorn-family': more than a third of the authentic brass band consists of instruments of this family! So while the brass band is assigned most of the time with Anglo-Saxon roots, it actually is also a phenomenon from the 'low countries'!
So this way old data from several times are connected to a unique mix. 'From Ancient Times' is (after three previous works for brass band) an important composition in my oeuvre: in a modest way I tried to honour some of my musical forefathers!
---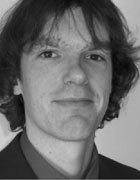 Bert Appermont
Teacher, conductor, composer and arranger Bert Appermont studied counterpoint, fugue, orchestra and the conducting of HaFaBra (wind band, fanfare and brass band music) under Edmond Saveniers and Jan van der Roost at the Lemmens Institute in Leuven, where he completed his studies with a double masters in musical education and HaFaBra conducting (1998).
He then obtained his Masters in "Music Design for Film & Television" from the "Bournemouth Media School" in England, where he devoted his attention to film and television scoring.
Recently, he perfected his composition techniques with the Dutch composer Daan Manneke.
As a musical educator, he has worked in several schools and organisations: he spent 4 years teaching at the Grammar and Music schools in Hasselt. He has also spent 7 years as composer, arranger and live musician for the children's musical theatre, Wiebe. He is currently teaching at the Katholieke Hogeschool Limburg and is also working as a guest professor for different organisations and training courses.
Inspired by Jan Cober, he has continued to flourish as a guest conductor of his own compositions. He is also a regular guest at clinics and workshops in Belgium and abroad.
As a composer he has written not only two musicals but also some 40 pieces for choir, chamber ensemble, wind orchestra and symphony orchestra. In addition to this vast repertoire, he has written a number of pop songs, music for youth theatre, musical packages with an educational character, and music for children – a medium with which he is very familiar.
He is known for his virtuoso instrumentation technique and for composing magnificent themes. Many of his works are based on legends, myths or historical themes, and this gives his music a particular élan.
In June 2007, his composition "Fantasia per la Vita e la Morte" has won the first prize in the prestigious composition contest of Torrevieja, Spain. His works have been performed in over 20 countries, and nearly all of his compositions have been recorded on CD by renowned orchestras and ensembles.

Cathedrals
Cathedrals have always appealed to the imagination. Hundreds of years of manpower have been invested in their building and it is not for nothing that today they represent imposing symbols of architecture and history.
The cathedral is also a great source of inspiration for compositions; drawing on a full palette of acoustic echo effects, Gregorian melodies and organ based choral themes.
The work Cathedrals opens with a five-tone motif using double tonguing, which resonates, through space. Then comes a Gregorian antiphonal theme "Salve Regina" which is heard in the euphonium and later combines with the opening motif.
The quicker passage that follows is based entirely on the intervals in the motif, which by now has added rhythmic variations and develops in different forms, including a fugue. The work then builds towards its first climax, from which unusual muted sounds emerge creating an atmosphere shrouded in mystery.
Gradually, more melodious fragments are added to the Gregorian antiphonal theme which develops into an expansive choral, emulating the organ and which rises above the sound mass.
The work grows more powerful and brilliant in sound until it culminates in a short and explosive finale wherein elements from the whole work come together.