2009 European Brass Band Championships - Test Piece review
27-Apr-2009
4BR looks at 'From Ancient Times' - Jan Van der Roost's intriguing take on the Flemish rennaisance...
---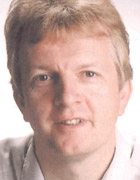 This really is an intriguing and highly enjoyable work for brass.
Indiana Jones

On the face of it, Jan van Der Roost is a musical archaeologist, a man with more than just a passing interest in the dusty archives of history. In fact, he seems to revel in the past, although unlike Indiana Jones or Howard Carter, he is no grave robber.
Inspiration comes from myth, legend and antiquity – from his Arthurian trilogy that included the works, 'Avalon', 'Stonehenge' and 'Albion' to his latest sweeping, historical epic, 'From Ancient Times'. His major works are invariably lyrical, at times darkly hued in timbre and outlook, but full of detail, rich textures and a mordantly black wit.
Virtuosity

He asks a great deal of performers and conductors alike - inviting interpretation and understanding from MDs and soloists in particular, but born with a respect to their musicality. Technically he works take some playing, but they are constructed with a degree of expertise and understanding of limits and possibilities; virtuosity not bland mechanical brilliance finds its reward in performances of his works.
Inspired

'From Ancient Times' is inspired by the Franco-Flemish School of the Renaissance – from the great artists such as Rubens, Van Dijck, Breughel and Van Eyck, to the composers, many of whom have possibly been forgotten in the passing of time.
Men such as Desprez, Lassus, Willaert, Ockeghem, Obrecht, Isaac, Dufay and de Monte, may well sound like members of the 1982 Belgium World Cup squad, but are in fact the great names of the 'golden age' of Low Country composition, who Van der Roost believes are the originators of Western music.
Ciphers

These are the men who inspire the work to be used as the European test piece this year – the men whose ciphers, (although there are no direct references – Van der Roost describes them as 'winks') permeate from start to finish.
A more liberal feeling of historical context is also apparent in the 'homage' (as the composers states) to such figures as Adolfe Sax and the Gregorian reminiscences that bring a distinct touch of the medieval to the opening sections of the composition.
No artifice

There is however no artifice to the end product.
The composer's rich stream of musical thinking develops the oblique opening monastic statements with a very modern twist. Those who have heard 'Albion' will be aware of his technique of 'intertwining' various individual musical lines in a form of dislocated canon, an effect that starts early in the work with the muted euphonium and baritone, who are to be stationed 'back stage'.
Subtle

The subsequent musical development includes subtle changes in style complimented by less subtle interjections (especially from the trombones, who have a great deal of work to do from start to finish). Their robust entries seem almost comedic at first, but as the work progresses they provide a foundation of nobility that becomes ever more striking.
The composer's dark wit is borne with almost Dorothy Parker like sharpness: a medieval dance called an Estampie, with it play on the acronym's of EBBA and VLAMO (Flemish Amateur Music Organisation) is brought to life with a twist of the intellectual mind that only those who can do the Times Crossword in 10 minutes find side splitting, whilst the rest of us find difficult to work out.
Distinct

Although played in one continuous movement, there are very distinct sections to 'From Ancient Times' that are clearly indicated not just in the score.
For those with a desire to see players tested to the full (and perhaps beyond), the series of senza misura cadenzas will provide the most obvious focal point.
Fearsome

Underpinned by a soft free flowing percussion foundation (who have a great deal to do throughout), the flugel starts a series of complex showpiece offerings that at times are played singularly, at others in tandem with compatriots. Each requires a very high degree of virtuosity (again – not just mechanical brilliance – expression is deliberately called for), with fearsome contributions from the baritone and solo horn in particular.
If overcome with aplomb a conductor and his band can perhaps seal their performance in the lovely following section – a homage to Adolphe Sax, that has an almost ethereal beauty.
High speed

This develops from its simplistic opening source almost as quickly as Sax developed his range of brass instruments. Soon we are entering high speed technical work that encompasses huge variances in technique before a return to a majestic noble finish ('like an organ' states the composer) and an almost Sparke like romp to the end, topped by a soprano screaming out a top D (with pause)!
It also rounds off a hugely enjoyable original work that extends the composer's obvious desire for archaeological exploration with a very individual interpretation of his findings.
Let's hope he continues to keep digging…
Iwan Fox

To buy a study score of the test piece - go to:

http://www.4barsrest.com/shopping/books_detail.asp?id=1464