2009 European Brass Band Championships - Championship Section - preview and predictions
27-Apr-2009
11 top class bands will take to the stage at the Kursaal on Friday and Saturday all hoping to become the 2009 Champion Band of Europe.
---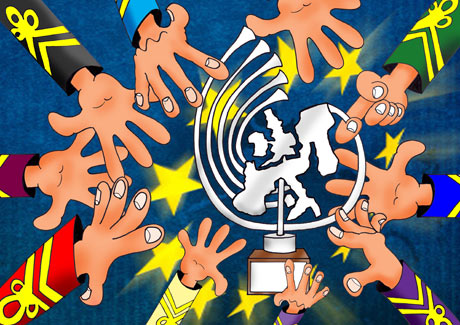 The last time the Europeans were held in Belgium in 2002, one band came and took away the title with a display of almost arrogant ease. What David King and Yorkshire Building Society did seven years ago, Cory and Robert Childs could very well do this time around.
Proving greatness

After 28 years of waiting, Cory finally regained the European title last year in Stavanger by the narrowest of margins, the sense of relief of a conquest achieved almost palpable in the celebrations that followed long into the Norwegian night. Now they must prove their greatness as a band by retaining it.
It will be hard for the 2009 Welsh champion to repeat the type of stunning victory YBS inflicted on their rivals in Brussels in 2002, but form and circumstance seem to be in their favour.
Bit of a roll

Cory are on a bit of a roll – winners of their last two contesting outings (Brass in Concert late last year and the Welsh Regional in March) and driven by a sense of history – 2009 is their 125th anniversary. They will want to make the season one to remember.
Around them, rivals appear to be in a state of flux.
Trials and tribulations

Grimethorpe's recent trials and tribulations have been well documented, Eikanger is still rebuilding despite their recent Norwegian National win. Oberosterreich returns with a reputation to rebuild after the tantrum they threw after Stavanger.
Tredegar has yet to hit top form this season, Whitburn failed to qualify for London a few weeks back and Brass Band Aeolus lost their French National title to Brass Band Nord-Pas-de-Calais. The Danes of Lyngby –Taarbaek were pushed all the way in retaining their National crown and the victories of Rijnmomd and Festival Brass in Holland and Belgium were seen as surprises.
Only the Swiss of Treize Etoile, who return to the European contest for the first time since 2007, can claim any real sustained form, after they claimed the National and Open titles in their home country last year.
Cory's title?

It appears to be Cory's title then.
If only it were that simple. Cory will know that they cannot take anything for granted.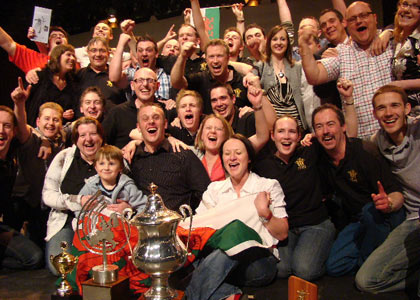 Will Cory be celebrating again in Ostend?

Impose

Grimethorpe didn't play well in Stavanger last year and still came within a semi quaver of taking the title for the first time. Players may well have come and gone, but with the failure to qualify for London they will be determined to impose themselves once again.
They were thrillingly loose and wayward at Bradford at times, but when they did come together (despite it being too late on the day) they still sounded a class apart. If they have found consistency, then look out.
Thrill a minute

Eikanger meanwhile were also thrill a minute in Bergen in February - a band sounding as if they were fast approaching a peak of performing brilliance, although still with a few rough edges and well camouflaged weaknesses. It was though, rich in almost limitless potential.
As is their want they have taken a left field musical decision to go with a brass band contesting debutant at the helm in Bjarte Engeset, but it may well prove to be an inspired one.
Sackcloth and ashes

Oberosterreich returns wearing a uniform of sackcloth and ashes. A rather unwise venting of the spleen after their understandably disappointing 10th place last year may well see them hold their tongues more readily this time around come the results, but there was little doubt that they were more than unfortunate to come where they did.
On their day they are simply irresistible, but they will also know that even the cleverest own choice performance may not be enough to ensure victory – the more all round demands of the set work need to be overcome too. If they can do that then their showcase playing may well take them very close to victory.
Celtic duo

The Celtic duo of Tredegar and Whitburn are outside bets for the title itself, but may well fancy their chances of posting a strong top six finish.
The 2008 Welsh champion hasn't hit top form so far this season, but has continued to impress under the baton of Ian Porthouse. They pushed Cory all the way at the Welsh Regional contest a few weeks back and a repeat of that form on the weekend should see them more than hold their own.
Whitburn meanwhile will be looking to return to form after a disappointing end to the 2008 season and a disastrous start to this one.
On their day they are a classy outfit (as was shown at Brass in Concert – although the result was a bit of a travesty), but they were below par at the Scottish Open and failed to make it to London at the Scottish Championships a few weeks ago. Russell Gray takes to the helm in what could be a defining moment in their 2009 season.

Strongest challenge?

In terms of current form, the strongest challenge to Cory's hopes of a successful defence may well come from the Swiss of Treize Etoile. Led this year by a revitalised James Gourlay, they have reclaimed their position as champions of the Cantons with victories in both domestic majors in 2008.
The talent is certainly there, and with a little bit of extra focus they could be a band to watch out for.
New kids

There will be plenty of interest of course in Festival Brass, the new kids on the Belgian banding block, who thrillingly grasped the National title from Willebroek and others late last year. That sent a seismic shock wave through domestic banding in the country (and perhaps that wasn't a bad thing) but it would one heck of a story if they can emulate their famous rivals and regain the title for Belgium on home soil.

Outsiders for certain, but a band to be feared nonetheless.

Solid

The perennial Danish champions, Lyngby-Taarbaek are a solid outfit, perhaps lacking the necessary cutting edge to take victory, but as they showed last year they are more than capable of battling it out for the minor top six places.
So too Brass Band Rijnmond and Brass Band Aeolus, both of whom have shown in recent appearances across the English Channel that they can mix it in high class company.
Whether that will be enough to break into the top six is another matter, but neither should be discounted.
Shock

It all points before a note is blown, to Cory being in pole position to retain a title that took 28 years to regain in the first place. Nothing is certain though, and it would be a real shock if the title went back to Wales with the type of six point winning margin YBS inflicted upon their rivals in 2002.
Just a single point will be enough for their supporters.
4BR Prediction:
1. Cory
2. Eikanger Bjorsvik
3. Grimethorpe
4. Treize Etoile
5. Oberosterreich
6. Brass Band Rijnmond
Dark Horse: Whitburn