2009 New Zealand Championships - Postcard from Napier
19-Apr-2009
The Art Deco centre of New Zealand - Napier.
---
Napier and its Deco Bay Brass organising committee found it difficult to put a foot wrong over the 5 days of the 2009 New Zealand Championships.
Quaint
The quaintness and size of Napier proved to one of the most suitable backdrops you could ever hope for. The city is scenic, the weather was perfect, and the atmosphere was intimate and friendly.
For some bands, Napiers distance from a major city centre cost extra $ in terms of transport, this was compensated by the cost of accommodation being less than what a major city may have been.
Napier is a lovely city. It was effectively flattened in the 1931 earthquake but has been rebuilt as an Art Deco city, clearly influenced by the art of that time.
The weather was mild with sunny days.
Special
Todd Donaldson, Chairman of the organising committee Deco Bay Brass couldn't do enough to make our time special. His team were obviously switched on and extremely well organised.
Accolades also to BBANZ General Manager, David Dobson - his stage presentation as compere throughout the festival was professional and first class.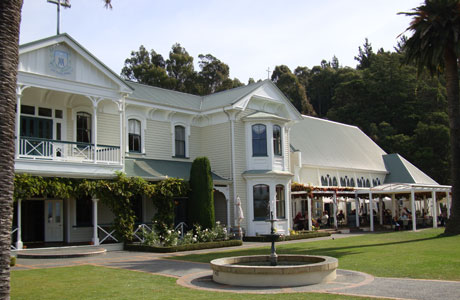 Mission Estate Winery
Wine
The original chapel at the Mission Estate Winery as the venue for the Invitational Slow Melody was superb. Not only was the accoustic perfect for the occasion, the full bar service including the finest wines from the local Hawkes Bay region helped to relax those fortunate to attend, and also celebrate the opening of the contest.
Venue
The main venue for bands, The Municipal Theatre, provided a very true accoustic, was central to the city and its infrastructure, and within walking distance for many of the bands.
Sponsor
Often, smaller centres are able to attract greater support from community business than larger cities. This was the case in Napier where local businessman, Rodney Green donated $25,000.
Party
The post-contest function was held at the Bluewater Hotel - owned by the Principal Sponsor Rodney Green.
Unfortunately, the A Grade Own Choice ran quite later than expected (mainly due the large interchange time taken by bands to set up percussion) which meant it was well after 10pm before over 200 people were able to consider whether or not to attend the function.
Hungry, thirsty and tired, the option to find transport and trek out to the function became an impratical option. Sadly, this socially separted the contesting community.
Adjudicators
The world class skills of Adjudicator Professor David King, what he offered competitors at the end of events, his written or recorded comments were hugely appreciated. What a shame there was not more thought given to choosing highly skilled adjudicators for all of the events.
Promote
Pre-contest information was extremely hard to come by. It is extremely perplexing as to why the NZ Executive seem to want to secretly guard information that could be used to promote its bands for the greater good.
Return
Napier and Deco Bay Brass - congratulations - we'll be back.