Band under the spotlight - The Cory Band
9-Dec-2008
4BR puts the number 1 ranked band in the world under the spotlight to find out a bit more about them, their aims and objectives for the next twelve months.
---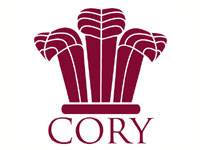 Band: Cory Band
Website: http://www.coryband.com
Region: Wales
Major Honours:
Champion Band of Europe: 1980, 2008
British Open Champion: 2000, 2002, 2007
National Champion: 1974, 1982, 1983, 1984, 2000
Champion Band of Wales: 15 times
Welsh Regional Champion: 26 times
Brass in Concert Winner: 2008
Granada Band of Year Winner: 1971
BBC Band of the Year: 1971
BBC Wales Band of the Year: 1979,1980, 1982
Grand Shield Winners: 1994
Mineworkers Champion: 1970, 1971, 1972
Yeovil Entertainment Winners: 1978,1979, 1980, 1997
Pontins Champions: 1978, 1979
---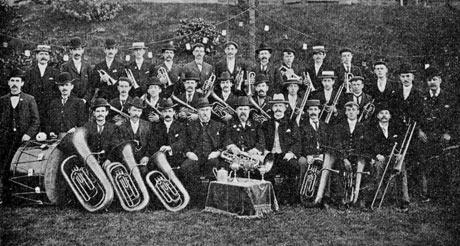 Winning cups way back then: The Cory Band 1901

Band History:

Formed in 1884, Cory hail from the Rhondda Valley in South Wales and was originally called the Ton Temperance Band. In 1895 Sir Clifford Cory, offered to provide financial assistance, resulting in the band's change of name to Cory.
Since that time, the name, despite some identity changes, and the loss of its original financial support, has remained synonymous with the band.
In 1920 the band gained championship status and in 1923 performed what is believed to have been the first brass band radio broadcast. In 1976 the band toured the USA as part of the bicentennial celebrations on behalf of the British brass band movement.
Over the years major contesting success has been a staple of the bands reputation. Multiple victories have come at the Welsh Regional Championship and Champion Band of Wales series, culminating in 1979 when they became the first band ever to take the title by winning all six qualifying contests.
Away from the Principality the band became one of the most consistent contesting outfits in the UK, especially during the period under the musical direction of the legendary Arthur Kenney.
Victories at the Mineworkers Championships and Granada Band of the Year in the early 1970s were followed by the historic success in becoming Champion Band of Great Britain in 1974.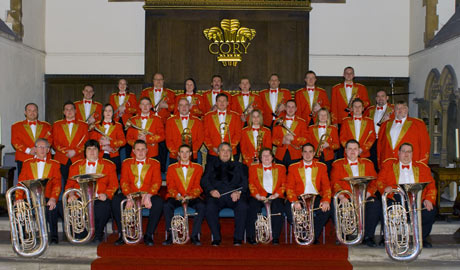 The colour of success: Cory 2008

This purple patch of dominance continued, with the band claiming its first European crown in 1980 under Denzil Stephens and then a hat trick of National title wins under Arthur Kenney in 1982/3/4. There were also other notable successes during this period at Pontins and Yeovil contests, although success at the British Open eluded them.
During the late 1980s and for much of the 1990s the band was only sporadic contenders at the major contests, losing their British Open status in the process. This was regained in 1994, and with the financial support of the Just Rentals Company in 1998, there was a further renaissance in the bands top flight fortunes.
The appointment of Robert Childs in 2000 heralded an unprecedented impact, with the band winning the 'Double' of British Open and National Championship titles within six months of his appointment. Further British Open success came in 2002 and 2007.
In 2001, the band was appointed as resident ensemble to the Royal Welsh College of Music and Drama, whilst an innovative recording and commissioning policy, financed with its sponsors active support saw the band work with many of Britain's leading composers.
Since 2007 the band has reverted back to its most famous name as direct financial support from the Buy As You View Company ended. Fittingly, it was under the Cory name that in 2007 the band won the British Open for the third time, and in 2008 regained the European crown after a 28 year wait and won its first Brass in Concert title.
---
Statistics:

Current 4BR Ranking: 1

2007 Contesting Record:
Welsh Regional – Winners
European Championship – 3rd
British Open – Winners
National Finals – 3rd

2007 Prize Money won: £6,240


2008 Contesting Record:
Welsh Regional – 3rd
European Championship – Winners
British Open – 3rd
National Finals – 3rd
Brass in Concert - Winners

2008 Prize Money won: £14,597
---
4BR Seven Year Ranking Progress: (World of Brass/4BR Ranking to December 2008)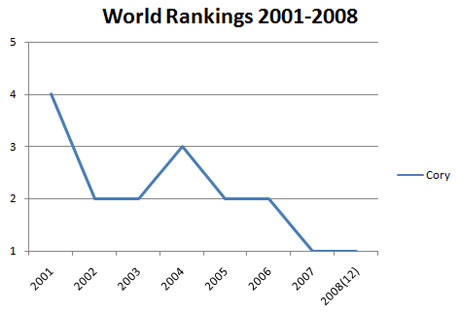 When the 4BR rankings first started Cory had benefitted from the double major triumph from the year before and were riding high at 4th in the rankings.
From then on the bands consistency has seen them ranked as high as 2 in the following years, down to 3 in 2004, back to 2 and finally to number 1 at the end of 2007.
In 2008, their wins at the European and crucially Brass in Concert gave them the prestigious number 1 ranking for a second consecutive year.
---
Personnel: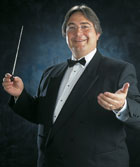 Professional Conductor: Dr Robert Childs
Born and bred in Tredegar, Robert Childs an Associate of the Royal College of Music, a Fellow of the London College of Music, and gained a distinction in a Master's Degree from the University of Leeds.
Robert has conducted and performed all over the banding world. He was principal euphonium and Bandmaster of Black Dyke Band for ten years, winning the European, British Open and National Championships. In his capacity as Bandmaster he conducted concert performances with Susanna Walton, Lesley Garret, Philip Smith, James Watson and The Beautiful South.
In May 2000 Robert accepted the invitation to become Music Director of the Buy As You View Cory Band.
Robert steered Cory to the British Open and the National Championships of Great Britain in 2000 and were runner up in the European Championships the following year.
He has also developed the Cory Band's musical horizons. They are 'Band in Residence' at the Welsh College of Music and Drama, where Robert is Director of Band Studies and has appointed Dr John Pickard and latterly Gareth Wood, as the Band's 'Composer in Residence'.

Current Players:
Principal Cornet: Ian Wiliams
Solo Cornets: Christopher Turner, Darren Thomas, Seamus Gallagher
Soprano: Vacant
Repiano: Richard Davies
2nd Cornets: Lisa Childs, Philip Harris
3rd Cornets: Neil Blockley, Travis Griffiths
Flugel: Joanne Childs
Solo Horn: Owen Farr
1st Horn: Michael Franey
2nd Horn: Lucy Griffiths
Euphoniums: David Childs, Matthew Jenkins
Baritones: Susan Thomas, Christopher Straker
Trombones: Chris Thomas, Johanna Hirst, Andrew Williams
Eb Basses: Steve Sykes, Oliver Browne
Bb Basses: Fraser Bish, John Prosser
Percussion: Alun Horgan, Gavin Pritchard, David Mitchell, David Danford, Simon Brittlebank, Adam Davies
---
2009 Aims and objectives:
Contesting front: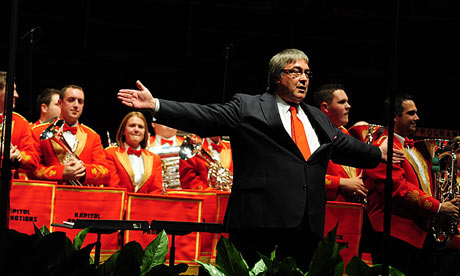 How big? One that got away in 2008 - Cory and MD take the London applause
Picture: Ian Clowes

Bob Childs told 4BR: "In all my time with Cory things have never been better. We are ranked no 1 in the World, we have had two podium finishes at the Open and the Nationals, we won Brass in Concert (the first Welsh band to win since the contest began in 1978) and are current European Champions.

We hope to do even better next year by regaining the Welsh Regional Championships, and possibly attending both the World Championships in Kerkrade and the US Open Championships in St Charles, IL USA.

I often have to pinch myself when I'm conducting the Band because the talent around the stand is unbelievable. Provided my players continue to dedicate themselves to the band I don't see any reason why we can't keep developing from strength to strength.

My Dad once told me that a band can't stand still, he said a band is either going forward or backwards! I'd like to think that at Corys we are constantly pushing forward.

Hopefully 2009 will see us reach new higher levels of performance in the contest field. If we can achieve this I'm sure the rehearsals will be great fun."


Non contesting front: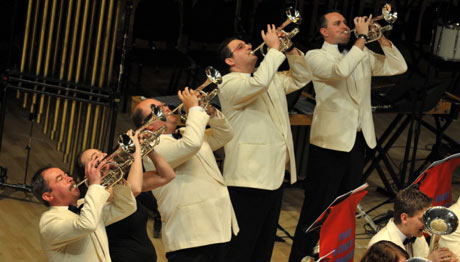 Aiming high: Cory strut their stuff at Brass in Concert
Picture: Ian Clowes

Bob Childs told 4BR that 2009 is a special year for us because we will be celebrating our 125th Anniversary.
"We plan to publish a book documenting our history from 1884 to the present day and are also looking at building a new bandroom in the Rhondda that will embrace the community too.
We have firm plans in place to present a 125th Anniversay Concert in St David's Hall on June 20th featuring American trombonist Wycliffe Gordon and the Morriston Orpheus Choir. The concert is being billed as 'Brass and Voices and all that Jazz' and we are hoping that a live DVD and CD will produced from the concert.
Later in the year we are organising a Cory Band Reunion Concert where we hope as many past members will join us for a massed blow in the Brangwyn Hall Swansea.
In addition to these Anniversary Celebrations we will be playing regular concerts and producing at least two new CDs. We closed 2009 bookings in August 2008 and already have dates in our diaries for 2010."
---
4BR Predictions:
It may seem difficult to wonder what Cory can do next to improve on their recent contesting record, but with 2009 seeing their 125th anniversary, you can be sure they will want to end the year with more major honours to their name.
The most immediate target will be the Welsh Regional contest, which they will hope to regain from rivals Tredegar, but they will not take anything for granted.
A win there will see some of the pressure taken off them at the European at Ostend, and looking at the line up there next year, they will have to be on top form if they are to retain their title, although they should be favourites to do just that.
With no Masters appearance to worry about the next objectives will surely be the trio of major contests at the end of the season – the British Open, Nationals and Brass in Concert.
They will of course want to win all three, but the one that may mean the most will be the Nationals, which has eluded the band since 2000.
With a vast array of talented performers and a desire to remain as the Number 1 band in the world during their 125th year, there could be the possibility of something special in 2009 if they are not weighed down by the full diary of celebratory concerts and events they have on offer.
You will be able to get pretty short odds on Cory picking up at least one major title next year, and it would be well worth a few pounds or two at the bookies to bet on at last two major titles returning back to the Principality once more.