Dinner Guests - Bramwell Tovey's ultimate brass band dinner guest list
7-Dec-2008
Bramwell Tovey tells us who he would like to invite to come to dinner...dead or alive (and with a few gatecrashers too).
---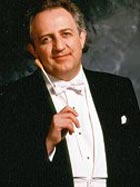 Given the opportunity, the wish list, the ability to mess about with the Space-Time Continuam like Doctor Who, and the skill to cook like Heston Blumenthal, who would you like to invite around to your place to enjoy a meal and chin wag with?

4BR started it all off a few days before Christmas 2007 with our 10 dinner guests, so we thought we had better ask a few more brass band personalities who would be on their all time dinner list too...
This time it's Bramwell Tovey, conductor, composer, performer extraordinaire...

We've been fairly generous with our criteria too: The 10 people can come from any time in history, but must have some link, in however tenuous a form, to the brass band movement.
The budget for the meal and drinks comes out of their own pockets though (unfortunate in Mr Tovey's case as you may see...)

Indulgence

Bram Tovery told 4BR: "I felt very honoured a little while ago to be invited to 'dinner' by Alan Jenkins. Alan and I had a wonderful lunch together with Bob Mulholland and I hope we'll have real dinner plans soon. I know he'll forgive me if I reciprocate in reality, rather than in this format with 4BR.
Similarly, I ask the same indulgence of all my predecessors as music director at the National Youth Brass Band of Great Britain: Elgar Howarth, Geoffrey Brand, Roy Newsome and Arthur Butterworth.
They are still very much with us and I'm fortunate to see and sup with them fairly often. I thought about inviting Wilfred Heaton, who I once visited at his home in Harrogate, but he is known to be reclusive and has been invited several times already – the same with Eric Ball, who I met only once, just before his death.
Anyway, I'd prefer a one-on-one lunch with each of them. That should prove no harder to arrange than this dinner.

Frankly, I'm rather annoyed that the dinner has to be limited to ten people as a small banquet would have been perfectly easy to organize. Nonetheless, 4BR know that the best dinner parties get gate-crashed, so I've decided to anticipate that.

Family home

The dinner is being held at our family home in Vancouver. The guests will stay overnight and have breakfast together before they set off for home…wherever that maybe. That way we can talk about matters that arose the night before.
My mother, Joan and her husband, Albert will already be at the house, as will my sisters, Jane and Elisabeth, and for reasons that will become apparent, my cousin, Derby Citadel Songster Leader Ian Hammond and his wife Ceri will also be invited to stay.
Nurse

My cousin Andrea Molland is a nurse and as some of the guests may need medical attention (for some it will be too late for that) she will also be there.

Entertainment

As life-long brass band fanatics they can all enjoy the night as fellow hosts. The 1988 Rigid Containers Band under John Berryman will play the pre-concert entertainment.
The current Fodens Band will play the post-dinner concert under Gary Cutt, with soloists Philip Smith and Maurice Murphy on cornet and Joe Alessi and Dudley Bright on trombone.
John Maines will compere and Philip Biggs will organize it all. The 1952 ISB under Bernard Adams will hold an old-fashioned open-air outside the house the following morning.

As for the dinner itself, Bob and Lorraine Childs will welcome the guests as they arrive."
---
1. Bernard Tovey

My first guest is a no-brainer, in fact, he's the guest of honour. My father passed away 40 years ago on December 5th 1968, aged 48.
He was a terrific euphonium player, playing in the famous SA Wood Green Band before the war, in the ISB for a short period at the beginning of the '50s, and in Ilford and Romford Citadel Bands until his early death. He left school at 15 to join the British Empire Boy's Band on an international tour but Bow Street Magistrates intervened and the trip was cancelled, so Dad went to work in a jeweller's shop.
By October 1939 he was in Belgium with the Black Watch, but as one of life's classic introverts he never realized his true worth after the war. His legacy to me was a love of the brass band idiom and an insistence that I was completely grounded in music theory.
He never saw me conduct so I'll be able to give him a few DVDs to take back with him.


2. John Fletcher
John was a close friend and mentor who taught me at the Royal Academy of Music. Luckily, we had dinner together many times. I was conducting the LSO the day he was taken ill.
His early death robbed the musical world of a man of great insight and extraordinary musical intelligence. His playing of the Bach cello suites on the tuba was admired by many string players and made no compromises for phrasing or expression.
The player who most reminds me of John today is Les Neish.


3. Leslie Condon

As a composer Leslie Condon is enjoying quite a revival. The NYBBGB members have loved playing his March Celebration and his tone poem Call of the Righteous, both classics of the SA repertoire.
I met Condon a couple of times when I was a teenager and greatly admired his musicianship and tuba playing. A polite and shy man.
I wonder if the composer of Celestial Morn has met John Fletcher before?


4. Cyril Manning

Cyril was Bandmaster of the Southend Citadel Band for many years, and a G trombone player in the SA Assurance Band.
My mother married Cyril in 1971 and they enjoyed many happy years until his death in 1992. I dedicated Coventry Variations to Cyril. He was very supportive of my early career, always attending my concerts and recording broadcasts for me off the radio.
He had a tough war, was left behind at Dunkirk in 1940 but managing to escape home before returning on D-day morning, June 6th 1944 to Arromanches in Normandy. Cyril also conducted the Southend FC Supporters Band and gave me my first opportunities to conduct a brass band.
Another introvert who was a complete gentleman.


5. Dr Denis Wright

I got to know Dr Wright's widow, Maud in her role as treasurer of the National Youth Brass Band of Great Britain which Denis had founded. Everyone loved Maud.
I'd like to chat with Denis about the early days of the NYBBGB and his love of the movement as possibly the first person involved with brass bands who had an academic doctorate.
My father attended evening classes where Dr Wright taught the elements of conducting. At the NYBBGB we've launched a conducting scholarship in memory of Denis and Maud.
The first recipient is Simon Dobson. Denis should bring Maud – here's hoping 4BR won't mind the first official gate-crasher, something Maud would never have done in real life.


6. Herbert Barker

My maternal grandfather played horn in the ISB between the wars and was the band's vocal soloist.
I have a magnificent recording that he made in 1960, just before his death, singing the Edwardian ballad The Trumpeter. These days he would have been a professional singer but he was an SA officer, entering training in 1910. He served in the navy in the 1914-1918 war.
After the 1939-45 war, during which he was an officer in the Pay Corps, he was asked to become the corps officer at Regent Hall but he had grown increasingly disillusioned with the SA since the 1929 High Council controversy, which is now only a footnote in SA history.
I'd love to find out a bit more about him since he died when I was only 7 years old.


7. Kevin Sherwood

Kevin was my uncle and played flugel horn in the Regent Hall Band for many years before moving to Derby to marry Jean Hammond, widow of Will Hammond, composer of the SA classic In The Love of Jesus.
Jean's son, Ian Hammond is the superb Songster Leader of Derby SA corps. Jean had a wonderful soprano voice and travelled all over the country singing at the SA's leading musical events. It's sometimes difficult to accept that Kevin and Jean are no longer with us. They were eternally youthful.
Kevin also landed in Normandy on D-day, on Omaha Beach with an RAF radar unit seconded to the Americans. He will bring Jean, of course, making it a table of twelve – we can actually manage a couple more if necessary.
By now, I hope 4BR will have given up complaining of too many guests. In which case I hope Jean can persuade Will Hammond to join us.


7. Howard Snell

So far all my guests have been dead (not usually the best way to make a party hop).
Although I worked as a freelance tuba player in the LSO when Howard was Chairman and principal trumpet of the orchestra, we have never been more than casual acquaintances. Back then, I was too in awe of his achievements to broach conversation and he must have thought I was gauche and spotty, which I was.
Anyway, I've admired his musicianship for many years and would love to get to know him a little better.
His reconstruction of Heaton's 'Variations' was simply magnificent and his contribution to the brass band movement has been unique.


8. Philip McCann

I got to know Philip a little this summer when he was a cornet tutor on the NYBBGB course.
He is a gentleman of the old school whose legendary stewardship of the top chair at Black Dyke Band is now part of brass band history.
Philip enjoys his solitude and it's difficult to persuade him to come for a drink, let alone lunch, but I hope he'd waive his reluctance on this occasion. His sound is uniquely personal, a sign of true greatness, and his style completely captivating.


9. Trevor Groom

Trevor could well be the greatest bandsman of his generation. He is certainly one of the finest euphonium players I ever heard.
He never displayed anything less than total, selfless dedication to the GUS/Rigid Band when I was their professional conductor in the 1980s.
His sound, sensitivity and phrasing were something very special indeed.


10. Ray Tizzard

It astonishes me that Ray is not better known in the UK. He was principal trumpet of the Canadian Opera Company and True North Brass for many years.
He founded the Hannaford Street Silver Band (with Robert Sutherland, now principal librarian at the Metropolitan Opera House in New York) some 25 years ago.
Since then Hannaford have commissioned more brass band music than any other band in the world and continue to present a very popular series of subscription concerts in Toronto. I'd love to see him receive the Iles Medal one day for services to brass bands.


I suppose the lesson of all this is to talk to the older generation before they disappear and enjoy the friendships and inspiration of all those who are still around. How I wish I'd done more of that when I was younger….
---
Previous dinner guest lists:
Previous guests have included the 4BR selection; Chris Wormald; David Read; Pete Meechan; Alan Jenkins; Derek Broadbent; Philip Harper; Peter Roberts; Frank Renton; James Shepherd; Dr Roy Newsome and Paul Lovatt-Cooper..