2008 Scottish Open Brass Band Championship - Postcard from Perth
3-Dec-2008
Not even Captain Oates would have felt comfortable in Perth on Saturday night - although there was plenty to raise an extra glass to at the Scottish Open once more...
---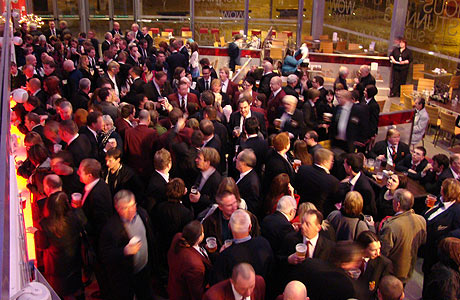 Mines a pint! The usual scene at a brass band contest - debating points at the bar...

There is no better place to get ever so nicely drunk than Scotland – or no worse place in fact.
Sitting in bar chewing the banding cud with friends long into the wee hours of the Perth morning, watching inebriated locals wind their way home in the freezing cold in weather Captain Oates would think a bit too chilly for a stroll, is a great way to pass time before the rigours of a new contesting day.
Communication skills

Perth is a great old city with a great new concert hall. Unfortunately, it also has one of the worse eating establishments 4BR has ever had the misfortune to roll into after a long contesting day – an Indian restaurant staffed by a mix of Polish and Italian students, managed by one delightful Indian lady whose communication skills extended to a wry smile and the ability to bring Cobra beer to our table without asking.
If you thought English was the international language of commerce then think again. We were reduced to the provision of mime to get a Chicken Korma.
That was perhaps the only real disappointing aspect to what was a great weekend of competitive banding in Scotland.
Fantastic fare

We should have stuck to the fantastic fare provided by the brilliant Helen Gray, who once again fed all and sundry single handed with a selection pies, rolls, cakes, tea and coffee that were worthy of a Michelin star.
If you are ever passing the small town of Tranent near Edinburgh then pop into her tearooms near the local Co-op – you will not be disappointed. She is gem.
Talking of which, the contest has also got the best continuity compere in the banding world too – although slightly different in approach to Frank Renton. The voice of Alasdair Hutton is as smooth as a 25 year old single malt. Get him to front the Nationals at London instead of Shiela Tracy without further ado. He could make reading the Mid Lothian telephone directory sound interesting.
Achilles heel

The Scottish Brass Band Association (SBBA) has done a great job in tailoring their contest to fit its needs, but its very success in doing just that may be its Achilles' heel.
Take for example the choice of 'St Magnus' as the test piece.
A great work without a doubt, but for a contest such as this, far too hard for the vast majority of the competing bands.
The result was a host of sub standard performances of a piece that is losing its prestige through damaging assaults on its musical integrity. The sight of MDs scores and player parts hacked to death by cut and paste jobs so that easier versions of complicated time signature bars can be used to try and make them easier to play was as depressing as the end result of their subsequent execution.
Right choices

Given that the contest is also fast becoming a domestic battleground, with a bit of added second and third tier English championship bands thrown in for a bit of cross border flavour, the need to get the choice right for next year is also of increasing importance too.
Suggestions of an old classic such as 'Pageantry' or 'Freedom' were being bandied about on Saturday night as a means of ensuring a higher standard of overall performances, whilst not dumbing down the contest's musical integrity and possibly getting a few extra bums on seats in the process. It would also mean that the turn around of bands onstage could be quicker too – a lot of time at the Scottish Open was wasted by not having a set percussion plan to work to.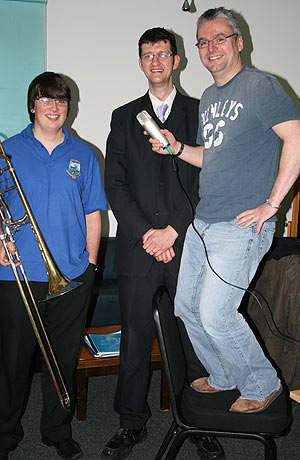 Tall story: 4BR Editor speaks to Cameron Mabon with the help of a well placed chair...

Better bands

The contest also needs a means of getting better bands to make the trip to Perth – and Perth is a bit of a place to get to. £3,000 is a nice first prize, but it needs to be higher if the contest is to attract the type of bands it hoped it would when it was first launched in 2003.
Camborne, Yorkshire Imps, Easington Colliery, Fishburn and Pemberton Old are decent outfits, but they are not exactly high rollers against the likes of the top Scots.
The 1-2-3 this year was as predictable as seeing a Scotsman in a kilt at a wedding party. The contest needs better 'foreign' bands to come here to compete against the best the Scots have to offer, so ideas such as having a joint concert on the Friday night and masterclasses etc for kids on the Sunday with leading players from top bands does have a lot of merit behind it.
Democratic system

The present system is democratic and fair, but it is also in danger of ingraining a never ending hegemony of home grown winners and podium finishers.
In contrast, the domestic battles of the Shield and Cup are well thought out – just 8 bands in each section, and although the standard is variable at present there is a sense that they are vehicles for long term musical development.

What was an absolute delight however was the Scottish Youth Championships on the Sunday, and the approach of SBBA in encouraging bands and players to take part – the result of which was 21 bands taking to the stage.
Novice Section

The Novice Section in particular was a joy to behold. Seven bands, with players knee high to a sporran played simple music for the sheer fun and enjoyment of it. Nothing taxing, no test pieces (in any of the four age related sections) – just a request to play music they enjoy and play it to the best of their ability.
No wonder it was so good – and some of the playing in each of the sections was thrilling stuff, with a batch of tremendous young performers on show.
Interviews

The interviews we did with conductors, players, organisers, sponsors and funders revealed that the Scots are all pulling in the one direction – a far cry from what is happening in England in particular.
With the likes of Lynda Nicholson now coming to work here, the future looks even more prosperous. If only others could swallow some pride and find out how and why the Scots are doing what they are doing so well.

It also rounded off a weekend that has once again shown that the Scots are leading the way in the UK with progressive thinking and implementation. Now that is something to raise another glass to.

Iwan Fox