2008 Scottish Open Brass Band Championship - Scottish Open retrospective
3-Dec-2008
Rumours of their demise have been greatly exaggerated, as Scottish Co-op reclaim the domestic bragging rights north of the border and send a message to the English to go back and think again...
---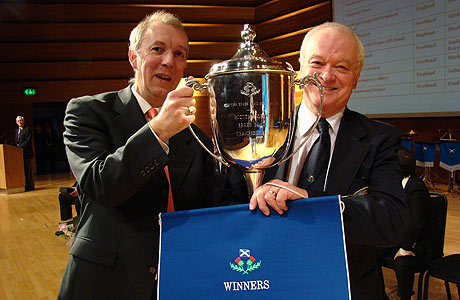 Live and kicking... Scottish Co-op take the trophy and first prize in Perth

A bit like Mark Twain, reports of Scottish Co-op's demise have been greatly exaggerated.
There had been rumours flying around the Scottish banding grapevine all year that the former double National winners were in trouble. No home, no players, no future some were saying. Not now they are not.
Fully deserved

With a secure practice base, a stable line up of players (although they did get a little bit of help from the excellent Jimmy Hayes on principal cornet) and a renewed sense of musical confidence, they regained the Scottish Open title they last won in 2003 with a performance that left no one in any doubt that it was fully deserved.
They did though make it hard for themselves in the final third of the test piece 'St Magnus', where some sloppy ensemble playing at high tempo and an AWOL xylophone momentarily caused concern. However, MD Mike Fowles brought things very quickly under control and then allowed his players the perfect amount of musical leash to enjoy the final romp for home.
High class

This was a high class performance that fully justified the clear two point winning margin from adjudicators Dr Stephen Roberts and Chris Wormald (both of whom did a fine job) and fully deserved to take home the Scottish Open Trophy and the £3,000 first prize.
Controlled and persuasively shaped from the start it benefited from tasteful individual and ensemble contributions in the first two thirds of the piece – and it was that which ultimately provided the foundation of their victory. It was at times very classy playing, confidently directed from the middle.
Scottish Co-op was also the only band to really master Kenneth Downie's test piece – although as we have said, they did have the occasional wobbly moment or two. Elsewhere, even the likes of runner up Kirkintilloch and third placed Whitburn ultimately failed to fully overcome the technical and musical challenges it posed – although both produced brave, if edgy, performances.
Behind them it became progressively obvious that the rest of the field were not up to the mark on a piece that deserves to be reserved for the very highest level of competition and not be allowed to be subjected to the kind of musical mauling it got here from the majority of competitors.
20 over par

At times it was the equivalent of seeing talented amateur golfers trying their best to hack their way around the Masters golf course in America – you couldn't fault them for effort and application, but the final scorecard showed they couldn't make the cut if it came at 20 over par. As at Butlins a couple of yeas ago, a brilliant work is suffering from the effects of its own popularity.
The contest also saw the Scottish bands dominate the podium places for the third year in a row too. This time it was a full house, with Kirkintilloch in second and Whitburn, third – a result that rather confirmed the continuing belief that the contest far from showing the realistic strength of Scottish banding is perhaps illustrating the weakness of the imported English challenge.
If the contest is to really progress in years to come, something must be done to attract stronger bands from south of the border.
Podium places

There was no denying that Kirkintilloch and Whitburn deserved to come where they did, but in general terms both their performances would have struggled considerably at say, the British Open.
Kirkintilloch were pre contest favourites but perhaps the tag weighed heavy on their minds as they produced a performance that was certainly thrilling, but was also as brittle as dry piece of Scottish shortcake.
Allan Ramsay kept the emphasis on vibrancy and colour, but it was the lack of controlled accuracy and subtle detail that undermined their chances of claiming their first Scottish Open crown. It was a performance of maybes and might haves (with some great moments) that needed a touch less adrenaline inspired excitement.
So too Whitburn, who sounded like a band flying by the seat of their kilts with a performance that never quite had enough about it to come to a satisfactory point of substantive control.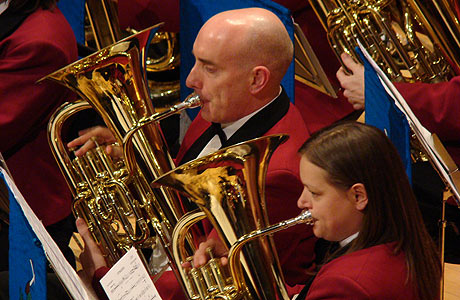 Brilliant Bradley: Whitburn's Evelyn Bradley taes the 4BR Best Instrumentalist Award

It was nearly there though, but not quite, with an edgy sense of excitement that never allowed the music to sound relaxed. Not surprising given their workload of late, it was a performance that was just too undercooked despite the fine efforts of MD Andy Duncan and a quite superb bit of euphonium playing from Evelyn Bradley to secure the 4BR 'Best Instrumentalist' Award. Time, more than anything, defeated Whitburn on the weekend.
Satisfying

Behind the domestic top three came Fishburn, with a much more satisfying performance than the one they gave on this piece to claim the title in 2005.
Allan Morrison may have had a bit of trouble getting himself sorted before a note was blown, but once he was ready he made sure that sense and sensibility reigned. Well chosen tempi allowed for solid if somewhat unexciting ensemble work to be featured throughout, whilst it was great to hear the band's euphonium player, Jeff Bell produce a cracking piece of redemptive cadenza work, after the horrors of his 2005 appearance.
It wasn't a thrilling rendition by any means, but given the carnage that was being wrought on the bands below them, it came as no surprise that it ended up in the prizes.
First half stand out

After the announcement of the results, both Dr Stephen Roberts and Chris Wormald spoke clearly about their views on what they had heard during the day, and commented that in a contest of two very distinct halves, one performance in the first part of the draw stood out.
That band was Bon Accord Silver, under Norwegian Morten E Hansen (although he is such a regular visitor to these shores he should be given a duel nationality passport).
He led his band to fifth place courtesy of a trademark performance of neat technicality. With a lid kept on the dynamic and tempi excesses, it perhaps lacked for colour and excitement at times, but the secure soloists and the sense that the band were playing to their strengths without over exposing their more obvious weaknesses, paid dividends. It was an intelligent handling of musical resources.
Uneven

It was a much different approach that allowed Camborne to take the final top six place with a performance that was frustratingly uneven in execution.
There was some lovely work on show at times (with a super opening) but that was balanced out with inconsistent execution too, with bravura solo contributions that although well played, were out of character with the lyrical inspiration found in the slower variations in which they were featured.
It was all a bit too red in tooth and claw, a little rough around the edges and lacking a stamp of control. That it came 6th perhaps told you more about the bands that finished below it than above it.
Highs and lows

Of those it was Kingdom Brass directed by Craig Anderson that took seventh place, with a performance that really was one of highs and lows.
The highs came with some of the individual contributions – most notably a superb young tuned percussionist and brave solo cornet, repiano and euphonium. The lows were that amid these really bright interludes came ensemble work that failed to be cohesive and accurate and which lacked balance and detail.
Overall it was a performance that as a whole never matched some of its impressive individual constituents.
No complaints

The same could also be said of Yorkshire Imperial Urquhart Travel under Richard Evans. At times it was decent stuff, but all too often the basic flaws in tuning, internal balance and dynamics were mediocre to say the least. Hard as he tried to inject a sense of vibrancy into proceedings, the final section in particular sounded a mess, and they could have no complaints in coming where they did.
If the top three performances would have been worthy of a place at the British Open, those coming 4th – 8th were not quite Grand Shield standard. Those below would have found it hard work to have made a mark in the Senior Trophy.
Too hard

This was not perhaps their fault, as the test piece was simply too hard for them to overcome. The organisers are caught between a rock and a hard place with test piece selections. Make it too easy and the contest could become a bit of a lottery, make it too hard and you get what you had here on the weekend. The contest does need to attract better bands from outside Scotland, so a substantial increase in the prize money may prove to be the answer.
The dilemma was clearly defined with the likes of Dalmellington, Pemberton Old Wigan JJB, Unison Kineil, Bo'ness & Carriden and Easington Colliery, each of whom produced performances that although worthy in intent, were nowhere near competent enough to suggest they had a chance of overcoming the immensely difficult technical and musical obstacles 'St Magnus' posed.
Cut and paste

They were not the only bands to employ the Sibelius 'Cut and Paste' method of overcoming tricky time signatures (it never works and it never sounds right – and just about every band shamefully did it on the day), but even with the perceived help, the technical hurdles were still too high.
The result was five performances that despite the brave efforts of the MDs and players never sounded of true championship (and we mean in performance not just grading) standard in any shape or form.
Each had their fleeting moments when things went right, but when it is a question of trying to ensure the basics don't go wrong on the contest stage then you know when a band is playing a piece that it far outside its comfort zone and musical ability. Hopefully all five will have taken something from the experience to benefit them for the future, but on this evidence it was hard to see what at times.
Brave effort

Finally, a mention for Clackmannan and MD Paul Kiernan. That they took to the stage and performed as bravely as they did on a piece that was obviously beyond them at present says a great deal for their character and ambition. You can only take your hat off for their musical endeavour, even if the end result was something of a car crash of a performance. They were not alone on the day.
Victory then to a band that has also endured a few nasty bumps and scrapes in the past year or so, but now seems to have been given a clean MOT and is sounding very nearly like the Scottish Rolls Royce it once was.
Scottish Co-op may still have the odd misfire and flat tyre but as they showed on the weekend, they are miles and miles away from being consigned to the banding scrapheap.
Iwan Fox