2008 Scottish Open Brass Band Championship - Scottish Cup retrospective
3-Dec-2008
The Scottish Challenge Cup restored musical matters in Perth on the weekend - thanks to George Michael not making another appearance on the contest stage...
---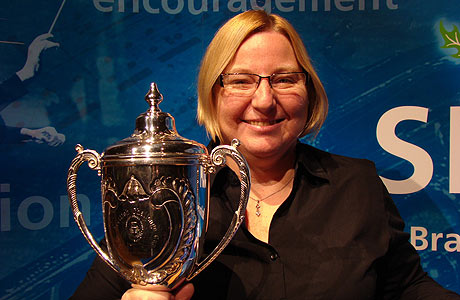 Our cup overflows...Dalkeith & Monktonhall have something very nice to fill...

With a rather disappointing Scottish Challenge Shield giving the contest weekend a bit of a damp squib of a start, it was up to the bands from the Third and Fourth Sections to restore musical matters.
Bang on midday the first of eight well matched contenders for the Scottish Challenge Cup, took to the stage, and by the time the competition was over a few hours later, all eight of them had done that and more. It was a cracking contest.
Sensible and intelligent

Unlike the Shield Contest, the Cup also benefited from a raft of well chosen own choice pieces that the respective MDs made for their bands to play. Nothing over ambitious, no hubristic tendencies placing personal reputations ahead of their bands – these were eminently sensible and intelligent choices made by eminently sensible and intelligent Musical Directors.
Not everything came off of course – as is expected at this level, but there were signs of long term musical promise.
Persausive

Chief amongst them was the eventual winner, Dalkeith & Monktonhall, conducted by Jim Chamberlain.
The Whitburn flugel player - last seen hamming it up as George Michael at Brass in Concert - put all thoughts of a repeat outing behind him, although he did direct a real wham, banger from his band on Edward Gregson's 'Essay', which was delivered with a persuasive sense of style, detail and ensemble precision.
It was also helped by fine contributions from the excellent young lady on solo cornet, and the ability of the MD to keep a tasteful restraint on dynamics and tempi. It was a worthy victor, deserving of the eventual three point winning margin.
Much to commend

There was also much to commend with the two bands that filled the podium places – Renfrew Burgh and St David's Brass.
Renfrew took the sensible decision to return to the musical dockyards, and 'The Shipbuilders' retained plenty of fresh vigour, balance and colour (with a cracking flugel player). It was also a performance that sounded as if they had added value to it since last playing at the National Finals in Harrogate. It was a very good rendition of a tricky old work.
Meanwhile, St David's Brass opted for Gregson's original version of 'Laudate Dominum', and with the MD John Dickson keeping a tight rein on both tempi and dynamics there was plenty of opportunity to showcase the detail and internal balances of the work - which they certainly did to fine effect in a bravura performance.
Edge out

That was good enough in fact to edge the other rendition of the piece from Brass Sounds Inverclyde into fourth place.
MD Gareth Bowman, really worked his band well, with the three solo cornet players in particular doing a fine job (as well as the wee'est of a wee young lads on 3rd cornet). In the end it just tired towards the final quarter of the piece, but once again it was nice to hear a band controlled with musical intelligence from the middle.
Hallmark

That was also a hallmark of Dunfermline Town's 'Dark Side of the Moon' too. David Neil used a real degree of nouse in marshalling his troops to ensure they had just enough stamina to make it to the end of a big blowing piece in what was a vibrant and exciting rendition, despite the odd bit of scrappiness here and there.
Stamina

It was perhaps a question of stamina that was the undoing of Annan Town (APD) in 6th place, with Darrol Barry's 'A Salford Sinfonietta' that started so impressively that you thought it was going to set a marker that would be hard to beat. Unfortunately they couldn't quite keep up the level, although there were excellent contributions from solo cornet, euphonium and percussion. David Shanks kept the band on the right rails though, although they just ran out of steam before the end.
Porridge

If only Newlands Concert could have kept something in reserve towards the final quarter of 'Northern Landscapes' they too may have ended further up the final results table. Some understated, sensible conducting from Robert Fraser (another Whitbun player with stick itch) made the most of his resources, but perhaps they just needed a touch more stamina enhancing porridge to fire their musical belly's on this occasion.
That left Bon Accord Silver B to prop up the bottom of the table – a position that didn't perhaps reflect their well drilled 'A Malvern Suite', under the baton of Bruce Wallace.
A fine opening movement featured brave solo contributions from the solo cornet, an excellent soprano and solid euphonium, and whilst the ensemble was occasionally uneven in execution a robust final section very nearly brought them the reward they possibly deserved.
Fulsome praise

Adjudicator Jason Katsikaris was fulsome in his praise, but made a number of very pertinent points about what he had heard, both when the bands were playing and crucially when they were not – the gaps, he said, between movements with some were filled with extraneous noises that sounded as if they were being regurgitated from the breakfast table.
It was light-hearted, but very accurate observation on a day when the overall standard of playing was tasteful and highly enjoyable – especially from the winners.
Iwan Fox