2008 Tameside Youth Championship - Retrospective
26-Nov-2008
Four and half hours of quality brass band playing were to be heard at Dukinfield Town Hall on the wekend at the Tameside Youth Championships - and Malcolm Wood was there to hear it all.
---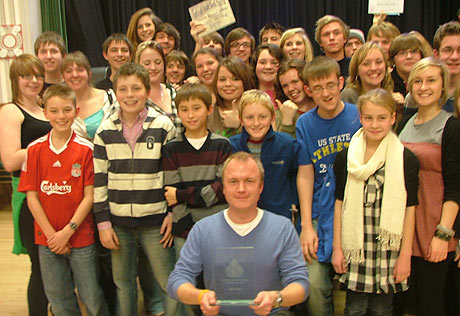 We are the champions: Youth Brass 2000 celebrate their Tameside victory

Whilst this contest only lasted four and a half hours, the nine competing bands served up not just a feast of entertaining music, but also a reminder that the long term future of youth banding in this area could be very healthy indeed.
Only Bare Trees Community and Smithills were amongst the bands that hadn't competed at the Action Research Youth Entertainment Contest in February.
Furthermore, six of the competitors had rubbed shoulders with one another in the Community Section at the National Youth Championships in April. As a result they knew only too well the standard that their rivals would play too, and there was total respect for the efforts of their rivals. It made for a keen but very enjoyable musical atmosphere.
Familiar Repertoire
A number of the bands included music that has served them well over the past year or so. Working a band up to a winning standard is a tough ask in this day and age, but credit must be given to the MD's who selected music that demonstrated their musicians at their best, regardless of how often they'd played the pieces. In a nutshell, they played to their strengths.
Some conductors took a few risks with their selections, and it paid it off for some but not others. The adjudicator, Stephen Brodie, praised all the bands for their efforts and he admitted being surprised by the overall standard.
In terms of the winning band, Stephen gave more than a strong hint that it was the quieter controlled playing where there were no hiding places for the players that gave the eventual winners, Youth Brass 2000, that winning edge.
New Venue
In previous years, the event has been held down the road at the Tameside Hippodrome in Ashton-under-Lyne, but due to its unexpected closure, Tameside Council acted swiftly securing Dukinfield Town Hall.
Whilst the same venue hosts the British Open Solo and Quartet Championships, this is the first time that it had held a brass band contest, and with such numbers it did create a few teething problems for contest controller, Derek Atkinson and his colleagues – which as expected, they coped with admirably.
Acoustic

The hall's acoustic was noticeable 'lively' shall we say. When bands played loud it was very loud indeed, with clarity lost, but on the plus side, when they opted to play quietly, everything could be heard including the smallest of blips. Playing here is a good exercise in learning to adjust the sound accordingly.
Some bands, did it, others didn't. Very few got down to true pianissimo, with most ranging from mp-mf. With the percussion elevated on stage, and with the remainder of the players on the floor it did cause problems with the balance of sound for a number of the bands.
However, the arrangements for the bands was in part due to the fine turn out in numbers of supporters – a problem most contests would love to have – so on this occasion it could be forgiven that some musical aspects suffered.
Feedback

The organisers though would welcome constructive feedback on any adjustments that could be helpful ahead of the Tameside Open in March – a progressive move.
Derek Atkinson, Frank Hodges and everybody else from the North West Counties Brass Band Association does a fabulous job when it comes to running an event (with everything running to time here) and if they can make adjustments that are beneficial then no doubt they will.
Comments are welcome to Derek Atkinson at datkinson486@btinternet.com
Well drilled winners
Youth Brass 2000 and their MD Pete Collins was the penultimate band of the contest to play.
They took the first prize and a cheque for £1000 courtesy of a well-drilled programme that was delivered with loads of confidence. Duke Ellington's 'Caravan' was well executed, and it was followed by the delightful flugel voice of Alice Norman in 'Doyle's Lament' from 'Call of the Cossacks'.
An upbeat interpretation of 'Valero' led into Sarah Lenton producing one of the best solo performances of the contest, in Evelyn Glennie's 'A Little Prayer'. That paved the way for the band to conclude with a fine performance of 'Shine as the Light'.
In addition to the winner's cheque, the band picked up £100 for having the Best Bass Section, and on the evidence of their performance here, the band will be a tough nut to crack at Butlins in January when they compete at the Mineworkers Youth Championships.

No votes needed: Youth Brass 2000's bass section pick up their section award

Tight and secure performance

Poynton and Andy Hirst was another band to deliver a tight and secure performance. Playing second, they set the standard for everybody else to beat with a programme that had plenty of musical contrast and very effective dynamics.
Bach's 'Toccata in D Minor' opened things up before the band's Principal Cornet secured the 'Best Cornet' prize with an effortless interpretation of 'Share My Yolk'. Peter Graham's 'Cats Tales' only received its World Premiere in May but its already proved to be a hit with bands, and Poynton selected the second movement 'Cat Walk' for its next offering, and it was full of mischievous fun.
To close, they delivered an engaging performance of another Peter Graham work, 'Dimensions' where the slower playing was particularly impressive.
Deserved

Bare Tree Community thoroughly deserved to be in the frame come the results, and they picked up £700 as well as picking the awards for having the Best Percussion and Euphonium.
The band heralds from Oldham and this was their first contest against other youth bands. It's no wonder their conductor, John Collins (the same man who leads the successful Oldham (Lees) Band) looked exhausted after he came off stage, as he'd dragged out every last ounce of effort from his troops.
Having started with the march 'Death or Glory' (where the young percussionist on bass drum would have woken anybody shutting their eyes for a quick 40 winks) the band's principal euphonium, Harrison Healy took the prize for the best euphonium of the contest with a brilliant performance of a solo, 'Serenata'.
The main part of their programme was Paul Lovatt-Cooper's 'The Dark Side of the Moon' that tested Third Section bands nationally in 2008.
This was an ambitious choice, and whilst there were a few uncertain moments, the band deserves enormous praise for the way they tackled the music and produced an enjoyable performance to listen to. Finally, 'Hawaii Five O', which after the rigours of the previous piece was full of fun.
Cleverly linked

The Tameside Youth Contest is one that Smithills School has dominated in recent years, but for the second year in a row they had to be content with fourth place.
Whilst other bands went for extensive programmes, the Lancastrians opted for three cleverly linked pieces that paid homage to well known musical personalities. Firstly, a tribute to Frank Sinatra that was compactly played, with good dynamics but was perhaps a little to long as an opening piece.
The band's flugel player seemed quite at home in 'As If We Never Said Goodbye', which followed, whilst the band acknowledged the talents of Michael Jackson in 'Thriller'. Overall this was a good show from a band that continues to set itself very high standards when performing, but on this occasion they did suffer at times from balance problems – the elevated percussion section in particular seem to overpower – understandable given the unfamiliar acoustic.
Focused efforts

Having started with 'Birdland', Stockport Schools focussed their efforts on a programme influenced by Celtic music. 'Aye Waukin'O', 'Alloway Tales' and 'David of the White Rock', were not without a few moments of uncertainty in the quieter sections, but they really enjoyed a good romp through 'Sabre Dance'.
Commited defence

Defending champion, Sellers International, gave a committed defence of its title that won it many admirers in the hall, but not the box, and they had to settle for sixth place.
'Liberty Fanfare' and 'Valero' were both delivered with plenty of brio, whilst Craig Walker pocketed £100 courtesy of his performance on flugel of 'Georgia On My Mind' . 'Blaze Away' had plenty of brio and excellent dynamics, but the acoustic caught the band out with 'In Perfect Peace' and they closed with the 'Finale' from 'William Tell', which was also a little over the top at times.
Sellers, like Youth Brass 2000 will fancy their chances at Butlins in January where the acoustic is a little more sympathetic to their obvious strengths.
Terrific

Samantha Harrison's Elland Youth drew the short straw and played number one, but never gave it a thought and were simply terrific.
A great opening march, 'On the Quarter Deck' was followed by an enthusiastic, 'Singing in the Rain'. The band's solo trombone gave a confident rendition of 'Every time We Say Goodbye', but it was the performance of Philip Varley on principal cornet throughout the programme and in particular during 'Hot Toddy', that stood out for this reviewer.
Great strides

Louise Renshaw's Macclesfield Youth continue to make great strides on the contesting stage. They were one of three bands to play 'Valero', and they also delivered an atmospheric performance of Alan Fernie's 'Stål Himmel'. There was lots of confident playing in 'Spanish Trombones' and from the band's baritone soloist in 'Let Me Try Again'. It was a performance full of real endeavour and dollops of enthusiasm.
Entertainment

Finally, Lions Youth who were the last band to play. The Cheshire outfit certainly matched its other contenders with their level of confidence and commitment, and they certainly thrilled the audience with a touch of Robbie Williams in 'Let me Entertain You', and some excellent solo contributions from the band's euphonium and xylophone players in 'Benedictus' and 'Helter Skelter' respectively.
It rounded off a great afternoon of brass band playing that flew by in the blink of an eye.
Tameside Council continue to back brass bands, and whilst these are difficult times, they continue to put plenty of money into competitions. They will also be supporting the 2009 Tameside Open, Whit Friday, The British Open Solo and Quartet Championships and the Youth Festival that will take place on Sunday 22nd November.
Malcolm Wood