2008 Scottish Open Brass Band Championship - Introduction & Prediction
26-Nov-2008
The 2008 season comes to an end in Perth on the weekend - and it has become a great place to finish off a long and exhausting year.
---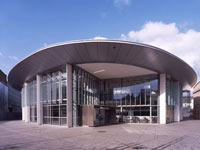 The terminus of the 2008 contesting season will be in Perth on the weekend, where a cracking line up of bands make the journey to the town's excellent concert hall to battle it out at the Scottish Open and Scottish Youth Championships.
Domestic flavour

Although the overall flavour of the championships is very much a domestic one (the Scottish Challenge Shield, Challenge Cup and Youth Contests are all for home grown bands only) it says a great deal about the way in which the contest is run that even after an exhausting 11 months the main Scottish Open competition can still attract bands from as far afield as Cornwall, the North East, North West and Yorkshire.
Record entrants

In fact there is a record number of entrants in all the sections this year, a vindication of the decision of the Scottish Association to move the contest to a much more suitable venue.
With the buzzwords of 'sustainability' and 'legacy' being bandied about after the excesses of the Beijing Olympics, it is also heartening to see that the Scottish Association (SBBA) has taken a very long term approach to the development of the contest.
The early over ambitious plans for the event in Glasgow were never going to work, but instead of abandoning the contest, SBBA reined in the more obvious unsustainable aspects and moulded it into perhaps the ideal blueprint for a medium sized second tier brass band contest anywhere in the UK.
Vibrant

Today it is a vibrant, excellently run event, boasting not only a healthy turn out of invited top section bands, but with well chosen criteria for the other main contests too. The result sees a record turn out of competitors, with an amazing array of youth bands on show on the Sunday in four separate sections.
Those Youth Championships start with a Novice Section comprising 7 bands (three of which as led by the indefatigable Alan Fernie), followed by a Development Section of 5 bands, a Senior Section of 6 and a Premier Section of 3 more. That's 21 youth bands (an increase of 10 from last year) – a quite staggering turn out for a small banding nation.
Square up

Meanwhile, the Scottish Challenge Cup and Shield contests give the home grown bands chance to square up to each other for the end of year bragging rights. Both contests are well thought out in terms of qualification and numbers, and the own choice selections show off each of the bands to their best abilities.
The hard work of SBBA, and especially its Youth Development Officer, Alan Edmond, in working with the Scottish Arts Council, other voluntary bodies and sponsors, means there is plenty to look forward to not just this weekend, but many more years to come. No wonder Besson are happy to pump money into the event – just think of all the potential customers they may have if this keeps up.
Scottish banding continues to develop along progressive lines, and despite recent hiccups over registration compatibility with its English partners, its more liberal approach to banding issues is a welcome sign of an organisation looking to the future and not being hamstrung by its past.
Others should take note.

The Scottish Open
The headline contest, the Scottish Open, takes place on Saturday at 3.00pm and will see 14 bands battle it out on 'St Magnus', Kenneth Downie's masterful work, that strangely hasn't been played used as a test piece at another contest in Scotland since the European Brass Band Championships in Glasgow in 2004.
It promises to be a keen and exciting end of season contest, with the best of the Scots clashing musical claymores not just against each other, but also against five of the dreaded enemy from south of Hadrian's Wall. Will they be sent back again to think again, or will one of them be able to stop the current Scottish Open Champion Whitburn from making it a hat trick of victories this year.
Adjudicators Stephen Roberts and Chris Wormald will have plenty to mull over before they make their decision to where the first prize of £3,000 will go, and it will be interesting to hear how the bands tackle one of the most popular test pieces of recent times.
Running on fumes

Whitburn will of course be looking to round off what has been a strangely uneven contesting year with another win, but given their recent efforts at the British Open, Nationals and Brass in Concert the musical petrol tanks must be dangerously close to running on fumes.
They have been on fine form of late (although lady luck has certainly not been on their side) and if they can just get the adrenaline pumping through the veins one more time they could well be the band to beat. It would be some effort though just a fortnight after Brass in Concert, but with Andrew Duncan back at the helm they may just squeeze enough out of themselves to do it.
What could be against them making it a hat trick could well be that two of their keenest rivals have been enjoying a bit of R&R. Both Kirkintilloch and Scottish Co-op should be well and truly prepared for the contest this year.
Transfer market

Scottish Co-op has been busy in the transfer market as well as the housing one of late and with a return of some familiar faces to the ranks and with a much more settled look about their domestic arrangements they could well be looking at regaining the Scottish Open title for the first time since the inaugural contest in 2003. Michael Fowles always leads a well prepared band, so the scent of victory could be in the nostrils.
Kirkintilloch meanwhile produced a fine showing at the British Open where they came 5th and a fair one at London where they came 13th, so with time on their side since the Albert Hall it should put them in good stead.
Allan Ramsay returns to his former Alma Mater and is another MD who makes sure all the nuts and bolts of a top class contest performance are well and truly put in place before any band of his set foot onto a stage. If they show the form of the British Open then a first Scottish Open title could be theirs for the taking.
These may well be the three top domestic contenders this year, but there is a batch of other clan bands who may fancy their chances of coming in the prizes too – and put one over the English for good measure as well.
Feather ruffler

Kingdom Brass may well ruffle a few feathers, and have had a very good year so far under the baton of Craig Anderson, whilst Unison Kinneil has also had a decent year too and should be a band to look out for under the command of Andrew Berryman.
Two potential Scottish dark horses come in the form of Bo'ness & Carriden, who were crowned Scottish First Section champion earlier in the year under the excellent Mike Marzella and Clackmannan District who continue to make fine progress under the baton of Paul Kiernan. Both bands are making a step up in class at this contest, but they could well take a few scalps.
So too Bon Accord and Dalmellington, both benefiting from the conducting experience of Norwegian Morten Hansen and the great Archie Hutchison. Both bands have been solid performers this year and could fancy their chances.
Keen to impress

The 2005 winners Fishburn, who once again make the journey north keen to impress at a contest that they have a fine record at, head the English brigade. They won the title in 2005 on 'St Magnus' so that experience should come in handy as they look to Alan Morrison to guide them to a second Scottish Open success.
Furthest trip

The band making the furthest trip north is once again Camborne Town and after coming 5th last year they will be determined to take back some silverware on the flight home. A decent enough contesting year hasn't quite lived up to early season expectations, so a possible rousing finale under conductor Kevin MacKenzie may well be on the cards.
A conductor who certainly knows what it is like to come here and win is Pemberton Old Wigan JJB's Mark Bentham, who led Hepworth to the title in 2004. Another band with a decent contesting record in 2008, they should be confident of making a mark on their debut.
Pay dividends

Meanwhile, Easington Colliery will be led by the experienced John Roberts, and his steady control and leadership could well pay dividends for a band that has had more than its shares of ups, downs and secret surprises during the year, although it does enjoy its regular forays into the Scottish banding scene.
That just leaves Yorkshire Imps, and the famous old band will be looking to improve on last year's 4th place. They could be a bit of a dark horse too, as they haven't been the busiest contesting band of the year by any means, but with Richard Evans at the helm, anything is possible.
4BR Prediction:
As for the winners then?
It could be the Scots that hold the bragging rights once more, with the strong trio of Kirkintilloch, Scottish Co-op and Whitburn proving to be formidable opponents to the rest of the field.
We think it could be Kirkintilloch's year this time around, as with that extra bit of time on their side and a settled line up they should finally claim their first Scottish Open title. Scottish Co-op will push them all the way for sure, with Whitburn perhaps just suffering the effects of the strenuous past few weeks.
Yorkshire Imps and Camborne look two good bets for top six places with Kingdom Brass, Unison Kinneil and Pemberton Old Wigan JJB battling it out for a mention off the stage.
1. Kirkintilloch
2. Scottish Co-op
3. Whitburn
4. Camborne
5. Yorkshire Imps
6. Kingdom Brass
Dark Horse: Pemberton Old Wigan JJB