2008 Scottish Open Brass Band Championship - The Scottish Challenge Shield
26-Nov-2008
Eight well matched bands take to the stage to see if they can raise the Scottish Challenge Shield.
---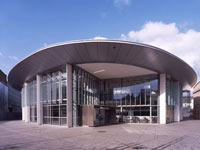 Contest commences: 9.00am
Adjudicators: Kevin Wadsworth & Jason Katsikaris
Test Piece: Own Choice
Awards:
1st: The Scottish Challenge Shield, Commemorative Banner and £300
2nd: £200 plus Commemorative Certificate
3rd: Commemorative Certificate
---
The Scottish Challenge Shield should provide a keen old battle of the musical clans first thing on Saturday morning, with eight well matched bands out to claim the domestic bragging rights as well as the £300 first prize.
The qualifying bands now comprise of those bands finishing in 3rd to 6th in the First Section and 1st to 4th in the Second Section at the most recent Scottish Championships - a well thought out idea.

It should make for a keen contest too with each of the bands playing to their strengths with their own choice selections, which this year include: 'My Strength, My Tower' (Dean Goffin); 'Tournament for Brass; (Ball); 'Between the Moon and Mexico' (Sparke); 'London Overture' (Sparke); 'The Land of the Long White Cloud' (Sparke); ' A Little Light Music' (Wilby) and 'Rienzi' (Wagner)
Chocolate box

So with that chocolate box selection to look forward which of the eight bands has picked out the strawberry fondant and which has been lumbered with the coffee cream to tickle the taste buds of the two men in the box.
Kevin Wadsworth and Jason Katsikaris will know these pieces very well indeed, and the bands should do a bit of homework before the contest and listen to Kevin's interview with 4BR from the recent Harrogate National Finals.
He is one of the best adjudicators around, and his comments and insights into good contest performances are well worth ingraining in the mind.
Real mark

In alphabetical order the bands are headed by Barrhead Burgh conducted by Martyn Ramsay, who has returned to his former band and made a real mark with the baton.
4th place at the Scottish Championships has been backed up with good performances at Land O' Burns and Fife, so they should be confident of doing well here.
Confident

Bathgate meanwhile will be looking to improve on the form that saw them come 6th at the Scottish Championships earlier in the year, and with a settled line up of players conductor Stephen Baird will be confident they should be forcing their way towards the podium places.
Scottish Second Section champion Campbeltown will be looking to make it two wins in a row here this year after their triumph in the Scottish Challenge Cup twelve months ago.
Craig Anderson and his young band are on the rise once again and a decent return at Harrogate, where they came 12th, perhaps didn't quite do them justice. They will hope to return home with more silverware here though.
Solid progress

Croy Silver is also another band making solid progress under the baton of Kenneth Blackwood, with podium finishes at the Scottish Championships and the Fife Festival so far this year, to go with a solid 10th place at the Land O' Burns contest.
The pre contest favourites though will surely be Johnstone Silver conducted by the vastly experienced Ray Tennant.
They have had a busy old year on the contesting front with wins at Fife and Borders contests to go with strong finishes at the Scottish Championships, Northern Counties and Land O' Burns. They missed out a bit at Harrogate, but so did many others, so this could be the ideal opportunity to round off their season in style.
Strong challenge

There is bound to be a strong challenge from Kirkintilloch Kelvin, who are continuing to rebuild under the baton of the experienced Charles Keenan.
Solid returns at the Scottish Championships, Northern Counties and an excellent performance at Land O' Burns should make them confident of doing very well here on the weekend.
Lochgelly is a band moving in the right direction under Paul Drury too, although the results haven't quite gone all their way during 2008.
Decent returns at the Scottish Championships, Fife, Land O' Burns and Fife Charities were offset a little by a poorish trip to Pontins. Ones to look out for though.
Progressive

That just leaves the Tullis Russell Brigade under John Hinckley, who will be looking to continue to build on what has been a progressive year so far. Decent returns at the Scottish Championships and Fife were balanced with less impressive returns at the Northern Counties and Fife Charities, but at Pontins they were excellent in coming fifth.
More of that and they could well be celebrating once more (although that doesn't stop some of them…)
Who will win then?
Hard to say, but for us it's a two way battle between Johnstone Silver and Kirkintilloch Kelvin, with strong showings from Bathgate, Campbeltown, Barrhead and Lochgelly. Tullis are our darkest of dark horses…
4BR Prediction:
1. Johnstone
2. Kirkintilloch Kelvin
3. Barrhead
4. Campbeltown
5. Bathgate
6. Lochgelly
Dark Horse: Tullis Russell Mills