2008 Scottish Open Brass Band Championship - The Scottish Challenge Cup
26-Nov-2008
8 bands line up to do battle for the Scottish Challenge Cup and try and gain the domestic bragging rights to tide them over into the new contest season.
---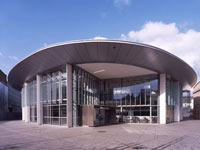 Contest Commences: After conclusion of Scottish Challenge Shield
Adjudicators: Kevin Wadsworth & Jason Katsikaris
Test Piece: Own Choice
Awards:
1st: The Scottish Challenge Cup, Commemorative Banner and £300
2nd: £200 plus Commemorative Certificate
3rd: Commemorative Certificate

---
After the delights of the Scottish Challenge Shield, another eight well matched bands will take to the stage to play in the Scottish Challenge Cup.
Qualification for the Scottish Challenge Cup is now open to those bands finishing 1st to 4th in the Third Section and 1st to 4th in the Fourth Section of the most recent Scottish Championship contest - more good Scottish common sense.
Plenty to enjoy

Adjudicators Kevin Wadsworth and Jason Katsikaris should have plenty to enjoy with an eclectic mix of music that includes, 'Essay' (Edward Gregson); 'The Shipbuilders' (Yorke); 'A Salford Sinfonietta' (Barry); 'Variations on Laudate Dominum' (Gregson); 'Northern Landscapes' (Graham); 'The Dark Side of the Moon' (Lovatt- Cooper) and 'A Malvern Suite' (Sparke).
Plenty of good music to enjoy there then.
Real impression

Annan Town (APD) and David Shanks will be looking to make a real impression on their appearance this weekend to build on what has been a very good season of progress. After claiming their place at Harrogate by coming runner up at the Scottish Championships, they have also posted decent returns at Land O' Burns, Borders and at Harrogate where they came a hard earned 10th.
Bon Accord B meanwhile will also be looking to end the year with a bit of a flourish after just missing out on a podium spot at the Scottish Championships and posting a slightly disappointing 13th place at the Fife Charities contest. Bruce Wallace continues to build his band with good solid virtues so a decent return may be on the books.
Achievement

Brass Sounds Inverclyde have only been in existence since 2004, so getting here has been a great achievement. Gareth Bowman has been really working hard with his band and they have responded with some fine results during the past year.
A decent result at the Scottish Championships has been followed by a victory at Fife and solid returns at Land O' Burns, Borders and Fife Charities. More to come here hopefully then.
Confident

Dalkeith & Monktonhall should be confident of perhaps adding a second Scottish title to their name for 2008, if they can once again reproduce the type of form that saw them win the Scottish Championship.
Jim Chamberlain has done excellent work in moulding a very compact ensemble togther, and that was seen with a fine performance at Harrogate where they came 7th and also at Fife.
Solid

Dunfermline Town meanwhile has had a pretty solid year under the direction of David Neil, building nicely on a solid performance in coming 5th at the Scottish Championships. Further decent returns at Fife and the Fife Charities contest should hold them in good stead on the weekend.
Newland Concert Brass will take to the stage under Robert Fraser as something of a dark horse to 4BR after just the one contest appearance so far this year at the Scottish Championships. There they came 3rd in the Fourth Section, just missing out on a trip to Harrogate, so if they can up the ante, who knows what the weekend may have in store for them.
Possible double

Renfrew Burgh is another band looking for a Scottish double too, after claiming the Scottish Championship title back in March and going on to produce a fine performance in coming 5th at Harrogate. Add to that decent returns at the Northern Counties and Land O' Burns contests and they should be confident of being in the mix come the results.
Finally, St David's Brass who return this year to the contest after coming 7th twelve months ago. Since then they have posted a hard earned 4th place in the Third Section at the Scottish Championships and runner up at Fife. More of that would do nicely then come Saturday afternoon.
Who will win then?
Hard to predict

A hard one to predict, but perhaps the form book shows the way, with Dalkeith & Monktonhall and Renfrew Brass perhaps battling it out for the top honours.
Annan and Dunfermline should we think push them closest, with the likes of St David's and Bon Accord B in the mix. Our dark horse is Newland Concert.
4BR Prediction:
1. Dalkeith & Monktonhall
2. Renfrew Burgh
3. Annan Town
4. Dunfermline
5. St David's Brass
6. Bon Accord Silver B
Dark Horse: Newland Concert