2008 Scottish Open Brass Band Championship - Scottish Youth Championships
26-Nov-2008
Sunday sees a day full of high class playing at the Scottish Youth Championships from an amazing 21 bands. There must be something in the water up here...
---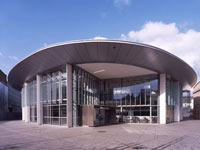 The keenly fought Scottish Youth Championships will be held on the Sunday at the Perth Concert Hall – and a real treat it should have in store for us too.

Conveyor belt

The Scots have an amazing conveyor belt of talent in full production at present and it has gone into overdrive in the past 12 months – the result of which is a quite staggering 21 bands (up from 11 last year) taking to the stage.

Great work

The great work of SBBA and its Youth Development Office, Alan Edmond in initiating progressive, intergrated links with other musical bodies in both the public and voluntary sectors is a blueprint for the future health and propserity of the brass band movement in the UK as a whole.

Others should take note, make the trip up to Perth and bombard the Scots with questions on how to do it south of Hadrian's Wall. (It will be interesting to see if the BFBB is on duty this weekend for instance)
Novice Section

The Novice Section will see seven bands start the day off at 10.00am playing entertainment programmes for the enjoyment of the judges, Les Neish, James Smith and Lynda Nicholson, as well as a pretty packed audience of proud mums, dads, and assorted relatives.
What Buckhaven Brass Beginnings (Gordon Evans MBE); Dunfermline Youth (Alison Hall); Kingdom Brass Youth (Lee Bathgate); Levern Valley Community Brass (Brian Deans); Loanhead Brass Roots; Newtongrange Junior and Peebles Junior (all conducted by Alan Fernie) bring to the stage, no one knows, but it will a sheer delight to hear young players simply enjoying themselves.
Development Section

The Development Section follows on, with four more substantial, and older bands in age terms, in the form of Abbey Brass Jedforest (Cameron Mabon); Arbroath Instrumental Youth (Ann Ness); Inverclyde Schools Brass Band (David Hutcheson); Perthshire Youth Brass (George D Annan) and St Ronan's Future Brass (David Robb).
Again entertainment is the name of the game and there are sure to be some cracking performances on show.
Senior Section

Before you can catch your breath it will be the turn of the Senior Section, with six well directed outfits hoping to be crowned champions. There is sure to be plenty to enjoy from the likes of Carnoustie & District Youth (Michael Robertson); Dalmellington Junior Band (Ian Taylor); Fife Youth Next Generation (James Chamberlain); Midlothian Schools Brass Band (Andrew Duncan); Perth & Kinross Senior Brass Band (Robert MacDonald) and Queensferry High School Brass Band (Gareth Ross).
Premier Section

Finally, the climax of the whole weekend with the three real top notch outfits in the Premier Section.
Given what we have heard from the Scots at this level over the past few years at the National Youth Championships, the programmes from Aberdeen City Youth Band (Eric Kidd); Carnoustie & District Youth (Michael Robertson) and West Lothian Schools (Nigel Boddice MBE) should round off the Scottish Open weekend in fine style.
4BR will be taking a close look at how these Youth Championships have flourished on the weekend with interviews with those people who have been actively involved in its development and success.
Iwan Fox