2008 Brass in Concert Championship - Retrospective
19-Nov-2008
Like number 21 buses in the Rhondda, major titles sometimes take ages to arrive - only for another one to appear right behind...
---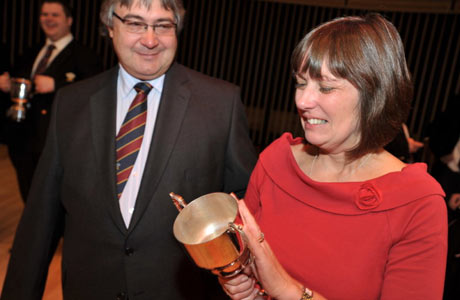 Family ties: Lorraine Childs has a glance at the cup presented in memory of her father and won by her husband
Picture: Ian Clowes

Major contesting titles are a bit like number 21 buses in the Rhondda Valleys. You wait ages for one to turn up at the right time, and then all of a sudden another one comes along right behind it.
It's been a bit like that for Cory in fact.
After the near three decade wait for a second bit of European glory was broken in Stavanger earlier in the year, they has now completed the Grand Slam set by winning Brass in Concert – 29 years after they first took part in 1979.
Hit or miss

There was also inevitability about their victory too.
On a day when there plenty of hit and miss inventiveness and innovation on show, their very professional, well ordered and tightly rehearsed programme had a sense of musical and visual continuity about itself that stood out from their rivals.
That was something the two music judges (Professor David King and Dr Stephen Roberts) felt too, and their written remarks summed things up very accurately indeed:
"An arresting programme with the hallmark of distinction both musically and technically. A fine band directed with style and panache. Space and symmetry prevailed the full programme," said the Professor. "An excellent programme with near faultless playing from all the band - Congratulations it was a pleasure to hear you," echoed Mr Roberts.
Both David and Stephen knew what they wanted to hear, and to be fair, stuck to their guns throughout the day from band number 1 to 12. Given what they had written, no wonder they gave the band 199 points out of 200.
All things to all listeners

Brass in Concert is all things to all listeners – and whilst Messers King and Roberts waxed lyrical about their winners, around the concourses of The Sage there were persuasive arguments being made for the likes of Whitburn, Grimethopre, Stavanger and Fairey too.
In the end though it's the men out of the box who count – and the combined totals of four judges (David Horsfield and Andrew Berryman for entertainment) gave Cory a substantial four point winning margin over Stavanger, ahead of Grimethorpe, Brighouse, Fairey and Fodens.
Nothing left to chance

Cory won because they knew exactly what they wanted to do, and how they would go about performing it.
Nothing was left to chance. From the effective overhead projected images of America in 'Sunrise over Blue Ridge' to the slick choreography of the trio of percussionists playing bar stools in 'Sing, Sing, Sing'.
There was a professionalism about it all (even the scores sent to the judges were put together like Christmas prezzies to much loved aunties) that was typical Bob Childs and his band – no stone left unturned in pursuit of victory (there were three excellent pieces from the pen of Dan Price) – and even the MD wore a Texas style bolo liquorice string necktie.
The winning programme started in bright and breezy fashion with a ubiquitous Paul Lovatt Cooper offering, followed by a cracking bit of technical showcase work on the march. The atmospheric 'Sunrise' led to the pyrotechnics of David Childs's 'Hot Canary' (although the walk on xylophone playing Tweety Pie should have been taken out and gassed) before the musical climax with the very effective, 'An American Tale' – a musical walk through the American Civil War.

Hot smile: David Childs picks up the Best Soloist Award
Picture: Ian Clowes

Complete

It was a very complete 21 minutes or so of high class ensemble and solo playing, backed up with the same degree of professional presentation. Typical Cory in fact. It was a deserved victor and gave Bob Childs a very special award to savour to.
The winning MD at the contest is presented with the Peter Hartley Trophy in memory of the lovely chap who used to play such an important role at this contest. He was also Bob's father in law too, so you could understand why Bob's wife Lorraine had a little tear in her eye after the announcement of the results.

For more pictures of Cory at Brass in Concert go to:
http://www.pbase.com/troonly/08bic_10_cory
Eclectic Stavanger

Stavanger was the other band that knew just what they wanted to do and how they wanted to present their eclectic 23-minute programme.
24 hours previously they had wowed a packed hall at the Gala Concert with a quite delightfully surreal presentation that had included three encore items – all of which were craftily chosen by Allan Withington to give the band a chance to play them ahead of the contest.
Knowing that perhaps another 'left field' performance wouldn't work a second time in two days (something their compatriots Eikanger found last year) they opted for a reprise of their recent SIDDIS programme.
It was still innovative, enjoyable and thoroughly well played, but perhaps it just needed a touch of that extra something unusual to have made it into a winner. Robin Dewhurt's intelligent arrangements were excellent, but the musical weight of the programme lent heavily on upbeat, jazzy items (with no misplaced slapstick humour), which was expertly performed with slick choreography.
We are getting used to the Norwegian take on entertainment now and it is mightily impressive – so what will Manger Musikklag (the 2008 SIDDIS champion) bring to the part next year we wonder?
For pictures of Stavanger at Brass in Concert go to:
http://www.pbase.com/troonly/08bic_3_stavanger


Grimethorpe dilemma

The same could also be said of Grimethorpe.
The former undisputed Entertainment champions of the world are in something of a dilemma it seems.
Here they opted for the tried and tested under the charismatic leadership of Michael J Garasi. The result was a touch of Americana high on quality playing, but strangely as conservative as George Bush's attitude to climate change.
That quality was undeniable – from the Rocky inspired fanfare opener right through to the classic old tub thumper of 'McArthur Park' to end – but it wasn't a programme that thrilled you to the bone as they have done in the past. You sat there deeply impressed but somehow, not really moved.
The lack of a bespoke soloist seemed strange given the talents at their disposal, but that didn't matter too much given what we were hearing as ensemble playing.
That little something 'extra' special was what was needed, and despite the MD bringing all his million dollar charisma to bear, the final 'McArthur Park' seemed to distil the dilemma perfectly – a great old finisher that we have heard played by the band just a few too many times now. Even Kevin Crockford's humdinger finish couldn't quite send the shiver down the spine.
To misquote another old 'McArthur' though – 'They will be back' – and hopefully with this MD at the helm.

For pictures of Grimethorpe at Brass in Concert go to:
http://www.pbase.com/troonly/08bic_7_grimethorpe
Brighouse best shot

For the reigning hat trick seeking champions Brighouse & Rastrick it was always going to be a tough act to top what they did here twelve months ago – although they did give it their best shot.
Alan Morrison certainly did his bit with a white suit the Spice Boys of Liverpool at the FA Cup Final all those years ago couldn't have bettered. Not even Dicky Evans could have worn it with such overstated showmanship.
The band also put behind them their rather luck lustre performance from the night before too and delivered a polished set that on this occasion made the most of their playing talents but possibly under utilized their presentational skills.
The opening 'Epcot' inspired 'Chaos' certainly had a Japanese drum played (although the real things are bashed by semi naked ninjas), whilst the 'Thin Red Line' march was classy (and didn't fall into the swagger trap), although once again, the sextet of percussionists could have been used more imaginatively instead of being stuck by the side of the stage.
Michael Howley was a lovely solo voice in his 'Stella Artois' inspired solo (of which he seemed to have enjoyed celebrating with given his delight at being awarded the 'Best Euphonium' prize), although the variations on 'Twinkle, Twinkle, Little Star' somehow never came off, despite Leigh Baker's inventive musical brain working overtime once again.
Hitting people on the top of the head with multi coloured foam pipes would have really brought the house down if you could actually hear that they were in different pitches. Sat more than three rows back from the front and you couldn't – so the very clever humour was lost in the slapstick presentation.
By the time the band rounded things off with a high class finisher their fate had been sealed – just three points behind Cory in terms of playing, but strangely for them, five and half behind on entertainment. It was an accurate reflection on the day.
For pictures of Brighouse & Rastrick at Brass in Concert go to:
http://www.pbase.com/troonly/08bic_6_brighouse
Zombies, coffins and disappearing girls

For Fairey, it will be a case of what to do next.
You have to take you hat off to the band for the amount of sheer hard graft put in to present such a brilliantly choreographed set – a trip to the darkest reaches of the dark side – zombies, coffins, disappearing girls, head turning antics and the massed ranks of the Stockport branch of the Klu Klux Klan.
Given that the Salvation Army sponsors this contest indirectly, it would have been interesting to have seen what highlights of their programme would have made it to the DVD if they had won.
The problem though was that it wasn't exactly the most demanding musical offering ever heard – in fact it was pretty non descript stuff (with the exception of a touch of class by Brian Taylor).
Getting the balance between the visual and the musical is always a conundrum at this contest, and Fairey found themselves faced with the tricky problem more than most. Despite the dry ice, white bed sheets, magic tricks and Neil Hewson's brilliant Michael Jackson 'Thriller' impression, no amount of on stage choreography could disguise that fact that the music wasn't particularly taxing.
Even the Berlioz inspired finale had to be diluted by a magic trick (although a very good one), so a programme that had so much to admire visually rather lacked musical gravitas. 5th place could have been higher if the disparate elements had been better balanced.
For pictures of Fairey at Brass in Concert go to:
http://www.pbase.com/troonly/08bic_4_faireys
Fodens Achilles heel

And that leads us nicely to the Achilles heel of Fodens in sixth place.
Where the balance went with their opening item, the Stevie Wonder 'Another Star' was anyone's guess – another universe perhaps?
A great idea was blown out of the water by a backing group of electric guitars and drummer that completely obliterated the band, the three Gladys Knight inspired 'pips' on vocals and lead singer Glyn Williams. Such was the noise coming from the amps that Glyn was forced to literally bellow into the microphone just to be heard – the result of which was simply ear splitting volume.
The audience was stunned all right – but mostly because the first ten rows were deafened. It was a great pity – but someone should have done a better job in getting it right on the day.
Despite a wonderful quintet to follow, a slick 'Champions' march, Les Neish on sparkling form, and two well played bits Russian lollipop music to finish, the sense of it not being Fodens day was emphasised by the non appearance of compere Frank Renton before their final item.
Garry Cutt did his best to stop the brushweed blowing across the stage, but it was an unfortunate longeur. If things had gone to plan then Foden would have surely been up there pushing for the title, but it was a day when their innovation didn't come off and nothing quite went right for them.

For pictures of Fodens at Brass in Concert go to:
http://www.pbase.com/troonly/08bic_2_fodens
Whitburn exception

On most people's opinions these were the top six bands by some margin – with the noted exception of Whitburn.
The Scots haven't really enjoyed their trips to this contest in the last couple of years, but on this occasion they produced a cracking set – full of invention, innovation and high class playing. That it came 9th was a bit of a mystery – but then again, Brass in Concert is as we said – is all things to all people – and that includes the judges.
A cracking opening 'Spain' (with a proper Latin style trumpet riff) was followed by a suave Catalan Carol, 'The Song of the Birds', before a sprightly highland jig from the percussion (and MD) and Peter Meechan's rock doozy, 'Innuendo', which was classy in style and execution and which deservedly won the 'Best Composition Award'.
It all seemed to be going swimmingly for the Scots, but a misplaced humour item in the George Michael 'Faith' (and you don't have to be a Sun newspaper reader to work that one out) seemed so unnecessary. The finale though was all Scottish bells, whistles, singing and bagpipes and rounded off a programme that was excellently controlled by the MD Steven Mead from start to finish.
The only pity was that there were not more people in the hall to enjoy it (most went out before the band played thinking it time for a tea break, when the official one was after the next band on) and that the judges on this occasion didn't think a great deal of it either. Whitburn was more than a touch unlucky.

For pictures of Whitburn at Brass in Concert go to:
http://www.pbase.com/troonly/08bic_5_whitburn
Cracking Hepworth

The remaining five bands all had their moments, but none ever suggested that they were going to come in the prizes.
Hepworth started the day off in cracking fashion with an opening half of a well crafted programme that suggested that they were going to set a very high marker.
However, as it went on the focus of their playing just lost its intensity and the middle section of their set with ill advised lame humour on what was a very clever novelty item and a lumpy jazz insert lost valuable musical and entertainment points.
The big old finisher put them back on track, but by then it was a little too late to stop them falling away to their eventual 10th place finish. It wasn't far off a very good programme though – so watch out come Butlins in January.
For pictures of Hepworth at Brass in Concert go to:
http://www.pbase.com/troonly/08bic_1_hepworth
Desford ditch

The same could also be said of Desford, who will surely have to ditch the simply awful, toe curling comedy insert 'Arriva Derchi Roma' before they defend their Mineworker's title in Skegness next year.
If they can (and should) then their mix of something old (Comedy Tonight), something new (On Bosworth Field), something classy (Blessed Assurance) and something blue (Saints Fantasy) may well be more than good enough to win there.
Not here though and the band desperately need to brush up their humour stakes - the two items ('Show me the way to go Home' nearly had you standing up and pointing at the exit signs in the hall) should be binned as soon as possible as they undermined a solid enough programme on the day.
For pictures of Desford at Brass in Concert go to:
http://www.pbase.com/troonly/08bic_12_desford


Worthy Leyland

Leyland's 22 minute slot was all about solidity in fact – to the point where its musical worthiness became a handicap to its entertainment value.
The opening Simon Dobson 'Dreaded Groove and Hook' promised much in the music and presentation stakes, but the Rimmer march was Carbon dated in age and the clever Snell arrangement of 'It's a Lovely Day Tomorrow', despite being well played, was also out of the tomb too.
Katrina Marzella only showed glimpses of her usual magic (for much more go out an buy her new CD release) whilst the Ashford & Simpson 'Mountain' pop classic was as weak as the singing from the band.
Curnow's 'Psalm of Praise' to end rounded off a programme that never lived up to that early promise. Although 7th place was a decent return on paper, it possibly told you more about the bands that finished below them than those that finished above.
Those included the bands that finished in the bottom two places – Reg Vardy and YBS.
Given that the organisers hope to have the US Open champions here next year, as well as the Euro Brass winners and possibly the Norwegian SIDDIS Champion, these two (and may be one other) will be wondering of they have made their last appearance at the contest for some time.

For pictures of Leyland at Brass in Concert go to:
http://www.pbase.com/troonly/08bic_8_leyland
End of Reg Vardy innings?

Reg Vardy has had one heck of a good innings at the contest, but on this form they could do with a break.
Allan Ramsay tried to bring something different to their programme, with three Salvationist inspired items (including the little gem of a march entitled 'Able' by William Turkington), but the sense that here was a band still in the process of rebuilding was never far away.
The inclusion of excerpts from Verdi's 'Dies Irae' was a brave choice indeed, but somehow summed up their efforts – it never quite came off.

For pictures of Reg Vardy at Brass in Concert go to:
http://www.pbase.com/troonly/08bic_11_regvardy
Rebuilding YBS

Finally then, YBS and a performance that also had the hallmarks of a band in the middling period of the rebuilding process too.
Morgan Griffiths was limited by his choice of repertoire that would make the most of his current resources, and although there were glimpses of a band moving solidly in the right direction, the evidence on show on the day was that they still have a way to go yet – on the entertainment platform more than the test piece stage.
No complaints we feel for their result, but a band that in 2009 may well be a different proposition all together.
A long day came to an end with a short concert by Rochdale Borough Youth Band (why couldn't Ian Bousefield been used – he had to catch a flight the next day so we heard nothing from one of the greatest brass players in the world all weekend), and the announcement of the results.

For pictures of YBS at Brass in Concert go to:
http://www.pbase.com/troonly/08bic_9_ybs
Cory wish list

Brighouse & Rastrick taking no fewer than five individual awards, had obviously impressed Ian, but the main judges were more impressed by the top three of Grimethorpe, Stavanger and Cory – and as a result 29 years of near misses (and some not so near misses to be fair) came to a end for the Welsh band.
Cory in fact finish the year as they would have wanted – the best band in Europe on the test piece and entertainment contest stage, ranked number 1 and the biggest money winner of the 2008 season.
No doubting that the wait was well worthwhile then.
Iwan Fox