2008 Brass in Concert Championship - The Humour Stakes
19-Nov-2008
Once more there was plenty to laugh at on the contest day at The Sage. So who were the top funny guys, and who took inspiration from Jonathan Ross and Russell Brand...
---
As always at Brass in Concert tickling the funny bones of the audience and the judges is a matter of comedy alchemy.
Get it right and it is pure 24 carat points winning gold. Get it wrong – and its as funny as John Sergeant doing the tango on Strictly Come Dancing (or should that be the other way around?).
This year we had the usual mix; from slapstick and variety hall acts to subtle bon mots PG Woodhouse would have chuckled at.
4BR has its own particular brand of humour of course, so what tickled our fancy may not have rubbed the rhubarb of the person sitting next to us, but these were our top six best and our bottom six worse this year at The Sage.
Laugh out loud: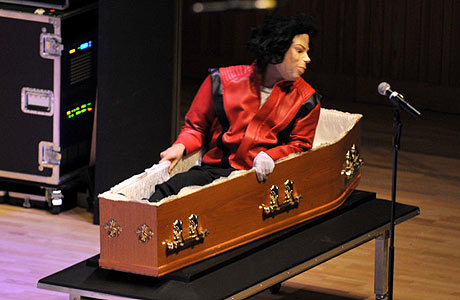 Whacko man: Neil Hewson rises from the grave...
Picture: Ian Clowes
1. Neil Hewson as Michael Jackson
Fairey's own Whacko man played the role to perfection with great little mime moments to go with the more obvious slapstick prancing about.
2.. Alan Morrison in a white suit
Clever stuff. Knowing that he had to 'out Dicky' Richard Evans, the appearance in an all white outfit was perfect. Got the laugh from the audience who knew exactly what it was all about and enabled him to get on with the job in hand.
3. Steven Mead's Highland jig
A bit light on the loafers, but neatly done by McMead. Just the right touch of visual humour to help along the music.
4. Allan Withington's hypnotism act
Short and sweet. Perhaps a touch un- PC for some in audience but dry and witty none the less.
5. Cory's percussion boys
Frank Sinatra meets the Stomp percussion stars – clever visuals and very well played.
6. Stavanger's Gala Concert programme
Read the concert review and all will become clear…


Reach for the shotgun…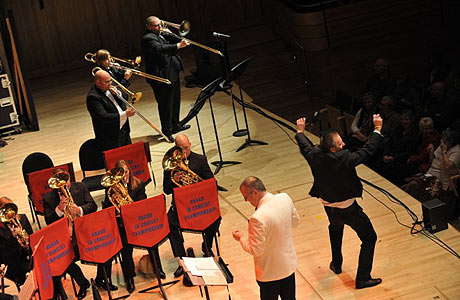 Take aim...: Desford's maraca man...
Picture: Ian Clowes

1. Desford's prancing maraca man
If only we had a gun… Unbelievably prattish…
2. Cory's Tweety Pie
Just what you need to try and put the mockers on a fantastic bit of solo playing – a bloke dressed up like Children's Entertainer in a yellow bird suit. Truly awful…
3. Hepworth's Waltzing Cat
Great piece of music, but destroyed by messing about that was last seen being used by the Chuckle Brothers.
4. Whitburn's George Michael
No. No. No. The wig and sunglasses were bad enough, but the arrest for lewd behaviour? At last it should have been Officer Dibble from the USA not Dixon of Dock Green.
5. YBS – 76 trombones
So old it could be carbon dated.

6. MD's running onto the stage
Mr Garasi is no Rocky Balboa and Mr Katsikaris is no Linford Christie that's for sure…