2008 Brass in Concert Championship - The sartorial elegance parade
19-Nov-2008
What did the girls think about it all then? 4BR asked some experts in the field to give their opinion on the dress sense and Whowr! factor of the men at the helm on the weekend.
---
There is fast becoming a bit of a Trinny and Susannah sub plot to the appearance of the conductors at Brass in Concert.
Gone are the days when Musical Directors took to the stage dressed by their wives, with well starched collars, ties from Marks and Sparkes, clean shoes and well pressed trousers.
Now it's becoming a show the two television fashionistas would love to get their hands on.
4BR asked a few ladies who know how to shop, just what they thought of the 12 men on parade.
Thanks to the girls from Tullis Russell Mills Band, a young lady from Robert Bakery Band who sat next to the 4BR Editor and a couple of well oiled supporters in the bar afterwards – this is what they came up with…

The 4BR Fashion Stakes top six were as follows: (marks out of 10)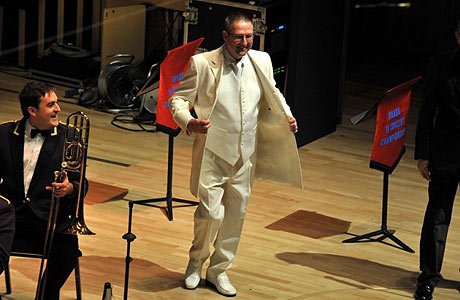 All white on the night: Alan Morrison shows off his best Daz wash...
Picture: Ian Clowes

1. Alan Morrison: (Brighouse & Rastrick) = 9/10
All in white, like the dead man from old the television series Randall & Hopkirk (deceased). Having to upstage Dickie Evans takes some doing, but fair play to Allan he went the whole hog.
It was surely rented wasn't it though?
The Girls said: 'Wow!', 'Brilliant', 'Sexy' and 'Slightly spooky'.
Lost a mark for not being able to have a matching halo to go with it.

2. Steven Mead: (Whitburn) = 8.5/10
What a pair of strides! If you are going to go the full Scots Monty then a pair of trousers that would make a chameleon suffer with double vision is the best way to go.
Took some daring and some wearing, although the provenance of what highland clan Steven McMead is will take some sorting out…
The Girls said: 'Surely they chaff', 'Uncomfortable', 'Brave', 'Different' and 'Where on earth did he get them from…?'
Lost points for not wearing a ginger wig and tartan hat combo to go with it…

3. Allan Withington (Stavanger) = 8/10
Mr Uber cool. A cross between Pandit Nehru and a James Bond villain. Black frock coat topped with red lapel rose.
The Girls said: 'Ohhhhh', 'Liked it' 'Dishy' and 'Is he married?'
Lost points from jealous 4BR Editor on grounds that most Norwegians wouldn't know who Pandit Nehru was…

4. Michael J Garasi (Grimethorpe) = 7.5/10
PT Barnum meets Rocky meets Don Johnson from Miami Vice.
Three outfits in one – from the Sly Stallone entry in gown and boxing gloves, to the gold braid overkill of Henry Fillimore, to the slick million dollar threads of Tubbs & Crocket to end.
The Girls said: 'Lovely smile,' 'He would look good in anything for me' and 'A bit too flash American for my taste'.
Lost the odd point for not shouting out 'Adriannnnn!' and not flashing the million buck gnashers enough.

5. Robert Childs (Cory) = 7/10
Dr Bob goes all Yankee with an understated good old southern boy bolo necktie, black shirt combo.
The Girls said: 'Different', 'Where's the Stetson and cowboy boots', 'Not more Brokeback Mountain stuff please…' and 'Which of the bass section is going to be Dolly Parton?'
Lost a few points for not breaking into a bit of line dancing at one point or starting to sing 'Achey, Breaky Heart'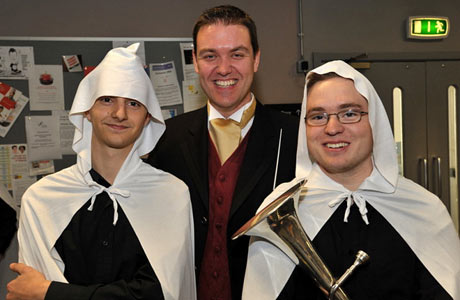 The Price is right: Phil Chalk as a young Vincent Price...
Picture: Ian Clowes

6. Phil Chalk (Fairey) = 6/10
A young Vincent Price homage. Red waistcoat, frilly shirt and dark manic smile as he rose the undead. Conducted a band that dressed like a cross between the KKK and the Albino monk in the Da Vinci Code…

The Girls said: 'Dead smart', 'Scrubs up well doesn't he' and 'Does the leader of the Klu Klux Klan really dress like this?'
Lost a point or two for not quite being as scary as Vincent Price in the 'Abominable Dr Phibes'…

Also rans...

Also rans in the fashion stakes this year for our girls were…
Garry Cutt, Jason Katsikaris, Morgan Griffiths, Allan Ramsay, Sandy Smith and Nigel Seaman.
All either dressed by their wives, girlfriends or mothers according to our experts.