2008 Brass in Concert Championship - Introduction and Prediction
12-Nov-2008
Lots to play for at The Sage this weekend, but will the motivation be the loads of lovely dosh on offer, or the prestige of becoming unofficial entertainment Kings of Europe?
---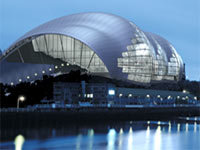 Money or prestige?
All eyes will be on the last 'major' of the year at The Sage this weekend, but with the financial meltdown reaching Dickensian proportions in some parts of the country there is no sign of 'Hard Times' at Brass in Concert. Over £11,000 is up for grabs.
Despite the obvious attraction of the big bucks, the prestige of being crowned official Brass in Concert Champions, and unofficial 'European Entertainment Kings' is just as motivating a factor.
Rankings
This year sees perhaps the strongest available line up of contenders at the contest – seven of the top 10 ranked bands in the world are here, with the lowest ranked 21st.
That gives prestige in anyone's book, although there is a tasty financial sub plot brewing with any one of a quintet of Grimethorpe, Fodens, Desford, Cory and Brighouse & Rastrick able to end the year as the leading 4BR Money List winner if results go their way. Money and prestige then.
Brass in Concert is now a flourishing contest, and with added attractions to satisfy brass band lovers on both Saturday and Sunday it is fast becoming a festival weekend of fun, games, education and inspiration.
Innovative
The sense of reinvigoration since the contest moved to The Sage has been palpable, and this year the organisers and sponsors have innovated once more with taster sessions for players with Richard Marshall, Sheona White, Brett Baker, Derick Kane, Joe Cook and Simone Rebello on the Saturday.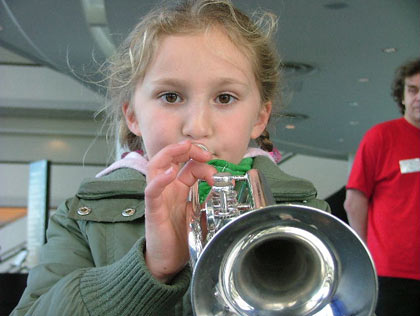 Lots for all ages: Taster sessions for players on the Saturday

Through the generous support of the Shaw Trust, these are open for players and abilities of all ages, kicking off at 9.30am and running through till 12.30pm. After a spot of lunch, there is a full rehearsal before the players demonstrate what they've achieved during the morning with a short concert.
There is still time register too, so if you are interested get in touch with Alan Hope pretty sharpish on 0191 416 1008 or 0776 5656729.
Youth Entertainment Champions in town
As part of the innovative thinking, the organisers have also formed two interesting links with the Action Research Youth Entertainment Championships and the US Open.
The invitation for Rochdale Borough Youth to perform a concert on the Saturday afternoon (with Simone Rebello as guest soloist) is a great idea, and given their track record of sparkling brass entertainment, a few spies may be out from the senior outfits picking up tips for the following day.
USA
The link up with the US Open is certainly an interesting and innovative one too, but how viable it is in the current climate only time will tell. The idea for an annual invitation looks to be a prestigious offer all right, but given the state of the American economy, the musical buck may seemingly stop in the USA until things look up.
That said, the introduction of bands from overseas has been a wake up call for the UK entrants, and with the Europeans (and the Norwegians in particular) making innovation their musical mantra, perhaps a more regular link up to some of their national entertainment contest such as SIDDIS would be a more viable idea.
Gala Concert
In recent times, Gala Concerts at the conclusion of high profile banding events have been given the thumbs down by audiences.
Here though, a Gala Concert as an aperitif has worked a treat – especially as the bands involved have entered into the spirit of things. Eikanger were a gem last year, blowing Grimethorpe off the stage, and much will be expected of Stavanger this time around too. Brighouse & Rastrick will of course have one eye on a hat trick of wins on the Sunday, but they will surely want to make a forceful statement of intent against one of their major rivals. It promises to be a treat.
Contest
As always, a pre-draw has been made – this time by 'King Kev' Keegan before he left as manager of Newcastle United (It would have been interesting to see what the current incumbent, Joe Kinner would have made of it all!).
The whole day starts at 9.30am and it should be all wrapped up by 7.30pm, helped by Frank Renton, who is sure to have plenty of little 'bon mots' to keep us happy and informed from start to finish.
Judges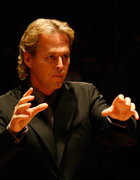 Once again, there is a distinguished panel of judges who will see and hear everything that goes on.
Professor David King (right) will make his debut and with Stephen Roberts they will pass judgement on the music played. Ian Bousfield will judge the solo prize, with Andrew Berryman and David Horsfield holding court in the Entertainment category.
The Bands
The running order for the day is: Hepworth (Cookson) Homes; Fodens; Stavanger; Fairey; Whitburn; Brighouse; Grimethorpe; Leyland; YBS; Cory; Reg Vardy and Desford.
With 60 points for entertainment, there could be all sorts of fun and games on offer – although hopefully of a less tired and repetitive nature from last year. The soloists are invariably top notch and there is plenty to play for with awards for Best Performance of a March; New Arrangement; Neatest Scores and Notes; Best Principal Cornet, Euphonium and Trombone.
4BR Prediction
As for the bands then?
Hopefully they have also taken on board the need to be innovative and reinvigorated in pursuit of money and prestige too.
Last year contained more repeats than a weeks viewing of TV UK Gold, whilst some of the humour, although not quite as misplaced as Russell Brand and Jonathan Ross, was equally as unfunny.
With the organisers and sponsors doing their bit, the emphasis does fall on the bands to show willingness and ambition too. There are only so many swagger marches and music from the latest mediocre blockbuster film that can be played.
It's not that long ago that picking a winner here was fairly obvious, with Grimethorpe ruling the roost, but that has changed with Brighouse & Rastrick and Richard Evans taking the spoils in the past two years. There is no Dickie this year though (which will disappoint the ladies in the front rows who loved him in a kilt) but Alan Morrison will be keen to claim the hat-trick in his absence.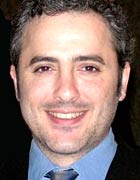 Grimethorpe will have the charismatic Michael J Garasi (right) at the helm, and is a combination that if it clicks then it could prove unbeatable. He is some operator as they say in Florida and it could well be a match made in entertainment heaven.
Fodens will surely provide a strong challenge (they have, whatever stage they have played on this year to be fair) and they usually have something up their sleeves, whilst Cory will be keen to finally claim a title that has rather mysteriously eluded them over the years. They will be as well prepared as anyone we are sure.
What Stavanger has in store could be something to savour, although they have had a few personnel changes of late, which may determine just how far out in a limb they plan to go. Whatever they do, it should be more than interesting to say the least.
Behind these bands though comes a brigade of challengers all of whom could well push strongly if they have blended their musical intentions with their entertainment ones.
Fairey has done well here lately and under Phil Chalk they continue to move impressively in the right direction, whilst YBS showed last year that they still retain that little bit of 'magic' about them. Both could be in the mix come results time.
A dark horse though could well be Whitburn – reports of a heady brew the witches of Macbeth would be proud of are coming out of Scotland, so perhaps a return to better days here for the Scottish champions may well be on the cards.
Leyland is a band in a rich vein of form too and it will be interesting to see what Jason Katsikaris brings to the table – it could be very inventive and vibrant if his contest performances with the band are anything to go by.
Desford meanwhile have shown that they can certainly entertain, winning Butlins earlier in the year, but the sheen has gone off them of late and they will need to be on top form to really hit the heights against this standard of opposition.
Hepworth (Cookson Homes) was a last minute replacement last year and didn't have time to show off their qualities as a result, but this year should be different if they are able to match their musical ambitions (the choice of Sandy Smith could be an Ace in the pack) to their usually solid playing ones.
That just leaves the ever present Reg Vardy – a band that has shown that it more than deserves its place here in the past few years, despite a poor showing last time out. If they can get the home support going then it may well signal a revival of not just their fortunes but perhaps those of the local football team too.
No end of money can buy that type of prestige...
1. Grimethorpe
2. Brighouse & Rastrick
3. Fodens
4. Cory
5. Leyland
6. Stavanger
Dark Horses: Whitburn