2008 British Open Solo & Quartet Championship - retrospective
10-Nov-2008
Malcolm Wood and Dave Tinker look back on a day rich in quality if a little low on quantity at Dukinfield Town Hall.
---
Senior Solo Championship:

It is extremely easy to talk something up, and say that an event was better than it actually was, but the reality of the Senior Solo Final to declare the British Open Solo Champion 2008 was an absolute cracker.
Congratulations of course went to the victor Glenn van Looy, but sympathy also to the eight other finalists, and to the adjudicator's Major Peter Parkes and David Read, who had to chose the winner followed by placing the competitor's in order. Such was the standard, it was a near impossible task.
Sympathy

Sympathy especially for Katrina Marzella too, who prior to the contest was going for a hat-trick of victories, a feat that nobody had achieved since James Shepherd between 1962-64. Sadly it wasn't to be for the brilliant Scottish baritone player, although she could have done no more in defence of her title.
All of the challengers will have left Dukinfield Town Hall disappointed of course, but they should be proud knowing they played as well as they possibly could have done in the circumstances. The difference between coming first and ninth on this occasion was one of personal taste and forensic scrutiny of performance.
Well deserved

Perhaps the most significant point about this year's final was that the overseas competitors made their presence felt as never before. Europe and the rest of the banding world provided three finalists (of which Mark Howcroft received an invitation to compete as the Ern Keller runner up) and in the event two claimed well-deserved podium places.
This is now very much a world wide contest (and the banding world deserves congratulations for its growing support – something the Brits should be shamefaced about). For years players from abroad have measured their abilities against the best of what Britain has to offer, and now they are very much our equals – and better.
Fantastic

Euphonium player Glenn van Looy was simply fantastic.
Having heard Katrina Marzella last year, he decided that she was the performer he had to emulate (and beat) if he was to take the title back to Belgium.
The 17 year old from Festival Brass and Brass Band Heist (pictured right) also decided that he'd better try and emulate her on the very piece she had played twelve months ago too, and so the choice of 'Concerto Per Flicorno Basso' by Ponchielli had extra resonance.
A performance of extraordinary security, style and flexibility in the morning preliminary round rocketed him into the final where he improved even more, lifting his level of execution to a level of sustained excellence, all aided by a sense of confidence that just permeated from him.

It was a thoroughly deserved victory, made even more impressive by the fact that he had played in the Intermediate Section last year, claiming 3rd prize.
Victory here not only gave Glenn the prestigious title, the Harry Mortimer Trophy, and £350, but the opportunity to represent the UK at the Ern Keller Championships next February, in Sydney, Australia. A Belgian Brit so to speak – but one who will carry the title 'down under' with such style and confidence.
Pushing all the way

Pushing Glenn all the way to Oz was fellow Belgian, Harmen Vanhoorne from Brass Band Buizingen, with a superbly crafted performance of Tomlinson's 'Cornet Concerto'.
Striking technique and confident delivery were matched by a sense style and tonal elegance, and he really did have the audience (and judges) in the palm of his hand. It was a performance of rare quality.
In third place was YBS's Principal Cornet, Iain Culross. A supremely confident preliminary performance earlier in the day was improved upon later with a truly bravura rendition of 'Slavische Fantasie', that was performed with such accomplished style that on any other day it would have been nigh on impossible to beat. This however, was one of those very rare 'other' days, but it was a real treat to hear playing of such security.
The remaining six performers were not placed.
Exceptional marker

Mark Howcroft on euphonium took his place in the competition by virtue of being runner up to Katrina Marzella at this year's Ern Keller Contest in Australia.
The soloist can consider himself more than a touch unlucky to have drawn number one, but he set an exceptional marker but he will return home knowing he produced a truly excellent account of himself on the tour de force 'Endeavour' by Helen Johnson.
No more

As we have said, Katrina Marzella couldn't have done anymore than she did here to make it three wins in a row.
Along with Mark, she received a bye straight into the final and once again she used the piece that has served her so well in the past, 'Concerto Per Flicorno Basso' by Ponchielli.
It was typical Marzella performance, so well executed and delivered producing a quite beautiful sound. In fact it was hard to find real fault and it must have been just a question of personal taste for the judges – it was some defence of her title.
Leyland trio

In addition to Katrina, the final became a private contest with two other players representing Leyland Band in Nick Walkley on cornet and Kristy Rowe on baritone.
Kristy last competed at this contest in 2005 as the Ern Keller Champion where she played Goff Richards' 'Rangitoto' and she opted for the same piece this time again. It's a fun piece and the soloist certainly enjoyed herself producing beautiful control and a wonderful lyrical sound. What a baritone section Leyland band has with this pair, and she too can be mighty proud of her performances on the day.
Cornetist Jef Vermeiren of Brass Band Willebroek has also appeared at the contest before. Jef opted for Oskar Bohme's 'Concerto in F Minor' and produced a performance of great flexibility, strength and style, which pushed the prize winners all the way for sure.
Only tuba

Meanwhile, Desford's Jonathon Truscott was the only tuba to make it into the final and he opted for Anthony Plog's 'Three Miniatures' – a colourful rhythmic piece that was handled with mature aplomb.
That just left, Nick Walkley, the Principal Cornet of Leyland. Nick opted for Eugene Bozza's 'Rustique' and a performance of melodic fluency and elegant style was most persuasive. Once more you sensed he could have done no more in his attempt at taking the title.
Earlier in the day, David Read and Glyn Williams were charged with selecting the finalists from 26 competitors – 7 of which came from overseas.
Overall standard

The overall standard was excellent and there were more than a few players who could count themselves unlucky not to have got through to the final, with Brenden Wheeler (euphonium), Rebecca Stead (Longridge) and Helen Varley (YBS) and Neil Raisbeck, (Roberts Bakery) the pick. All would have graced the final without doubt.
It was also nice to report that the repertoire chosen by those who entered varied greatly on the day too - from the traditional, such 'Rule Britannia' and 'Jenny Jones' 'Oubliete' by Lucy Pankhurst. As is the case nowadays, the technique displayed at times was stunning even if the appreciation of musicality did vary.
Individual champions

From within this section, the individual British Open Champions were declared.
Harmen Vanhoorne of Brass Band Buizingen took the cornet prize, whilst Glenn van Looy claimed the euphonium award. Jonathan Truscott took the bass title, whilst Helen Varley clamed the horn prize and Rebecca Stead the trombone title.
The overall champion though was a gifted and very impressive Glenn van Looy and he will head to Australia early next year confident of making it a double at the Ern Keller Contest. He is a young man with a very big future ahead of himself.


Senior Quartet:
With the morning Senior Solo preliminaries out of the way, it was the time for the Senior Quartets to be in the spotlight. However it was sad to report that only three of the four quartets competed with the defending champion Scherzo Brass not in attendance.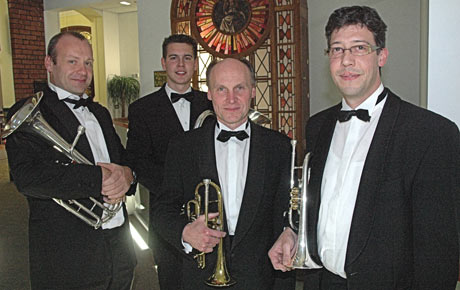 We are the Cosy boys: Senior Quartet winners Cosy Brass from Belgium
Picture: John Stirzaker

Four years ago, members of Brass Band Willebroek first entered the quartet competition under the name Cosy Brass and won in some style. Since then they have continued to compete here, not too mention spreading the word about how impressive the event is (they are great ambassadors for the Belgian and European banding movement).
Conquered

Once more they came this year, and once more they conquered in fine style too.
Adjudicator Major Peter Parkes talked about the importance of playing as a unit, supporting each other without an individual over dominating these virtues were central to Cosy's performance of Goff Richards' 'Little Swiss Suite', the piece that brought them success back in 2004. It really was a classy performance from four very classy players.
Well executed

It was also more than enough to comfortably take the title from a committed performance of John Golland's 'Divertimento' by Blackburn & Darwen, whilst there was also a well executed account from the youthful quartet from Shirland Welfare Training and Marie Smith playing Vinter's 'Fancy's Knell'.
It was a great pity that this section of the championship only managed to attract three entrants as quartet playing is a central building block to producing quality brass performers.
Let's hope next year, the Brits in particular can produce a number of rivals to try and regain the crown back from an excellent Belgian quartet.


Intermediate Slow Melody:
At the same time the Seniors were battling away in their preliminary rounds, so too were the challengers in the Intermediate Section.
Adjudicators Michael Fowles and Helen Williams were charged with selecting the six finalists and with the overall standard high it must have been a difficult decision. In the end they opted for Jonathan Bates, Charlotte Heaven, James Howard, Jamie Smith, Philip Tait and Lode Violet.
Excellent standard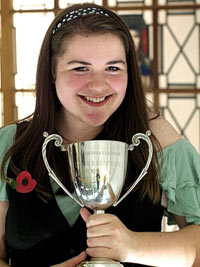 The standard in the final itself was excellent with Major Peter Parkes and Paul Andrews making the all important decisions.

Both were honest in their assessment at the conclusion of the contest and Paul praised the finalists for the control and security that they had shown throughout their performances.
However Paul did make the point of urging each of them to look in greater detail at playing quieter, whilst Major Parkes reminded the players choosing a piece to perform must be done on the basis of what you can play, and play well. Choosing something you like wasn't always the best policy.

Stood out

For the judges, two cornet performers stood out - 15 year old Charlotte Heaven of Oldham Band (Lees) and Philip Tait.

Both opted to play 'Softly Awakes My Heart' and after two excellent performances (both of which suited their warm tones and sense of phrasing) it was touch and go to which way they would go.
Narrowest of margins

In the end it was Charlotte who won the day by the narrowest of margins, with Jamie Smith of Sellers International Youth on cornet in third place. He also gave a very good account of himself, as did Lode Violet, son of Frans Violet, who plays in Brass Band Willebroek.

Meanwhile the other finalists also did themselves proud with fine accounts given by Jonathon Bates on tenor horn and James Howard on trombone – the former from Skelmanthorpe with the latter being from Rochdale Borough Youth.
The winner though was certainly living up to her surname and young Charlotte Heaven is a player with a very bright future ahead of herself.


Junior Slow Melody:
Despite only four players entering the contest, the youthful quartet of challengers all gave good accounts of themselves, and in the winner, Jodie Russell from the Oldham (Lees) Band, we could have a real star of the future.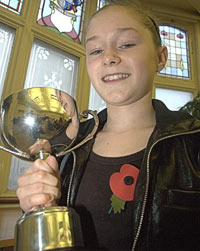 Star performance

The young cornet player gave a well thought out performance of 'Russalka's Song To The Moon' that was highlighted by a lovely warm sound and excellent phrasing which showed that she had worked hard not just to play the notes, but to understand the lyrical melodic line of the piece. It was a cracking performance to take home the title.
Eva Norwicki of Dobcross Youth on trombone was second with a fine account of 'Panis Angelicus', whilst another trombone player Rhiannon Symonds of Lydbrook was third, with Bernice Coulson of Skelmersdale on tenor horn, coming fourth.
Plenty to offer

All four had plenty to offer and all came away with prizes which were fully deserved, and despite the poor turnout in numbers the overall standard was still encouraging.
Surely there are more young players out there than this though and it would be a great pity if this all important first rug of the solo ladder continues to suffer from apathy. Lets hope next year the numbers grow and more little gems such as the winner are found.



Junior Quartets:
It was also a great pity that only three contestants entered the Junior Quartet contest this year too.
However just like the Junior Slow Melody, those who did make it to the stage certainly ensured that the standard of performances was very good, with the winners, Oldham (Lees) Youth coming out on top with a fine performance of 'Brass Quartet in Three Movements' by Simon Kerwin.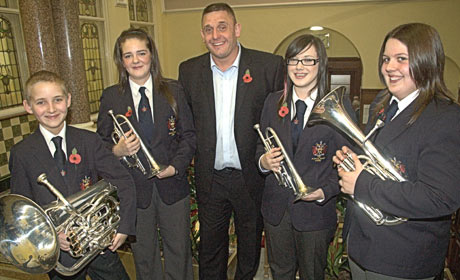 All smiles as Oldham (Lees) take the title
Picture: John Stirzaker

Well delivered

It was a very committed and well delivered performance too, with all the hallmarks of good solid preparation that the main band at Oldham (Lees) is well known for. They were deserved winners.
The other two quartets Solent Concert Youth and Shirland Welfare Training both delivered well merited accounts of themselves too and both could tale a great deal of encouragement from their efforts, which were well rehearsed and delivered.
The biggest problem all three contenders faced however was one of balance – perhaps the essential ingredient to good quartet playing. That will improve in the years to come as all three quartets had the other elements in place – all backed by a ferocious sense of determination.

General impressions:

Throughout the day, Roderick Barrand and David Jones provided deft and very professional accompaniment on the piano, and there was the usual excellent support from Robert Kerwick as MC and all the officials led by Frank Hodges.
The whole event ran as smoothly as you would have expected and the adjudicators spoke warmly of the standard of performances that they had heard throughout the day. Although the audience was pretty sparse, those who did make the effort to come and listen would have agreed too.
Turn out

Turn out from bands though is disappointing to say the least – especially as the contest takes place very much in the heartland of vibrant lower section banding. The benefits that come from competing as a soloist or as a quartet are long term, but it seems all many younger players want nowadays is a short term fix to their playing problems to ensure they can play the next test piece that comes their way.
It should come as little surprise that the Europeans are now showing the Brits the way too. This is a contest they relish the opportunity to compete in and this year they showed just how good they now are.
Glenn van Looy was a most worthy winner of the premier prize and it could herald an extended period of overseas domination of the event if his example paves the way for more players from Europe to make the trip here.
British interest?

As for the Brits? The quality was there to hear, but not the quantity – something of a reversal of what goes on in the band contest world. The talent is there too for the future, but surely there are more young players out there who perhaps just need a prod to get them to compete here by their teachers and conductors.
We all have a duty to support this event (which is given excellent support from Tameside Council), so let's hope there is a greater increase in numbers for next year's event that takes place on Sunday 1st November 2009.
Malcolm Wood & Dave Tinker
Pictures by John Stirzaker