Dinner Guests - Paul Lovatt Cooper's ultimate brass band dinner guest list
5-Nov-2008
Paul Lovatt Cooper tells us who he would like to invite to come to dinner...dead or alive.
---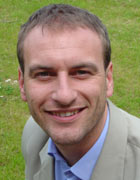 Given the opportunity, the wish list, the ability to mess about with the Space-Time Continuam like Doctor Who, and the skill to cook like Heston Blumenthal, who would you like to invite around to your place to enjoy a meal and chin wag with?

4BR started it all off a few days before Christmas with our 10 dinner guests, so we thought we had better ask a few more brass band personalities who would be on their all time dinner list too...
This time it's Paul Lovatt Cooper, composer, arranger, teacher, percussionist, tune smith and Bolton Wanderers supporter...

We've been fairly generous with our criteria too: The 10 people can come from any time in history, but must have some link, in however tenuous a form, to the brass band movement.
The budget for the meal and drinks comes out of their own pockets though...

Paul told 4BR: "This is really difficult because there are so many fantastic individuals out there. I think I'd rather have a party with over a hundred personalities and favourite people so I could mingle all night. But if it's a short list of ten at a dinner party then to cook and serve the food I would have Gordon Ramsey - he is perfection personified and the food would be simply out of this world. "
---
Then definitely guest number one would be......

1. Harry Connick Jr

The one musician who had my one hundred percent attention whenever I heard his songs and covers whilst I grew up. I came across his music when I was around 12 years old and thought his style was amazing, I loved his arrangements of original standards and his big band compositions.

The real icing on the cake came when I saw him live - an utterly brilliant performer and musician. I would definitely recommend buying his dvds of his live performances in Washington and New York especially when he goes from singing, to the piano, then to the drums and finishing with his amazing voice.
He is fantastic and cool with it as well. He has made quite a name for himself in Hollywood so he'd have plenty of gossip to spill!


2. Sam Allardyce

I don't care that he left Bolton even if reportedly under a cloud, since I became a season ticket holder with the 'mighty white army' at the age of eight I have never seen so much success and critical acclaim brought to my club because of this man.

He took over when we were third from bottom of the First Division (now the Championship) after the club sold arguably our best player to rivals Blackburn - Per Frandsen.
Big Sam left us after serving eight years enjoying a Carling Cup final place, two visits to Europe via the UEFA cup and finishing in the top eight of the Premiership on four occasions.

He brought in some of the best names to the Reebok stadium including Jay Jay Okocha, Youri Djorkaeff, Ivan Campo and Nicholas Anelka. He was also the centre of attention with the transfer scandal on Panorama - obviously he was framed.

I've been to loads of "Player of the Year" end of season dinners and have sat and chatted with the players and Big Sam himself, and he is great fun to be with and really down to earth. Not only that - I'd bet he'd have a few stories to tell.


3. Peter Graham

Getting back to brass bands and to the one person who has had a massive influence over my compositional development is Peter.
I studied composition with him at the University of Salford and we became good friends. We've stayed in touch since I graduated and I always myther him to death whenever we meet up, asking for advice on all sorts of matters both musical and non-musical.

If you ask him, he always plays down his musical influence over me but the truth is he doesn't know how much of a teacher, mentor, colleague and good friend he has been to me over the years.

If there is any Yorkshire pudding left on the table after the meal - Peter gets first shout.


4. John Williams

There is a standing joke at Dyke is that I am Paul Lovatt-Williams - it's all in good humour and light hearted, but the lads are massively supportive with my compositional endeavours.
Never the less, you can hear the film-like musical devices and developments in my works and even the odd nod and wink in the direction of films like 'Star Wars', 'ET' and 'Indiana Jones' etc.

But the truth is John Williams is a master at what he does - he is what I'd like to call a "Tune-Smith" and something that I try to model myself on. I bet he has some fantastic stories to tell with his film projects over the last forty years, and it would be interesting to hear about what melodies and motifs made the cutting room floor.

I would like to think that all composers have other musical influences - try listening to Stravinsky's "Rite of Spring" and in the quiet moments in the music listen to the similarities between them and Williams's music when R2D2 and C3PO are lost out in the desert in Episode 4.... John Stravinsky anyone?


5. Peter Kay

Another jewel from the great town of Bolton. His humour is just up my street and when the mood gets boring with me mythering Sam, Peter, John and Harry, I've no doubt he'll step in adding a slice of sarcasm and humour to the evening.

Of course he'll be in charge of serving dessert - cheesecake?


6. John Doyle

Recent flugal star at Black Dyke now developing as a great young conductor and all round fantastic musician. He was my roommate when we were at Faireys and at Black Dyke for many years, and he is my karaoke partner and best friend.

His humour will match Peter Kay's and he won't be afraid of a bit of mickey taking at anyone round the table. He is such a wonderful character to be around, to share company with and if I were sat around such great people, he'd kill me if I didn't invite him.

He'd also be in charge of the after dinner karaoke.


7. Karl Jenkins

I was over the moon when I found out that Karl had picked my piece "Where Eagles Sing" as the final track to his album "This Land of Ours" recorded by Cory.
It went straight in the classical charts at number six knocking Pavarotti off that spot released just after his death.

David Childs put me in touch with him, and I met up with Karl for lunch at his house. We got on great and have stayed in touch - he's a really nice guy and incredibly successful.
To my surprise I couldn't believe it when I asked if he had any compositional advice for me, he sat back almost amazed and said "Advice? For you? I'm a big fan of your music I couldn't possibly give you advice" - pure heaven.

He is a fantastic person, an amazing composer and hugely successful to boot. He would be a great guest and I'm sure he would love the company round the table.


8. Wolfgang Amadeus Mozart

A genius and as mad as cheese - I'd put him in charge of the alcohol so we'll all be half cut before the main course.
A totally brilliant musician and complete genius. I have thousands of questions for him but the first one would be, "Nearly in 2009, what style of music and what type of ensemble would you like to compose for?" I'd love it if he said - "I already am composing. Have you heard of my stage name - Eminem?"


9. John McGinley

Who put the ball in the Preston net? Super John McGinley!!!

He wasn't your nowadays millionaire style guru striker - he was the salt of the earth and had a fantastic habit of putting the ball in the back of the net at any cost. He provided me with more lower league happiness than anyone else.

For those football fans amongst us who like a good nostalgia trip down "good honest football lane" check out the many film clips sent into youtube.com featuring loads of Bolton goals scored by John McGinley - what a fantastic, honest, talented and modest player he was.

It also gives another sports person for Big Sam to talk to.


10. Jenny Kendell

The love of my life, and the lady who has supported me completely throughout my career. Jen has been my girlfriend now for a few years and has been behind me completely from day one.
She understands the commitments of playing with such a busy band as Black Dyke and supports me in that venture. On top of that she also allows me to pursue my composing career that takes up more time than anything else I have ever attempted.

Jen is adored by the guys at Dyke for her fantastic personality and wonderful character. Whenever we have a social event at Dyke they tend to ask for Jen before me - she is so well loved. The most important point is that she is beautiful, elegant and loves a social occasion.
She would be great to have round the table as she would mix in with the guys without being fazed by their achievements and she would be a great bit of eye candy.

So to conclude, my ideal Dinner Party would have a number of food courses from Gordon, and with Mozart in charge of drinks we'd need to watch the measures.
Due to the range of guests we would need to start early, around 1pm and knowing the amount of what we'd discuss - taxi's at 8am the following morning. I can't believe I'm getting excited about it!
---
Previous dinner guest lists:
Previous guests have included the 4BR selection; Chris Wormald; David Read; Pete Meechan; Alan Jenkins; Derek Broadbent; Philip Harper; Peter Roberts, Frank Renton, James Shepherd and Dr Roy Newsome.