Gizmos & Gadgets - November 2008
4-Nov-2008
From the latest high wonder products to the simplest little bits and bobs and a few that are truly weird and wonderful. 4BR has been out shopping and testing out what's on offer this November.

---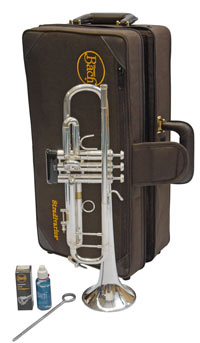 Vincent Bach Stradivarius S182
Silverplated Trumpet
Item SKU: S182
Price: £1,049.00 (inc VAT)
It's all in a name isn't it? The most famous trumpet in the world is now available to be played by any would be Maurice Murphy.

The American Vincent Bach 'Strad' (no one really calls it a Stradivarius, do they?) is the iconic trumpet for players young and old.
Variants on the original theme are played in the best orchestras around the world by some of the greatest exponents of the craft, and now you can get your hands on one for just over a grand too (a saving of £1,200).
Handcrafted, classic features, rich tone, subtle responsiveness, power and precision – and all made to a spec Mercedes Benz would be proud of. (American cars are put together like soup cans)
The makers state that this S182 trumpet features a standard weight #37 one piece bell and #25 lead pipe, a lightweight body and a .459" bore – all the right ingredients to allow you to dream the dream of sitting in the trumpet section of the LSO with Mo and the boys whacking out a bit of Wagner at full pelt!
Lovely jubbly…

More Information:
http://www.normans.co.uk/Items/s182
---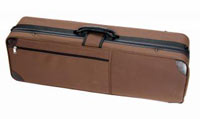 JP Case 888
Web Price : £38.00 (inc VAT)
Normal Shop Price : £40.00
Any trombone players out there looking for something new with plenty of quality for the money for Christmas? Oh – and its cheap too.
The lads at John Packer have made a special deal with Santa for these tenor trombone (suitable for Bb and F instruments) lightweight cases.
Strong, durable, well padded, lots of little cubby holes – it does the biz. Nothing more to be said really – except it comes in beige.
Perhaps that's explains the price. The colour was all the rage in the early 1970s so you never know? Iy may make you look like an extra from 'Life on Mars', but that is so cool nowadays…

All you have to do is buy it on line and you save plenty of dosh.
More Information:
http://www.johnpacker.co.uk/accessories/206932.htm
---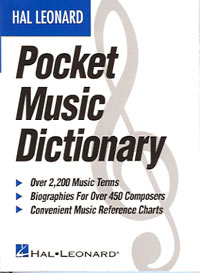 Pocket Music Dictionary
Price: $4.95 (approx £3.08)
Ever been stuck in a band practice wondering what on earth your egotistical conductor is blathering on about?
The difference between a rall and a rit, the subdominant and submediant, a Gigue and a Gavotte, a Canzona and Canzonet? Why a nice set of tuttis is not an excuse to laugh as if it's a double entendre best left in Carry On films?
This little Pocket Music Dictionary by Hal Leonard is just the jobbie. Weighs less than an American Big Mac and is half the size, it has all the essential information you need, and there are music charts and 450 composers details in there too.
This incredible pocket dictionary has over 2,200 terms in it - but is still small enough to fit into even the tiniest of cases, or your back pocket to sneak into band when the MD isn't looking.
As small price for big info. Now you can tell your conductor just what the difference between a 'pasticcio' and a 'pastiche' is – and no, they are not two different types of Cornish savoury snacks…
More Information:
http://justforbrass.com/index.php?
---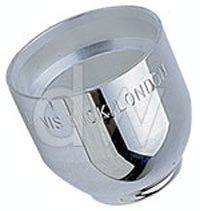 Denis Wick Bass Trombone Booster
DW6182LB
Price: Approx £25.00 (inc VAT)

Denis Wick has been making innovative products now for the benefit of the world's brass players, and there are plenty of them who have become fully paid up fans of the DW mouthpiece boosters.
By using them in the correct manner the makers state that these attachments which can be fitted to existing mouthpieces of all makes, converting them into 'heavytops' .
Particularly useful for players who need to play in various styles, they can easily be fitted or removed. All this and now bass trombone players can get the benefit so many of them have been crying out for all these years.
Don't blame us if all you can hear is an even louder noise coming out of the back right hand side of your band at next rehearsal. For bass trombone players, these should really come with a government heath warning, although Denis Wick does helpfully provide a mouthpiece comparison chart and trombone descriptions to help them out.

More Information:
http://www.deniswick.com/product.cfm?id=277
---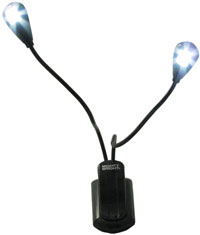 Mighty Bright Xtraflex Super LED – Duet
Price: £22.00 (inc VAT)
A versatile music stand light with two flexible goose necks, which can be positioned however you want.
Why you ask? Why not.
The super LED lights are as bright as 3 regular LEDs and the special lens spreads light evenly with no hot spot. They may look as odd as ET's fingers, but then again, they may come in handy if you ever meet an alien on your banding travels.
According to the makers, the bulbs will never need to be replaced, so your green credentials and carbon footprint will be kept at a minimum in the orchestra pit too.
All it requires are 3 AAA batteries (which you need to buy) and off you go.

Not to be used to make 'phone home' impressions…

More Information:
http://www.woodwindandbrass.co.uk/acatalog/music_stand_lights.html#a1813