2008 Pontins Championship - Harry & Margaret Mortimer Championship retrospective
29-Oct-2008
23 years may have passed since his most memorable ascent of the summit, but Major Peter Parkes still knows how to climb thge musical fells in style.
---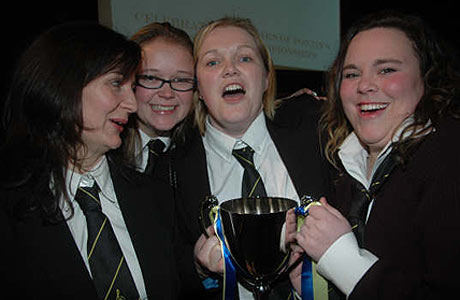 On Cloud 9: The girls of Sovereign Brass enjoy victory on Cloudcatcher Fells
Picture: Niki Stirzaker

John McCabe's 'Cloudcatcher Fells' is a tremendous piece of brass music and although it has been used on numerous occasions on the contesting stage, including this contest in 1999, it remains an immensely difficult work to overcome - as the bands here found out on Sunday.
The adjudicators, Derek Broadbent and David Read spoke perceptively about what they had listened to from the 17 competitors.
Top draw music

The piece certainly got the thumbs up, being described as 'top draw music' by David Read, and even some 23 years after its premiere at the National Finals in London in 1985 it still hasn't lost its musical potency.
The transparency of the writing invites the unwary MD to come a cropper, with its demanding virtues of sheer quality only realised by bands with top class soloists and strong ensemble back up playing to the very top of their form.
Atmosphere

Musical atmosphere is what the piece is all about – the mere playing of the notes is nowhere near enough. A complete understanding of the composer's inspiration and intent are paramount. Here, some mastered it, others got close, whilst in many cases you were left scratching your head, wondering just what sort of musical picture conductors were trying to portray. Only one MD though had a complete understanding of the piece in all its elements.
That of course was Major Peter Parkes and although this was no repeat of Black Dyke's magical 1985 winning effort, he did illicit something special from Sovereign Brass to take the title.
That year Dyke was unbeatable and a 'Grand Slam' of the major titles placed them as one of the very finest bands in history. It was all capped by that London performance and that definitive interpretation of the work.
Quality stuff

Sovereign Brass 2008 are no Black Dyke 1985, and whilst their winning performance may not have hit the same dizzy heights, it was still quality stuff, all aided by a simply superb interpretation that certainly rolled back the years.
The Midlanders were drawn 8th and until this point, there had only been a couple of performances that stuck in the mind. Sovereign though delivered from the very first note and not only had the best opening of the day, but was the first (and perhaps only) band to really deliver the music to the letter as the composer had intended.
Well shaped dynamics created the right atmosphere and musical picture, and whilst it wasn't flawless (particularly right at the end when the errors could have proved costly), the band's quality of sound and the way the piece was shaped was more than enough to secure the £2,500 top prize - all with a little bit of breathing space. Mark Hadlington on principal euphonium was in great form and he thoroughly deserved to take the Arthur Bedwell Memorial Trophy.
Last band to ponder

It was left to the last of the seventeen contenders (from an original field of 21) Bactiguard Wire Brass, led by Paul Andrews, to give the judges something to ponder, with a thrilling interpretation, full of character, effective dynamics and a superb sound.
Conducting without a baton, Paul Andrews almost drew the music from the bells of the instruments and although they just tired towards the end it was a performance rich in musical intensity which deserved its reward.
Noticeable comparison

Powerfuel Hatfield Colliery and Graham O'Connor were drawn to play straight after Sovereign Brass and the comparison of approach between the two was noticeable.
The MD had clearly worked his troops hard in preparation for their title defence and there was plenty to admire, but for all the virtues of hard work and solid execution, that atmosphere of natural grandeur that seemed to flow from the eventual winners was just missing.
There was still plenty to admire, but despite a brave defence third place was a fair return for a committed performance of merit.
Commendable

Staffordshire Band by their own admittance has been through a difficult period of late, and so they would have been delighted to have come in the top four.

The talented Huw Thomas took a sensible approach to both tempi and dynamics and so the performance grew with a feel of solidity and purpose, even if it was a little bland in terms of vibrancy in the more rhythmic sections and a little lacking in atmosphere in the slower movements. The approach though held form right to the end and a commendable fourth place was just reward.
Brave option

For the second year in a row Tongwynlais found themselves in fifth place come the announcement of the results.
As you can sometimes expect from Philip Harper, this was an individual reading that bravely opted to create atmosphere from the very first note to the last. Some of the dynamic playing was a class above anything heard on the day, but it also meant that a few noticeable little clips and unevenness in ensemble balance was on show too.
They can perhaps consider themselves a touch unfortunate not to have finished higher for a performance that always kept your attention, but if this partnership continues to work together as well as this in the future, then Tongwynlais will be a band to look out for in 2009.
Standard set

The one thing that can be said about playing number one is that you get the opportunity to set the standard – and Northop certainly did that with a performance that had extended periods of quality. Unfortunately it also had too many moments when the cohesiveness went astray and took the edge off what had the potential to have featured highly if it had all come off as planned.
Dropping of standards

Apart from one or two exceptions, the standard outside the top six dropped off somewhat – and in some cases quite alarmingly.
Fishburn and Phil Rosier coerced a reading that was solid and workmanlike, but also contained a fairly high error count to come 7th. The balance of sound wasn't always as it should have been with an over prominent bass line at times detracting from the good work of the upper cornets and horns.
Unlucky?

Meanwhile, Marsden Silver can consider themselves more than a touch unlucky to have finished in 8th place. Glyn Williams and his band produced a solid account with lots to admire, but the tempo's were on the quick side whilst the dynamics were a touch overcooked in places. That meant it took a few too many risks, and although it was certainly exciting, the judges felt it may have needed a touch more restraint.
Fine bands in the making

Felling in 9th place played third and produced a performance that showed that here was a fine band in the making. Although it didn't have the overall qualities of the bands that finished above them, the basics were all in place and the sense that they had worked hard to master a very difficult work were clear on the ear, with attention to internal balances and tempi a feature.
The same can also be said of Wantage and Philip Bailey, and although they did take time to settle it then developed into a well thought out performance that maintained musical interest despite some untuneful moments. 10th place was an encouraging return however.
Unstuck

Stocksbridge and David Nesbitt in 11th produced a very technically sound rendition, but it never really captured the atmosphere to portray the right kind of musical picture. Some of the quicker sections lacked that self assuredness and (like others) they come unstuck at Angle Tarn, where the tuning headed to the hills somewhat.
No complaint

There could be no cause for too much complaint for the bands who made up the rest of the field.
Enderby and Jonathon Mott never settled and although it was an intelligent reading from the MD, who kept the dynamics and tempi within his band's parameters, it also meant that the music never came to life although 12th place wasn't that bad a return.
Meanwhile, Derwent and Wrexham were two more bands who struggled at times to get to grips with the piece, although their MD's deserve acknowledgement for their sensible approaches.
Derwent and Keith Leonard, never sounded comfortable and despite the MDs fine efforts to keep a tight rein to ensure compactness of ensemble, the high error count took off the gloss.
So too Wrexham and Wayne Ruston who endured a bit of a bumpy ride. They didn't start off too well, recovered, fell away again, showed signs of recovery before finally falling away at the end - although the MD did everything and more to hold it together to reach the final chord in a coherent manner. It was a brave old effort from one and all.
Final trio

The final trio of Milton Keynes Brass, Cwmaman Institute and Lindley all struggled with the piece it has to be said.
Milton Keynes and Paul Fensom is a capable outfit, but this wasn't their cup of tea at all. It never sounded at ease and with a high error count and some poor tuning it was at times an uncomfortable musical journey.
Sadly it was similar story for both Cwmaman Institute and Lindley too. Too many individual and ensemble fragilities robbed the musical picture and with tiredness and tuning problems it really was a battle for two bands who are certainly in the rebuilding process at the moment on this evidence.
Not so the winners, although it was revealed that Sovereign had been through the mill a bit of late themselves.
Thankfully that is now all behind them, and with Peter Parkes seemingly finding the elixir of musical life, the future looks bright for a very hard working band. Was it really 23 years ago that he reached the summit of this particular musical peak in such commanding fashion? On the evidence of Sunday evening, he can still do it, and do it in style.
Malcolm Wood