2008 Pontins Championship - First Section retrospective
29-Oct-2008
The harsh realities of First Section playing hit home again on Saturday as Eric Ball's Wayfarer proved to be too hard a test for many poorly led bands.
---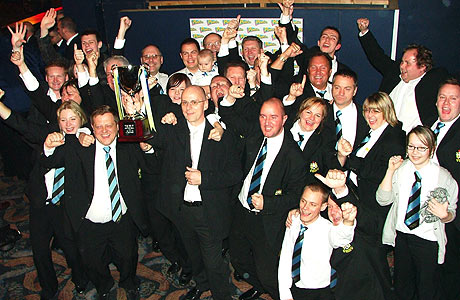 Wayfarer celebration: Ashton under Lyne get ready to party
Picture: Niki Stirzaker

The harsh realities of the current standard of First Section banding were on show for all to hear on the Saturday.
18 bands produced performances of Eric Ball's 'Sinfonietta – The Wayfarer' of varying quality that provided further evidence of a competing strata of contesting that is in urgent need of reform and reappraisal.
Not First Section standard

Many of the performances were not of a true First Section standard, whilst some of the conducting bordered on the inept. Some of these bands will be playing in the Championship Section next year: Heaven help them on this form.
It made for a hard days listening for the audience, and the two men in the box – Malcolm Brownbill and Colin Hardy, who had a pretty unenviable task of separating out the varying levels of general mediocrity.
Consistent mediocrity

At least it was consistent mediocrity though – aggressive and overblown, poorly balanced and beset with intonation and tempo problems – and that was some of the better bands. At times it resembled a sausage factory production line of tasteless pre packaged musical offal.
Winners

Out of the morass came the eventual winners Ashton under Lyne, with a brave account of 'Wayfarer' that musically made coherent sense, even if the execution was at times varied.
Martyn Evans certainly took risks (something commented on by the judges prior to the results) – especially with dynamic contrasts that sought out the subtle colours and shadings of the score, whilst still allowing the music to flow with purpose. It was an approach appreciated in the box and the high risk strategy paid off to take the title.
It wasn't a memorable account by any means, but highly encouraging nonetheless, and on a day when banal aggression seemed to be a prerequisite, the attempt by the MD to create a lighter hued tonality to the musical expression stood them out.
Crassness

'Wayfarer' does of course belong to a different contesting age, but given some of the approaches on the day, it could well have belonged on a different planet too. It is a simple piece, crafted in a style of persuasive musicality – it certainly does not lend itself to a steroid enhanced display of testosterone fuelled crassness.
As Ball himself wrote in the preface; the opening 'Adventure' requires the ability to contrast moods of arrogance, gaiety and uncertainty, whilst the following 'Exile' is impassioned, sad, full of yearning reminiscence. Finally, the 'Homeward Journey' is purposeful and uplifting, ending in triumph.
Musical homophobia

How this then became an opening of aggressive percussiveness with the ability to play ¾ bars in 6/8 meter took some getting used too, as was the misplaced interpretation of 'gaiety' to become a butch roughness that sounded like musical homophobia. Spiteful aggression rather than forceful arrogance was a prelude to an Exile of hard labour and sugar coated emotion that bordered on the diabetic at times.
The subtle tempi changes meant nothing for some MDs - from crotchet = 66 to start, to crotchet = 69 at the Exile – it was merely a signal to reduce the flow as if they had been attacked by musical prostrate troubles. It was like stirring a bucket of coal with a knitting needle - an exile of Gulag deprivation. Not content with making that so much hard work, there then followed the long journey home to freedom in a manner that would have even tested Nelson Mandela's patience.
Finger of blame

If there is a big finger of blame for the general paucity of musical thought on the day, then it should be pointed directly at the majority of conductors who simply didn't appreciate the need for subtlety, lighter tonality and elegant, tasteful style.
Don't blame the players – they only respond to the wishes of the man in the middle. Much of the conducting was clueless and inept - displays of hubristic arrogance and musical bankruptcy, ill disciplined and technically wayward. That's where the real blame lay on Saturday.
Difficult decisions

For the judges difficult decisions had to be made in placing the bands. Ashton's brave attempt to seek the musical inspiration did stand them out, although they must have known that on another day they would have left the door open for rivals to beat them.
Thankfully on Saturday they could have left a garage door, back door, front door and the door to the family safe wide open with a sign saying 'Welcome' and still no one could have walked in to nick the prize money off them.
Malcolm Brownbill and Colin Hardy therefore had the difficult task of separating out a mass of bands that either failed to produce form or were hampered by poor direction. These really were displays of numbing mediocrity.
Hard to disagree

They eventually came up with a remaining top six of St Dennis, Chalford, Skelmanthorpe, VBS Poynton and Hebden Bridge – a quintet of decent enough efforts compared to the rest of the field, but none of which lingered long in the memory banks as performances of musical note. It was hard to disagree with their findings.
St Dennis and Chalford played perhaps as well as they could have expected (Chalford overcoming the effects of three players being involved in a nasty car crash on the way to the contest, but still producing a confident account with some neat solo interventions), whilst Skelmanthorpe, Poynton and Hebden Bridge produced wayward performances high on ensemble and individual errors.
St Dennis, who were uneven in style but certainly vibrant in execution, and Chalford, were delighted at the announcement of the results – the other three were not. That perhaps told you all you needed to know as both bands workmanlike accounts were more than good enough to make it to the podium.
Skelmanthorpe were many people's favourites to retain their title, but this wasn't a performance they would have been happy with as they seemed to feel uncomfortable from the word go. John Roberts had to work very hard for little reward.
Poynton meanwhile seemed to make hard work of it too with an overwrought performance, whilst Hedbden Bridge kicked off proceedings with a fairly non descript effort at a minute to ten in the morning. Even Dennis Hadfield's cheeky plea for a bit more applause at the end couldn't help a marker of unfulfilled promise.
Levels of competency

After these came the rest – in varying levels of competency. From Blackburn & Darwen in 7th to Brackley & District in 13th, there was little to choose – and perhaps any of them could have come in any other order.
All though were let down by poor execution and MDs who rather thought that they, and only they, had found the hidden secret of success in the score that no other conductor in the past 32 years has come close to recognising. Guess what? There is none.
Comparing the performance of Lochgelly in 10th to say Friary Guildford in 8th, Brackley in 13th to Blackburn in 7th, Jackfield in 9th to Drighlington in 11th – or any way around for that matter was rather like wondering whether it was more satisfying being hit on the head with a 2lb lump hammer or kicked in the crown jewels with a hob nail boot.
Neither are the most pleasant experiences – and neither were these performances, although thankfully, you didn't leave the hall with a sore head or the inability to sit down for a week. They just weren't very good.
Exception

The one exception perhaps was Wakefield Metropolitan in 12th. Norman Law laid out the most authentic Ball reading of the day – detailed, subtly shaded and paced, but let down by poor intonation, a few too many noticeable clips and the early number 2 draw.
Perhaps the judges felt that this surely couldn't have been a contender, what with another 16 left to play, but they can count themselves more than unfortunate that they didn't come considerably higher.
In fact it was hard to recall a contest at this level where so many performances were simply so poor, where a band could come home in the top six with playing that they themselves must have known was way below their personal expectations too.
Generous

Both Malcolm and Colin were generous in their remarks at the end of the contest, but the subtext of what they didn't say from the stage was very clear. They earned their money for sure.
Way off the pace

The bottom five bands were way off the pace – and the MDs will surely have to take a long hard look in the mirror at how they approached the piece – they were not of First Section standard by any stretch of the imagination (and 4BR has an elastic imagination at that). It was hard to find positives when basic requirements (wrong entries, wrong notes, wrong tempi, wrong dynamics) were not even met.
What then does all this tell us? Nothing and everything really.
Depressing

Unless someone comes up pretty sharply (and bravely) with a blueprint to reorganise the sections on a national basis in a way that more accurately reflects playing standards, then more contests such as this will be the norm. It is a depressing thought.
These are not bad bands, but the vast majority are playing at a level at which they do not have the required skills to master fairly modest musical test pieces. So too the majority of the MDs.
That though doesn't matter if winning is the be all and end all of competing. Ashton certainly won't mind, and neither will some others who walked off with very generous prize money. It was money for very old and scraggy musical rope though – although still just long enough too for the majority of MDs to hang themselves by their own petards.
It's an unsustainable musical position to be in. And the evidence was there for all to hear on Saturday afternoon.
Iwan Fox