2008 Pontins Championship - Second Section retrospective
29-Oct-2008
A well chosen test piece and conductors and bands with a bit of common sense made for a pick me up Prozac contest on Sunday morning.
---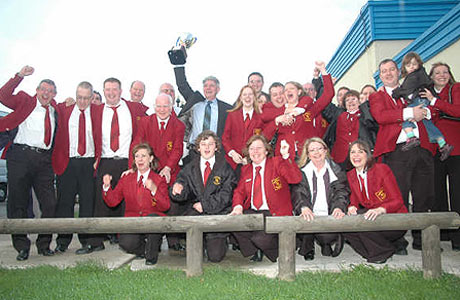 Seaside double: Haslingden & Helmshore enjoy the bracing seaside air
Picture: Niki Stirzaker

If the First Section left you feeling depressed then thankfully there was a pick me up of musical Prozac in the Second Section on Sunday morning.
A well chosen test piece (James Scott knows just about exactly where the real musical level of lower section bands are – National Music Panel take note) meant that each of the 13 competing bands could approach Alan Fernie's 'A Royal Mile Suite' knowing that they could just about master its technical and musical hurdles – players and conductors alike, and still have something extra to spare.
Enjoyable contest

The result was an enjoyable contest of true Second Section standard.
That may not be saying much in the greater scheme of things, but at least it meant that the audience and judges, Malcolm Brownbill and Colin Hardy, were not subjected to another long day of musical mediocrity.
Degree of discretion

It also meant that the two adjudicators could use a greater degree of well placed discretion in their approach to each of the performances too. Instead of having to encounter a litany of poor basics, the competent playing allowed them to question contrasts in tempi, internal balances and dare one say it, interpretation.
It is easy to separate bands out in a 'split count' manner at this level at times, but with so many of the performances having the basics in place, those other factors came into play. Malcolm and Colin must have been delighted – and so too were the audience.
Strange noise

It also meant that on occasions there was a strange bleeping noise coming from what seemed to be the tent, as the duo sought to find out exactly how much leeway the MDs thought was appropriate in each of the sections.
It may have been a touch disconcerting at times, but it did mean that they knew exactly which bands took too many liberties with the circa tempi markings. Some of the final movement march efforts plodded along like a funeral cortege.
Explained

That may also have explained why the fancied Point of Ayr ended up in third place overall behind the eventual winners, Haslingden & Helmshore and second placed Rainford.
The North Wales band certainly produced a powerful performance, with a sound that wouldn't have been out of place in the First Section, but noticeable nervousness in the quieter sections and that slightly prosaic tempo in the final march cost them dearly.
Seaside double

Haslingden & Helmshore meanwhile made it a seaside double by taking the title under the direction of Dave Holland. Their performance was purposeful, bright and vibrant and despite a few intonation problems and the rather needless bass choreography, it retained focus and flow right to the end.

Excellent solo contributions also helped, with a sweet soprano and solid solo cornet the pick of a tasty bunch of lead performers. This was a very competent band on fine form.
Pushing all the way

Pushing them all the way was Rainford, who just couldn't do enough as the final band on stage to pip their rivals for the title. Neil Samuel laid out a sensible music picture with well chosen tempi and solid solo contributions. It was the rather wayward tuning though in the ensemble that at times took the gloss off, and that was perhaps the difference on the day. They too are a very solid band in the making.
With Point of Ayr certainly providing plenty of muscle but also showing that they are still a band in the process of finding its true level of consistency after a long period away form the contesting stage, it was left to fellow Welsh contenders Tylorstown to claim fourth place.
They too produced a robust sound, and after a quality opening their challenge promised much. However insecurity and poor tuning, allied to a scrappy third movement in particular just took the edge off a performance that was rounded off by perhaps the best paced march of the day.
Contrast

In contrast one of the most enjoyable performances of the contest came from the Scots of Tullis Russell Mills under the baton of John Hinckley. His much more reserved approach meant a performance of balance and detail, compactness and warm colours. What it just perhaps lacked was a bit of good old Scottish spirit especially in the finale which seemed a touch anaemic compared to others on the day. It was a promising one though and well delivered to claim fifth place.
Bravura shirt

That just left the final top six place to go to Oddfellows Brass, conducted by Rob Boulter in a shirt of such breathtaking bravado (blue roses with yellow snakeskin borders by the looks of it) that it very nearly outshone a solid and well paced account from his band.
Some neat solo work from a trio of cornet players and a controlled ensemble that kept focussed right to the end backed up fine soprano was a real feature throughout. It was a fine marker to start off the contest even though the MDs shirt was an acquired taste especially at 9.59am in the morning!
Soild standard

The solid overall standard of the contest was reflected in the performances that came just outside the prizes.
United Co-op 2000 Brass produced a decent effort under the baton of Jamie Meredith that perhaps needed a touch more 'daring – do' about it to have really brought the true colour and vibrancy of the Scottish capital to life. Everything was in its right place, but a touch more adventure may have just got them into the prizes.
Llywdcoed meanwhile certainly had plenty of colour, excitement and vibrancy about them (and not just the MD, the amazingly animated Rhodri Griffiths) in a performance that needed a little more control in places.
The ambitious approach in seeking the musical shape and flow of each of the movements was admirable (with a fine slow movement), but that ambition just outran them in the end as they tried a bit too hard to make a final impression in the march.
Unlucky

Kippax meanwhile can perhaps count themselves a touch unlucky that they didn't feature in the prizes with a performance that many in the hall (4BR included) had to come in the top three.
Why it didn't resonate in the box was a bit of a mystery, as there were some lovely individual contributions from the flugel, solo cornet and soprano in particular to match the musical shape laid out by Russell Gray. There were the odd moments of fragility too, but on this occasion they may have been unlucky to say the least.
Noticeable gap

There was a bit of a noticeable gap between these bands and the rest, but there was much to admire in the approach and execution from the remaining contenders, even if there were times when the fragilities were obvious.
Thundersley (minus soprano?) really did give it their best shot under the suave presence of MD Roland Morris. A decent start was followed by a below par second movement, but a recovery in the third and some fine euphonium playing in the fourth put them back on track, even if they did just tire towards the end.
The same could also be said of Stalybridge Old in 11th place. MD Jeff Lewis made the most of his resources and after a compact first movement it struggled a little in the middle sections. A rousing old march though certainly put them back on track with fine contributions from the flugel and trombones in particular, and it was an encouraging return to the contest stage for a band fast approaching its 200th anniversary.
Most of resources

Meanwhile John Clay also made the most of his resources with Clifton & Lightcliffe, with some lovely little touches provided by the young solo cornet player in particular. John also encouraged his troops from start to finish with a little smile here and a nod of appreciation there, so even though they did struggle at times they never lost heart and rounded off an encouraging performance in some style.
That just left Dearham, who started well but had a few too many nasty little moments in the middle two sections to have pushed them further up the results table. A bit of a learning experience for all concerned perhaps, but despite the obvious flaws and fragilities there was plenty of evidence to suggest better days ahead. Not all is lost, despite the disappointment of ending up in 13th place.
With Colin and Malcolm clearly enjoying the contest, their accurate and encouraging comments were reflected in the choices they made in the results.
A few eyebrows were raised by Point of Ayr's third place, but in what was an enjoyable and encouraging contest, the winners Haslingden & Helmshore's admirable consistency gave them another well merited holiday camp triumph.
Iwan Fox