2008 Pontins Championship - Third Section retrospective
29-Oct-2008
Elegance and forensic endevour won the day in a highly enjoyable Third Section as Oldham Band (Lees) took the title with something to spare.
---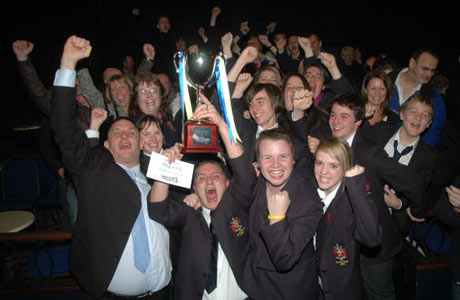 We are the champions! Oldham (Lees) celebrate another Pontins victory
Picture: Niki Stirzaker

Once again, the Musical Advisor for Pontins, James Scott, came up trumps with a piece of music that really did sort the bands out here.
Elegantly mugged

'Sinfonietta', by Joseph Horovitz dates back to the early 1970s and on the evidence of this contest, the competing bands probably thought the piece was going to be easier to play than it was in reality. It was as if they had been mugged by some particularly well heeled and elegant musical robber. Most emerged at its conclusion unaware that they had been stripped bare.
Apart from the bands at the top end of the results table, the conductors found it very difficult to get to grips with the transparent nature of the score – a score written with a delicacy of touch that nowadays is as a real rarity.
Lightness of touch

That backed up the findings of adjudicator Roy Sparkes who commented perceptively that that in fact they got 11 different versions of the same piece. Meanwhile, fellow adjudicator Philip Harper provided a detailed analysis that put meat on the bones, by stating quite clearly that the competitors has encountered problems with the need to play with the required lightness and gracefulness on a piece that was all about tasteful moderation.
The top two were described as outstanding, with winners, Oldham Band (Lees) taking their third title at Pontins in four years, courtesy of a performance that benefited from what Philip Harper described as 'a forensic approach to the detail' by the MD, John Collins.
Second placed Bream Silver also delivered in fine style too and both bands had conductors who made sure the basics were in place before exploring the added extra ingredients of dynamic control, intonation and internal balances.
Sorted out

Whilst the two outer movements required a lightness of touch it was the second movement, a hymn tune, which really sorted out the best from the rest, with a real need for warmth and balance the overriding factors.
Oldham Band (Lees) produced a quite excellent performance. With all the basic ingredients in place John Collins was able to add a high class sheen of musical gloss that stood them out quite clearly from the rest of the competitive field.
The lightness of sound was evident in the first and third movements, but it was in the second section where the attention to detail was superbly realised. The integrity of the music never suffered by its well placed effectiveness being brought to such prominence.
With the current National Champion, Wellington (Telford) pulling out of the contest at late notice the competition was denied the opportunity to see how the two pre contest favourites would fair against one another.
Stepped up to the plate

In the end though Bream Silver and Huw Cole certainly stood up to the plate and delivered a performance rich in colour, warm tonality and detail to claim a thoroughly well deserved runners-up place. Huw Cole deserves enormous credit for his approach as he opted to keep the dynamic levels down and emphasis the clarity of the musical lines. As a result it was a performance that had a real stamp of intelligence about it.

A little way behind

A little way behind the top two came third placed Skelmersdale and Pemberton Old Wigan JJB B in fourth.
Both delivered well thought out accounts that brought plenty of detail out of the score, but unlike the top two bands they just couldn't maintain a high enough level of consistency throughout their enjoyable performances.
A few too many costly slips and fragile moments undermined two very well put together accounts of a difficult test piece, and both MDs, John Ludden and Paul Ashley can be mighty proud of their own, and their bands efforts.

Cracking job

Fifth placed Crofton Silver's MD, Tim Sidwell, also did a cracking job with his troops, as he quite literally rolled up his sleeves up and got stuck in to pull the best out of the band. The detail was evident and despite some uncertain moments there was plenty to admire about the approach and execution.
It was a similar story for Greenalls, with the opening two movements in particular promising a great deal. Just as you thought it was going to bloom into a real corker though things went a little awry and a hint of tiredness towards the end just cost them a point or two. It was a pretty good effort though nonetheless.
Fell away

Outside the top six, there were more obvious problems that meant that the overall standard tended to just fall way.
Ogmore Valley in seventh place took time to get going but once they did, they produced extended periods of solid music making. Consistency though is an essential requirement at this level and just when it seemed the piece was heading for a possible top six finish, a hint of scrappiness just took away their chances of finishing any higher.
Hawk Green Marple was the last band to play on the day and their performance held a great deal of potential. Most of course was unfulfilled on this occasion, but it was full of promise with a rich, warm sound to the band and some neat solo lines on display from start to finish.
Finger on button

Meanwhile, Flixton delivered a slightly disappointing performance by their own recent standards. It's difficult to put the finger on the button but Carl Whiteoak's outfit never settled and some ensemble fragilities were compounded by intonation problems.
Encouragement

That just left Dronfield CMW and Rhyl Silver, and congratulations to both for their efforts, as they really did find it tough going at times. Both conductors, Alan Needham and Paul Chapman battled on, giving encouragement and support to their players even when it was obvious that they were struggling.
Both may have found this outing particularly hard work, but the benefits from it will be lasting for sure. There is rich promise in both bands and a bagful of determination.
It was Oldham's day though and with their elevation to the Second Section confirmed they will be a force to reckon with there too. Look out for them here next year too – they are a band that certainly enjoy's its trips to the North Wales coast.
Malcolm Wood