2008 Pontins Championship - Fourth Section retrospective
29-Oct-2008
Plenty to enjoy in the Fourth Section as a great pastiche piece brought out the Elgar in just about everyone - espeically the winners.
---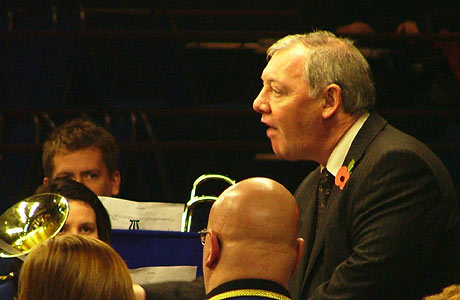 No trouble at Mill: Alan Widdop is a portrait of success
Picture: Niki Stirzaker

Fourteen bands competed in the Fourth Section on Saturday morning, in what turned out to be a good contest on a test piece that tested not only technically, but musically too – and all in a very enjoyable manner.
Dan Price's pastiche 'An Elgar Portrait' certainly asked familiar questions of the competitors, but in an intelligent and very transparent trio of movements that drew inspiration form some of the great man's finest works.
Different language

Nothing was a direct quotation – more like a clever translation into a slightly different language, but the source was as obvious as the composer's walrus moustache. It made for an enjoyable work that required command of style as well as the notes, and for the most part the bands on the day met the challenges in full.

The 'Introduction' was the easiest of the three movements to master, whilst the following two caused the problems – especially in regard to that 'Elgarian' feel for restrained musicality.

Unbeatable

In the end the marker set by the first band of the day proved to be unbeatable – and a commanding Uppermill took the deserved victory in fine style.
The opening was full of authority and captured the sense of elegance whilst the elegy had a real sense of noble restraint. The indirect quotations from 'Nimrod' and 'Pomp and Circumstance' was easily identified and benefited from the bands warm ensemble sound as Uppermill strode to the finish with plenty of power to spare but with Alan Widdop keeping an intelligent lid of the dynamic excesses. It was a super performance.

Right musical lines

Besses Boys immediately followed and produced a fair old showing. At times it was a little tentative and fragile but there were more than enough well shaped moments by James Holt and his players to show that here was a band developing along just the right musical lines.
Meanwhile, Denton Brass gave it a real go, with a performance that had a touch more modernistic approach to the Elgarian feel. Perhaps a touch more restraint in places would have helped but it was always full of interest and vibrant playing and certainly an enjoyable interpretation from MD Jonathan Davies.

Farnworth & Walkden followed on with a very nicely shaped performance under Peter Ashley, who brought all his experience to bear to make the most of his resources. It was nice to hear the ends of phrases so well played, and although there was fragility in both ensemble and solo lines, it was a performance of considerable merit to claim fourth spot.
Puzzled

There is always one band that leaves a contest a little puzzled about where they came, and on this occasion it must have been the Newhall Band who was surely a little unfortunate to come 10th.
There was much to admire about the approach to the music from MD Kevin Holdgate and his players, and a sense of solidity about all that they did. Perhaps it just needed a bit more colour and finesse, but overall it was a good effort.

Disappointed

Another band that will of course gone home disappointed would be Lostock Hall Memorial – but they perhaps know that they were beaten by a very fine performance by their rivals that just had the edge on them.
This though was a very well deserved runners –up place, where the playing was controlled and the musical content shone through. They just came up against a band that on this occasion were a notch above them on the day, but it was a further sign that they will be a force to be reckoned with next year in the Third Section.
At the other end of the results table came Newport Borough Brass, who had one of those days when they never quite got to grips with the music. A very young outfit, there was plenty of enthusiasm and vigour about the playing, but the rather high error count just robbed them of points.
The experience though will have done them a power of good as there was certainly enough talent on show to make sure they will improve rapidly over the next few months.
Right direction

Greenfield Band meanwhile gave a good account for themselves to take sixth place with a fine reading from MD Stuart Black that had plenty of that Elgarian feel to it. Just a bit more confidence in the execution would have possibly got them a couple of places higher come the results, but it was another well managed account from a band moving in the right direction.

Hazel Grove followed with a really well thought out performance that earned the band 3rd place. The bass section was impressive throughout, producing a wonderful well rounded sound that was crucially balanced by the other sections of the band. Little touches of classy playing from soloists and ensemble were also a feature and although they did tire towards the end there was so much to enjoy from start to finish.

Moments of quality

Much was expected of Eccles Band, but on this occasion they didn't play to form, with a performance that although containing plenty of extended moments of quality also had a few far too uncomfortable ones too – the result of which meant 9th place.

Coppull & Standish also had their moments, but a slightly over enthusiastic approach to the louder dynamics meant that the Elgarian feel was lost a little in the vibrancy and attempt to create excitement, whilst Cheshire Constaublary's slightly uneven performance had real moments when they were bang on the Elgar button and others that just missed the mark.

It was also much the same of a brave performance from Blackley too - full of real green shoots of potential, all well led by the MD. It was a tough ask in places but the signs were there for future long term success.
Encouraging signs

That just left Ebbw Vale Town who also had moments when the music locked together almost perfectly, and others when the basics just came apart a little at the seams. There were encouraging signs though that the foundations for future success were very much in place and a little more overall consistency will surely see them shoot up the results table in the months to come.

Overall it was an enjoyable and encouraging contest, made more so by the excellent choice of test piece and the intelligent approach to it by the vast majority of the MDs. Uppermill and Lostock Hall were as good as you would have expected, whilst the other prize winners displayed the right qualities that if developed further will surely be of major benefit in years to come.

All that and there was even the sight of 7 year old percussionist George Mitchell from Besses Boys knee high to a timpani, playing his part with the concentration and aptitude that would have not been out of place on the Royal Albert Hall stage. Magic!

David Tinker