William Walton - The composer who got away
23-Oct-2008
Tim Mutum looks at the music of William Walton available to brass bands and reveals how close the great British composer came to writing a major original work for the medium.
---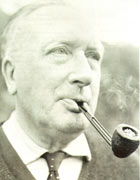 A whole host of the great British composers of the 20th century wrote major works for the brass band. They include Holst, Ireland, Bliss, Bantock, Howells, Vaughan Williams and, of course, Elgar.
All were asked or persuaded to write for the National Championships and contributed a large part of what can loosely be described as the 'brass band classics'.
Slipped through the net

One major composer who slipped through the net is Sir William Walton (1902-1983).
It seems though that brass bands missed out by a whisker, as early in 1978 Walton had written to his friend, Roy Douglas, indicating that writing a third symphony was not hopeful.
Stupid

Stupidly he would write a piece for wind band before he realized what scoring for it would be like.
He went on to say in the letter: "Also, more disastrously, a piece for a brass band competition. I had to get out of that too!" Significantly, he added, "I would much like to do a brass band piece for they are such wonderful players, especially the Grimethorpe (sic) and Bess (sic) o' the Barn bands. There is a splendid record with Elgar Howarth conducting them in various pieces by such composers as Henze and Birtwistle. If you've not already got it, get it at once, since you have gone brass bandy too!! You'll be very surprised and taken by it, it's fantastic."
Determined

It seems though that Walton was determined to write something for band as in April 1979 he again wrote to Roy Douglas.
". . . However, I have done about 3mins of a piece for a Brass Band competition, which in all probability will be sent to you by OUP to discover if I'm still in my right mind! I know only too well about commissioned works; the only thing I can say about them is if I'd not had a commission I should have produced nothing at all, which would probably be just as well.
I shall proceed with the dotty Br. Ba. piece as I'm getting rather intrigued by it. Anyway it won't frighten the bands, for though the piece is slightly Henze-ish, it is not at all Birtwistle-ish."
Howarth

He then commented about Elgar Howarth, saying he was a remarkable young man who would turn out to be a remarkable young composer. Walton went on to say to Douglas, "You know of course Fireworks for Bras Band without which I shouldn't be attempting to compose this piece."
Unfortunately, the piece was never finished. Perhaps Walton thought it was too silly. And that is as close as brass bands got to an original work from Walton.
The First Shoot

However, in 1935 Walton had written 'The First Shoot'.
It was a ballet with Edith Sitwell, of 'Façade' fame, writing the libretto for the ten minute work which formed the 19th scene of a Cochran revue entitled 'Follow the Sun'.
Sitwell's libretto was a tragic story of how the ex-chorus girl wife of an Edwardian peer is accidentally shot by her admirer at a country-house shooting party. Although very short it was reportedly very amusing despite the storyline.
The significance of this to brass bands is that in 1980 Walton rescored the ballet for the Grimethorpe Colliery Band and Elgar Howarth.
The score is inscribed with thanks to Elgar Howarth for 'expert advice' and the piece is dedicated 'In memory… C. B. Cochran and his Young Ladies'.
Premiere

On December 19, 1980 Elgar Howarth conducted the piece in Goldsmiths' College, London. It was filmed and some of it used in a television profile of Walton titled 'At the End of the Day', which was broadcast on April 19, 1981.

The premiere public performance of 'The First Shoot' was given in the Royal Albert Hall in a Prom concert on September 7, 1981.
Missed opportunity

The absence of any original music for brass band by Walton may well be one of missed opportunity, but his music has provided rich pickings in arrangements for the medium.
It was not always thus, however, as Frank Wright's arrangement of 'Crown Imperial' was, for many a year, virtually all that was on offer. That is until one Ted Watson came along.
Watson lives in Stratford upon Avon, the home of the Walton Trust, and as far as I can ascertain he has no strong links with brass bands. His arrangements of Walton's music in recent years though make his contribution on that score alone hugely significant.
Substantial episodes

In the 1990s Edward Watson arranged a suite of substantial episodes from a Shakespeare Scenario by the late Christopher Palmer, which incorporates around 90 per cent of Walton's music from the film 'Henry V'.
A narrator is required, and I had the privilege to hear Black Dyke Mills Band (as it was then known) perform the eight movement 'Suite: Henry V', with the actor John Nettles, in the splendour of Wyndham Abbey, Norfolk, on May 28, 1995.
I remember it well as it was my 40th birthday and no-one could ask for a finer present!
Black Dyke, with James Watson conducting, recorded the suite with Robert Portal as the speaker. Also on the CD (on the ASV label) are 'The First Shoot', 'Crown Imperial', 'March and Siegfried Music' - again arranged by Watson, and some arrangements by Paul Hindmarsh.
Great pioneer

Hindmarsh has been nearly as great a pioneer of Walton's music as Edward Watson.
He was for many years a producer for BBC Radio 3 and is a staunch advocate of the serious repertoire for band - and heaven knows we need a few of those!
Wartime Sketchbook

Christopher Palmer, again, had assembled music from Walton's film music of the early 1940s into 'A Wartime Sketchbook'. This was Walton in a lighter vein and Paul Hindmarsh arranged six of the sketches for brass band and retained the same title.
They are included on the above mentioned disc as are seven delightful pieces which Hindmarsh arranged from the orchestral 'Music for Children', which started out as a suite of piano miniatures in 1940 for a niece of Walton (Elizabeth) who was the daughter of his elder brother, Noel.
Significantly, in 1996 the CD won The Music Industries Association Award for the Best CD in the orchestral category. Some accolade indeed for a brass band!
Rest in piece?

And there one might have thought Walton and the brass band would rest.
But Edward Watson wasn't finished and he arranged more of Walton's output which was recorded on a Doyen CD released in 2000, and once again featuring the Black Dyke Band.
Façade

It is titled 'Façade' - featuring the music of Sir William Walton. 'Façade' is the main piece with narration by Lady Walton and Richard Baker.
Shortly before the issue of the recording I was fortunate enough to be involved in the presentation of a performance of 'Façade' with Lady Walton, Richard Baker and the City of London Sinfonia in the delightful setting of Lavenham Church in the heart of rural Suffolk.
Afterwards I wondered how a brass band and the same narrators would compare with the light touch of the orchestral ensemble. Well, to my ears Ted Watson's arrangement of the music works splendidly.
Explaining

It is worth explaining 'Façade'.
Edith Sitwell wrote her 'Façade' poems in the 1920s as studies in word rhythms and onomatopoeia. On first hearing they may seem nonsensical.
They evoke the bourgeois culture of turn of the 20th century England and the poet (and her brothers) decided they would be suitable for presentation as a drawing room entertainment but should be accompanied by music. Enter Walton.
There is a long story from here on, but suffice it to say that the final published version of 21 items appeared in 195I. Ted Watson chose wisely and 13 of the 21 poems appear on the Dyke recording.
Battle of Britain

The CD also features a 'Battle of Britain Suite', which includes the 'March and Siegfried Music' referred to on the earlier disc plus 'Dogfight'. These two extracts were all that made it into the famous film, the rest being provided by Ron Goodwin.
Watson also produced a new arrangement of 'Orb and Sceptre' - the earlier arrangement by Eric Ball is not deemed to be one of his more successful transcriptions - and some more film music, this time 'Richard III', which dates from 1955.
A seven-movement suite was compiled from Walton's original score. There is music of pomp and circumstance, a monologue (delivered on the CD by Robert Portal), an elegy and the suite ends in march format with the death of Richard and the finale.
Wonderful sound

Speaking of the Doyen CD, Lady Walton admitted: "I never thought I could compete with a brass band but it was all so easy. They made a wonderful sound and they are such marvellous musicians that I had a great time."
In October 2000 Lady Walton accepted an invitation to become the first Honorary Patron of the Black Dyke Band.
Not easy

Concert performances of some of Walton's music may not be easy for brass bands, particularly depending on whether the music is published or easily available to hire from the publishers, Oxford University Press.
'Façade' would be especially difficult because of the need for two very good narrators, but programming it will be rewarding for both musicians and audiences alike.
It would certainly freshen up some of the programmes and make a welcome change to the popular, but well-worn, blockbuster 'classical' numbers that still seem to consistently find their way onto music stands.
Tim Mutum