2008 Pontins Championship - First Section: Introduction & Prediction
21-Oct-2008
Which 'way' will the judges 'fare' go on Saturday morning as Eric Ball's subtle work is set to test the bands to the full.
---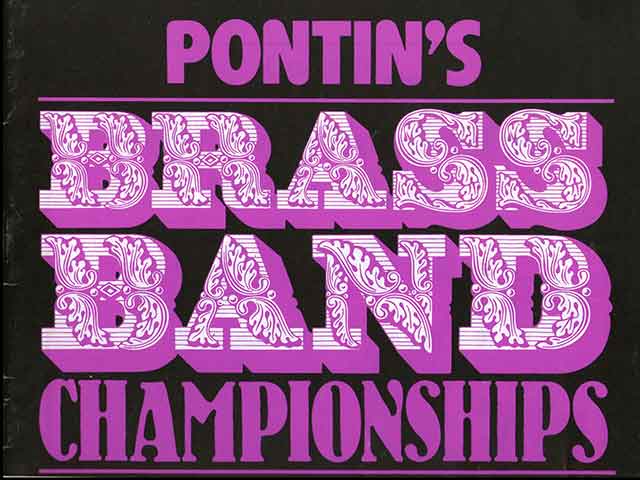 Saturday 25th October
Venue: Fun Factory Ballroom.
Draw: Pre-drawn
Commence: 10.00 am

Test Piece: Sinfonietta: The Wayfarer, Eric Ball
Adjudicators: Malcolm Brownbill and Colin Hardy

First Prize: £1,800 + Commemorative Cup
Second Prize: £1,000 + Commemorative Cup
Third Prize: £700
Fourth Prize: £450

Special Award: Youngest Player in the Section
Controller: Frank Hodges
---
The First Section on Saturday morning will see the competing band's tackle Eric Ball's 'Sinfonietta for Brass Band – 'The Wayfarer', which was last used as the 2007 First Section Area test piece.

Then the piece posed numerous problems all around the country, and it is going to be interesting to see how many have learned from their previous experiences on the piece.
Style
Once again it will be more a question of style than anything else – these bands should be able to play the work (although we said that at the Lower Section Nationals a few weeks back in Harrogate). It is a test piece of deception and subtle beauty.
Adjudicators Malcolm Brownbill and Colin Hardy will have their work cut out with 19 bands to cast their ears over. There are plenty of decent bands on paper with a number already booked into the Championship Section next year. If they are really top section bands then 'Wayfarer' will hold no terrors. If they are not – then be warned.
Rivalry

Three of the competitors will renew rivalries after competing at the Lower Section National Finals at Harrogate – and all three had pretty decent days there too.

Glossop Old from the Midlands came 6th under the direction of John Davies, and that boost to their ever growing confidence should put them in the right frame of mind, whilst Blackburn & Darwen also surprised many in coming 5th. They too will make the short trip west with confidence bubbling nicely.
Band to beat

Both these bands (and the others) will know that on form the band to beat will be Skelmanthorpe, in what will be their farewell appearance in the First Section. John Roberts' band are going for the unique 'Double, Double' – winning both Butlins and Pontins together, two years running. They were fine value for their runners-up spot in Harrogate and will surely be in the frame again.
Not for the first time this weekend, this is a section top heavy with bands from the North West and Yorkshire, with a sprinkling from the Midlands, South West and just one contender from London.

Yorkshire five

Yorkshire's five strong contingent also comprises Barnsley Building Society who came 4th here on their last appearance in 2006 and recently came 5th at the Bolsover Contest.
Drighlington under Kevin Belcher has also had its moments of good form but are currently in rebuilding mode, whilst Hebden Bridge who came 6th at Bradford will know they will have to up the ante if they are to feature in the prizes against a strong looking field of rivals.

Wakefield Metropolitan under the experienced Norman Law may well fancy their chances of doing just that after an encouraging 3rd place at Bradford (and winning the Second Section here last year), so there may well be a strong Yorkshire presence come the announcement of the results.

North West

The North West, always send a strong posse to the North Wales coast and this year is no exception.

Along with Blackburn & Darwen comes Ashton-under-Lyne, Tyldesley and Vernon Building Society Poynton all of whom will be hoping for glory.
Ashton-under-Lyne has been regrouping and consolidating of late and return under the command of Martyn Evans who was so instrumental in them climbing through the sections a few years back. A return to former glories then?
Meanwhile, Rob Taylor, the brother of Fairey's legend Brian, leads Tyldesley back, hoping to improve on last year's 16th place. They came 5th at the Area in March and when they hit their straps they are a solid outfit. Kevin Gibbs and VBS Poynton could be in a real shout if they reprise the form they showed recently at Wychavon where they came 2nd.
Midlands

The Midlands sends the largest contingent of bands across Offa's Dyke, with six strong contenders in attendance.
In addition to Glossop, come Bedworth, Brackley, Ibstock Brick Brass, Jackfield (Elcock Reisen) and Langley – all of whom will all be hoping to return home with at least a bit of silverware to their name.
Bedworth and Jackfield competed at Butlins in January coming 16th and 15th respectively, whilst the bragging rights at Burton on Trent went to Glossop who took the area title with Langley coming 11th, Ibstock Brick Brass finishing just ahead of Bedworth in 14th place and Brackley in 18th.

Jackfield showed decent form here last year coming home in 5th place, whilst Ibstock finished 10th and Bedworth 15th. All of them will know that they will have to up their game to make a real impression on the judges if they are to return home with something to polish.

Scots trip

It's good to see Lochgelly led by the talented Paul Drury making the long journey from Scotland.
Not bad form of late, although they too will know that this is a step up in class from their 5th place at the Fife Charities contest and the 7th place they achieved at the Land O' Burns event.
Long trek

Also making a long trek will be Chalford and St Dennis from the South West. Both bands will travel confident of doing well, and with experienced conductors at the helm this may be a piece that suits them both. St Dennis could well be a dark horse in the field.
Finding feet

That just leaves Friary Guildford and Chris King. This is a partnership that started to find its feet towards the end of last year with a 4th place in the Championship Section, and they also posted 5th place at Yeovil very early in the season – a top section contest with a strong field too. At this level then they should be right in the mix, but they didn't play to form at the Regionals (all be it off the number 1 slot), but have returned to form this week at Folkestone with a solid victory.
4BR Prediction:
Without doubt the band to beat is Skelmanthorpe. They have been sounding like a good quality top section outfit for some time now under John Roberts and should, if they play to form, have enough quality about them to put daylight between themselves and the rest of the field.
Others though will want to catch their coat tails, and we think it could well be a close run battle between the likes of Friary Guildford and VBS Poynton with Wakefield Metropolitan, Blackburn & Darwen, and Ashton close behind. Our dark horse is St Dennis.
1. Skelmanthorpe
2. Friary Guildford
3. VBS Poynton
4. Wakefield Metropolitan
5. Blackburn & Darwen
6. Ashton under Lyne

Dark Horses: St. Dennis