2008 Pontins Championship - Second Section: Introduction & Prediction
21-Oct-2008
Who is able to go the extra Mile and win the Second Section title on Sunday morning?
---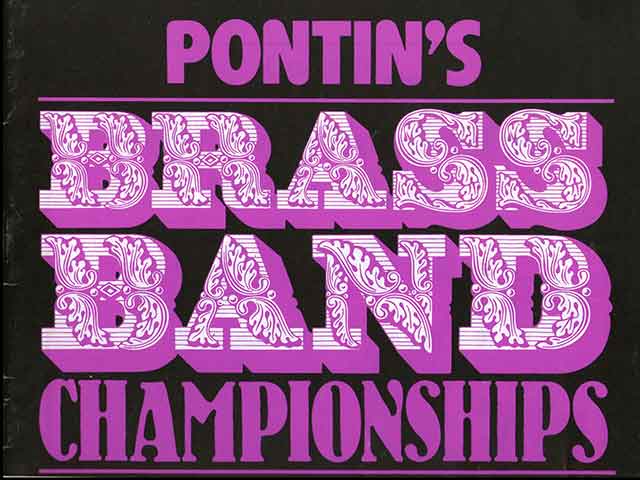 Sunday 26th October
Venue: Lunars Bar
Draw: Pre-drawn
Commence: 9.00am

Test Piece: A Royal Mile Suite, Alan Fernie,
Adjudicators: Malcolm Brownbill and Colin Hardy

First Prize: £1,800+ Commemorative Cup
Second Prize: £1,000 + Commemorative Cup
Third Prize: £700 + Commemorative Cup
Fouth Prize: £450

Special Award: Youngest Player in Section
Controller: Colin Morrison
---
Those who have set their alarm clocks for the right time on Sunday morning (the clocks go back an hour) will be in for an intriguing contest in Lunars Bar, as 13 bands tackle Alan Fernie's excellent 'A Royal Mile Suite'.
The piece last appeared as the Third Section test in 2006 at Butlins, and proved to be an accessible and popular work with both competitors and audience alike.
Instinctive

Alan Fernie knows instinctively where to pitch the technical hurdles as well as the musical ones, and there will be enough testing moments throughout the piece to ensure none of the well matched bands take anything for granted.

The four parts of this expressive suite reflect the atmosphere and character of Edinburgh's Royal Mile from the opening 'At the Palace Gates' through 'Holyrood Park' and 'Jenny Ha's Reel' to 'Castrum Dun Edin'.

Technically, it's not a difficult task for this level, but it still needs playing and any conductor who has spent time along the Royal Mile will surely want to bring the character of a very colourful and atmospheric part of the Scottish capital to life.

Sombre note

On a slightly more somber note, 26 bands competed in this section in 2005, but now that has been halved. With excellent prize money and a well chosen test piece it should attract more, but perhaps some contest fatigue is starting to show itself.
Six return

Six bands return from last year, with four of the top five coming back for another crack at the title. In addition, three bands that competed very well at the Lower Section Nationals are also on show too.

One of those is the Second Section National Champion, Point of Ayr, who will surely be full to the brim with confidence after securing that particular title in some style a few weeks back. Although Michael Fowles won't conduct them on this occasion, they should still fetch short priced odds at the on camp bookies.
The other Harrogate finalist is Tylorstown, and they should also be confident of another good showing here this year after their runners-up spot twelve months ago. Since them they have won the Welsh National Eisteddfod, come 5th at Harrogate off the number 1 draw, and got a podium finish at the Ammanford Contest in the Championship Section. It could well be a North versus South Celtic battle on the weekend.
Haslingden and Helmshore, meanwhile weren't perhaps at their very best at Harrogate, although they still posted a creditable 7th place. They should be better suited to this work and return to the good form that won them Butlins and the Regionals is very much on the cards.
North west rivals

Joining Haslingden from the North West are Rainford, Stalybridge Old and United Co-op 2000 Brass.

Rainford came 4th here last year and they will fancy their chances of doing well again, especially after their confidence boosting win at the St Helens Contest. Neil Samuel has done a cracking job with the band since they went into the Second Section nationally and that could be set to continue on the weekend.
Good to see Stalybridge Old making the trip from Tameside to North Wales. In an area that has some fine bands, Stalybridge celebrates its 200th anniversary next year and whilst others have enjoyed more success of late, the desire to return to winning ways in time for the double celebrations will push them on.
United Co-op 2000 Brass is another strong band that have improved solidly over the past few years under the direction of the talented Jamie Meredith. 5th place last year was a good pointer, and although they have yet to really hit top form in 2008, this could just be the place to do it.
Yorkshire flag wavers

Kippax and Clifton & Lightcliffe fly the flag for Yorkshire.
Kippax will surely fancy their chances and will be keen to improve on last year's 3rd place. The luck of the draw was against them somewhat at Bradford, but 5th place at Butlins was a better indicator of their strength.
John Clay will once again lead Clifton & Lightcliffe, and they will be looking for a morale boost to round off what hasn't been the best of contesting years for the band. Solid and dependable though those virtues could well be just what are needed on this particular piece.
Third Welsh

The third band from the Principality is Llwydcoed under Rhodri Griffith who have had a bit of a mixed year so far. They didn't really shine at the Area at Swansea where they came 6th, but a fine result at Ammanford of late will have given them a timely boost of confidence.
North East

Dearham narrowly missed out on a trip to Harrogate earlier in the year finishing 3rd in Darlington, and they are the sole contender from the North East. A recent 6th place in the Third Section at Fleetwood may not have been what they wanted, but it would have given them notice of how much they will have to improve to make a mark here.
Scotland

Another contender making a long old trip south is Tullis Russell Mills, a band that has its ups and downs of late, but has a core of talented players and an experienced MD at the helm to bring the best out of them. They won't want to make the long trip back home empty handed.
London challengers

Thundersley meanwhile make an equally long trip in the opposite direction and Roland Morris and his band will be looking to up their form from the 4th place they achieved at the London Area earlier in the year. If they can do just that they may well be in with a bit of a shout.
Odd ones out
Finally, that leaves the brilliantly named Oddfellows Band who came 10th here last year and recently came a slightly disappointing 8th at the Wychavon Contest. They know they too will have to up their form if they are to feature in the prize come results time.
4BR Prediction:

A clear winner stands out for us in Point of Ayr if they match the form they showed at Harrogate, although we think they could be hard pushed by their fellow Welsh contenders Tylorstown.
Haslingden and Helmshore and Kippax will push them all the way for sure, whilst Rainford and United Co-op 2000 Brass could be the bands to fill the remaining top six places. Our dark horse comes from Scotland in the shape of the great bunch from Tullis Russell Mills.

1. Point of Ayr
2. Tylorstown
3. Haslingden and Helmshore
4. Kippax
5. Rainford
6. United Co-op

Dark Horse: Tullis Russell