2008 Pontins Championship - Third Section: Introduction & Prediction
21-Oct-2008
Joseph Horvotiz's lovely Sinfonietta is set to test 12 well matched bands on Saturday afternoon.
---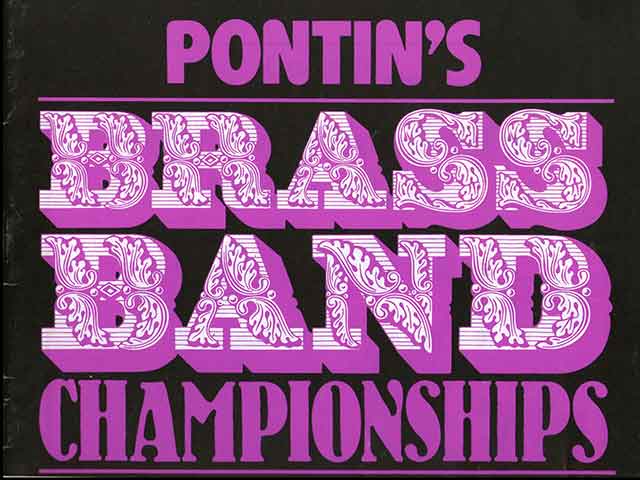 Saturday 25th October
Venue: Lunars Hall
Draw: Pre-drawn
Commence: 2.00pm approx

Test Piece: Sinfonietta, Joseph Horovitz
Adjudicators: Philip Harper and Roy Sparkes

First Prize: £1,800 + Commemorative Cup
Second Prize: £1,000 + Commemorative Cup
Third Prize: £700 + Commemorative Cup
Fourth Prize: £450

Special Award: Youngest Player in Section
Controller: Colin Morrison
---

A disappointing field of just 12 bands (1 down on last year) takes to the stage in the Third Section on Saturday afternoon, and despite the lack of numbers there is plenty of potential on show to make it a very enjoyable contest.

Popular work

Joseph Horovitz's test piece, 'Sinfonietta', has been around a long time, published in 1971 and used as the Area piece in the Third Section in 1972.
It's been a very popular work since, with the first movement, 'Allegro', growing in subtle style and form – a hallmark of the composer's gift for elegance and musical craftsmanship.

The second movement, 'Lento moderato', is based on a hymn-tune, which Horovitz said he heard in a dream. The morning after, he looked in various hymn books to see what it might be, couldn't find it, and came to the conclusion that he must have composed it himself!

The finale, 'Con Brio', is a rondo on a rather cheeky theme, witty, light but very cultured.

Elegance and cultured

On paper the work seems not to pose a great deal of problems for the bands, but the style and the sense of that elegance and cultured appreciation of balance, dynamic and tonality will test them to the full.

Five return

Five of last year's contenders return once more, and six of the twelve bands compete from the North West, headed by recent Harrogate challengers Oldham Band (Lees) and Pemberton Old JJB B.
Oldham continues to be a strong contesting outfit under John Collins and although they may have felt a little aggrieved at their 4th place at Harrogate (and unfortunately a few of them showed it at the results) they should be confident of improving on the same result achieved here last year. Then perhaps they can celebrate in style.
Pemberton Old Wigan JJB could only manage 12th place here last year, but 8th place at Harrogate was a solid and well merited result. More of that type of form, and that shown at Fleetwood where they came 3rd in the Second Section could well see them climb into the prizes.

Defending champion

Flixton meanwhile returns as defending champion, and Iain McKnight and his band will be strong contenders once again. 6th place in the Second Section at Fleetwood means they may have a little bit of work to do as three contenders here beat them there on the day.

Greenalls, Hawk Green (Marple) and Skelmersdale make up the North West challengers.
In fairness all three have had decent years. Greenalls return to this level after coming 8th in the Second Section last year, and will be happy they're on the right track again having done well at the inaugural St Helens March and Hymn Contest and coming 4th recently at Fleetwood.
Hawk Green Marple continue to produce solid enough results on their travels and came 8th here last year as well as 9th at the Blackpool Area, whilst Skelmersdale failed to make it to the starting tape last year, but came 11th at the Area and improved dramatically at both the St Helens Contest and then a few weeks back in coming 5th at Fleetwood.

Homegrown pride

Homegrown Welsh pride is represented by Ogmore Valley and Rhyl Silver. Great to see Rhyl back in the fold after missing the Welsh Regional contest whilst Ogmore Valley is one of the great stalwarts of the Welsh banding movement.

Yorkshire representatives

Yorkshire representatives come in the form of Crofton Silver and Dronfield.
Good to see Dronfield return after they came last at Butlins, whilst Crofton had a tough old outing there in coming 9th. Hopefully this weekend will give both bands a huge confidence boost.
Last two

That just leaves Bream Silver from the West Country and Wellington (Telford) from the Midlands.
Bream Silver took the spoils at the Gloucester Entertainment contest earlier in the year and only some minor blemishes in the outer movements cost them a place higher than 4th in Torquay in March.

The best until last then? Wellington (Telford) will be full of confidence having taken the National title a month ago as well as coming runner-up here twelve months ago. If they can repeat the performance levels of Harrogate they may well be picking up another nice fat cheque and trophy to polish.
4BR Prediction:
An interesting contest to look forward to with a handful of bands more than capable of taking home the title if they hit top form.

It could well be a real old ding-dong battle between three quality outfits in Wellington (Telford), Oldham (Lees) and Flixton for the podium places, with Pemberton close on their heels. Bream Silver and Greenalls are our tips for top six places with a dark horse in the form of Skelmersdale.

1. Wellington (Telford)
2. Oldham (Lees)
3. Flixton
4. Pemberton Old Wigan JJB B
5. Bream Silver
6. Greenalls

Dark Horse: Skelmersdale