2008 Pontins Championship - Fourth Section: Introduction & Prediction
21-Oct-2008
There is always a great deal to enjoy in the Fourth Section and that includes a fine new portrait piece too.
---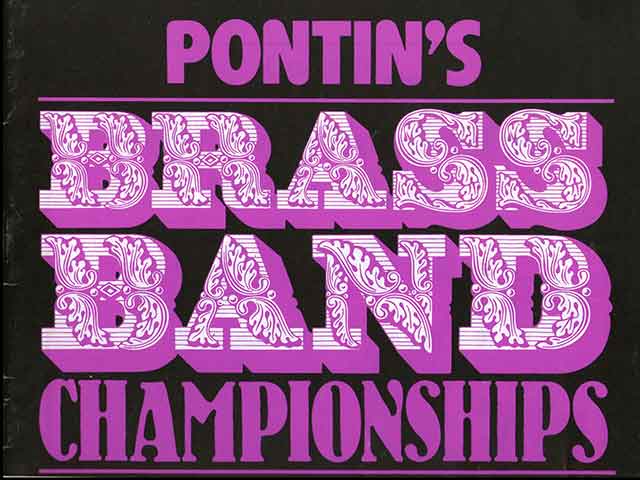 Saturday 25th October
Venue: Lunars Hall
Draw: Pre-drawn
Commence: 9.00 am

Test Piece: An Elgar Portrait – Dan Price
Adjudicators: Derek Broadbent and David Read

First Prize: £1,800 + Commemorative Cup
Second Prize: £1,000 + Commemorative Cup
Third Prize: £700 + Commemorative Cup
Fourth Prize: £450

Special Award: Youngest Player in Section
Controller: Colin Morrison
---
The whole Pontins contesting weekend commences with the Fourth Section on Saturday morning. It's always an enjoyable affair and this year the contest benefits from the selection of a new work by Dan Price called 'An Elgar Portrait'.

Finalist

The Suite for was written to commemorate the 150th anniversary of the birth of Sir Edward Elgar, and was chosen for the Fourth Section of the 2007 Swiss National Brass Band Championships. The work was also a finalist at the Kirklees Music/Salford University Composition Competition in May 2007.
The suite is in three movements: Introduction, Elegy and March, each of which have been inspired by three of Elgar's most celebrated works; Chanson de Matin, Nimrod (Variation IX from the Enigma Variations) and Pomp and Circumstance No.1.
The first movement entitled, 'Hollybush Hill' takes its inspiration from the name of one of the peaks of the Malvern Hills in Worcestershire. The Malverns were a favourite walking area for Elgar and his wife and their panoramic views inspired much of Elgar's music.
The second movement entitled, 'Broadheath' derives its inspiration from the small village at the foot of the Malvern Hills where Elgar was born (and lived at various times throughout his life). Elgar is buried not far from Broadheath at St Wulstan's in Little Malvern
Finally, 'Worcester Cathedral'. Many of the Worcestershire ensembles and music festivals played an important role in Elgar's early musical education. He was heavily involved in the Three Choirs Festival and either conducted or played in many of the light orchestras and vocal groups that performed at venues across Worcester. A statue of Elgar overlooks the Cathedral at the end of Worcester High Street
Feedback

The feedback 4BR has picked up from bands preparing the piece is that it is proving to be an enjoyable challenge – and that always bodes well for any contest.

15 bands

There are 15 bands who will take to the stage in Lunar's Bar on Saturday morning with Lostock Memorial and Uppermill the only contenders to recently compete at the National Finals at Harrogate.

With the exception of Ebbw Vale and Newport Borough Brass from Wales, Newhall from the Midlands and Spinnaker Brass from Fareham, the entries are entirely from the North West of England.
North West

The North West really is the stronghold of lower section banding at present at this level, and with the two top bands from Harrogate locking horns once again, it has all the makings of a contest to savour.

National Champion Lostock Hall Memorial is certainly flying high at the moment, and after the honours in Harrogate they made sure there was no doubting their quality with another classy victory recently at Fleetwood in the Second Section. With promotion already assured to the Third Section they will be looking to round off their year with a hat trick of victories.

For many, the band that will surely push them the closest will be Uppermill. The reigning Pontins Champion came runner-up in Harrogate and were very good value indeed for that result. That won't have made them any happier though and there is bound to beat a steely determination about their efforts this weekend as they look to round off their year repeating triumph of twelve months ago.

On the up

Besses Boys are a band on the up and they continue to make good progress under Jamie Holt. There have been encouraging signs throughout the year that they are coming to the boil just at the right moment, with their latest success coming just a couple of weeks ago at Fleetwood. They may push the top two all the way.

Meanwhile, Blackley from north Manchester continue to make good progress under Aiden Smith as their 2nd place at Fleetwood recently demonstrated. After coming 13th last year, expectations are high that they can push towards the podium places this time around.
Denton Brass will be looking for a little bit of an upturn in form after their recent performance at Wychavon could only gain them 10th place, but they were 6th here a year ago and have continued to gain experience together, so another mention from the stage may well be in order.
Smartest

Cheshire Constabulary is always one of the smartest presented bands in the business, especially when they're outdoors wearing their helmets and picking up deportment prizes at events such as Whit Friday. Indoors, and with closed adjudication they have found it a bit tougher to pick up silverware, but they did produce a solid showing at the Regional Championships in coming 7th at Blackpool.

Coppull and Standish has not a bad year at all, with a top six place at Blackpool, although they could only come 8th at the recent Bolsover Contest. They may need to up their form a touch then if they are to improve on last year's 10th place here too.

Eccles Borough certainly enjoy their trips to the North Wales coast it seems, and last year they really did produce the goods in coming home as runners-up. That form continued at Butlins where they took the top honours and a recent 3rd place at Fleetwood in the Third Section may show that they could well be in contention once more.
Good finish

Farnworth and Walkden under Peter Ashley will be looking for a good finish at Prestatyn after a decent year. They finished 4th last year and were not too far away from a trip to Harrogate either at the Regionals where they came 5th. Peter Ashley is one of the most experienced MDs around and although they came 8th recently at Fleetwood it was in the Third Section.

Saddleworth based Greenfield will be looking to get a boost to their form, which saw them come 11th last year and 11th again at the Regionals. Stuart Black is building a solid outfit and a possible top ten finish is a realistic ambition this weekend.
So far so good

Meanwhile, Stockport based Hazel Grove will be led by ex Fairey stalwart, Nigel Beasely. This by all accounts is early days for the partnership but so far, so good, with a creditable 8th place at Blackpool and 3rd overall at Buxton in May to work from.

Midlands

The Newhall Band will make the journey in good heart with some of their players taking prizes at the recent Leicestershire Solo, Duet and Quartet contest. They've also teamed up with trombone virtuoso, Kevin Holdgate this year and will be aiming to make an impression after coming a lowly 21st at the Regionals in Buxton.

Welsh contenders

That just leaves the two Welsh contenders, Ebbw Vale and Newport Borough and Spinnaker Brass from Fareham.
Ebbw Vale has been making solid progress under the baton of Ceri Thomas and with encouraging results over the past two years they could well fancy their chances of making an impression on the weekend. Newport meanwhile is another band keen to do well. Both bands competed at the Ammanford Contest a few weeks ago in the Third Section, coming joint 5th, so nothing much to choose between them, although Newport did gain a very good 3rd place here last year.

Finally then, Spinnaker Brass who came 12th at the Area contest earlier in the year. Since then they seem to have been a bit quiet on the contesting front, so they make the long trip north as something of an unknown quantity and waiting to spring a surprise.
4BR Prediction:

With a field of well matched bands all keen as mustard to round off their contesting year in style, it should be a cracking contest.
If things do go to form though it is between Lostock Hall Memorial and Uppermill for us, with the likes of Eccles, Besses Boys Farnworth and Walkden and Ebbw Vale in the hunt for the remainder of the money on offer. Blackley are our dark horse on this occasion.

1. Lostock Hall Memorial
2. Uppermill
3. Eccles Borough
4. Besses Boys
5. Farnworth and Walkden
6. Ebbw Vale

Dark Horses: Blackley