Gizmos & Gadgets - October 2008
15-Oct-2008
From the latest high wonder products to the simplest little bits and bobs and a few that are truly weird and wonderful. 4BR has been out shopping and testing out what's on offer this October.

---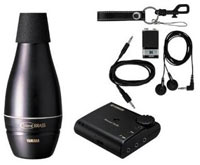 Yamaha SB5-9 Silent Brass System for Trombone & Bass Trombone
Price: £100.00 (inc VAT)
The value of the Yamaha Silent Brass System has been well known now for many years.
Not only does it allow you to practice to your hearts content without disturbing others, the clever little chappies in Japan have also added their hi-tech bits and bobs onto it to allow you to play along with CD or MP3 recordings, and add an echo enhancement mode to sound as if you are blowing for glory in the Royal Albert Hall.
All this for trombone players – and bass trombone players at that!
It's a must, although it cannot be used on a permenant basis to eradicate the dulcet honking tones of over enthusiastic bass trom exponents.
Purchase it from Normans and they a free 30 day on line tuition course too. Perhaps that maty tempt them to play a different instrument all together…
More Information:
http://www.normans.Bass%20Trombone
---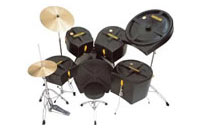 Hardcase - Set Of Drum Cases
Full Set Of Hardcase Drum Cases
Price: £300.00 (inc VAT)
The musical objective of playing the drums (if that is the right word), is primarliy to bash the hell out of them. Every wannabe Cozy Powell or Buddy Rich will take a great deal of pleasure doing just that.
However, you can be sure that when it comes to putting them in the back of their car, band bus, or loading them on the back of the band librarian to carry up three flights of stairs to the concert stage, they want them to be transported like caring mothers passing a new born baby around doting aunties.
These Hardcase full set of drum cases then are just the thing.
Made out of waterproof high impact polyethylene they are designed to last. The makers even boast they are so strong that you can jump on them (although perhaps not, if you are the size of a few top section bass players we know).
Ultra strong straps, robust lock clips, internal foam grip pads, no rivets and amplifier type handles – they will survive years of abuse and look really great.
The pity is that the drums inside them may not be so lucky after they have been played….
More Information:
http://www.bandsupplies.co.uk/StockItem.asp?StockCode=256
---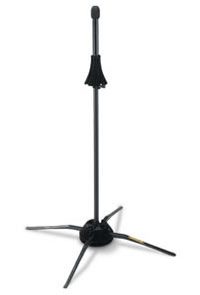 TravLite In-Bell Trombone stand
Price: £33.95 (inc VAT)
Just the thing for trombone playerrs who like everything to be neat and tidy.
This innovative little beauty folds up compactly to fit inside the bell of your instrument, therefore not taking up any more valuable space in your case (which is usually reserved for cans of lager and meat paste sandwiches for most trom players).
The velvet base secures snugly in the bell and comes with a velvet bag for even better protection and easier acess.
It unfolds with ease, is built to last, and extends to 34.2" in height. All this and it only weighs 2lbs – about the same as a four pack of Stella and a lamb kebab.
All trombone players will love it as they can now pack it away and have two free hands for eating and drinking on the way home from their latest gig.

More Information:
http://www.herculesstands.co.uk
---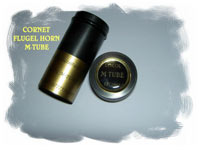 Lyncol – M Tube Mouthpiece cases
Price: From £9.99 (inc VAT)

Want a proper bit of protection for that all important piece of cold metal that you place on your chops each day to make you sound like Maurice Murphy or Steve Sykes?
Strange as it may seem, but most brass band players tend to treat their mouthpieces like the French treat second hand cars – badly.
If you want to keep your mouthpiece in prime nick then these little tubes hard plastic are just the thing. Designed to be hard enough to withstand just about any bash or scrape they are also water permeable so that they can be cleaned to get rid of any left over Sunday lunch and bacterial growth.
Inside the mouthiece sits snugly on an indented ledge whilst the pop on top is padded and closes tightly to stop things ratttling about.
Comes with a lifetime guarentee no less and is made to accommodate everything from a soprano to a tuba with all stops in between.
It should not be used however in the same way the convict Papillon smuggled money into prison in the film starring Steve McQueen…

More Information:
http://www.lyncol.com/index.htm
---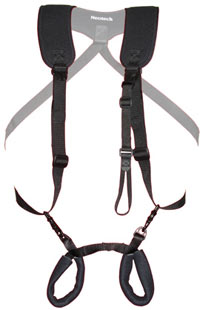 Neotech Tuba Harness
Multiple Configurations for Tubas
Price: £39.00 (inc VAT)
How on earth someone came up with this idea is beyond us.
It may look like a cross between a Heath Robinson cure for a bad back and something Cynthia Payne's odder guests may have requested on a Saturday night, but by all accounts it makes carrying a tuba feel 50% lighter.
Designed to latch onto just about any tuba it has a patented internal control stretch system for comfort and durability and comes with a lifetime guarentee.
The cradle set up also comes with additional loops made of neoprene, which helps the harness carry the burden of a heavy instrument when on the march and doesn't give a nasty old chaff to the parts of the body that shouldn't be chaffed.
The makers say it enhances the musicians freedom of movement too – which perhaps isn't that great an idea when it comes to most lads on the bass end of brass bands.
Given its looks and claims, customers may come from a variety of sources…
More Information:
http://www.woodwindandbrass.co.uk/acatalog/brass_straps.html#a1821