Dinner Guests - Dr Roy Newsome's ultimate brass band dinner guest list
15-Oct-2008
Dr Roy Newsome tells us who he would like to invite to come to dinner...dead or alive.
---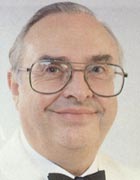 Given the opportunity, the wish list, the ability to mess about with the Space-Time Continuam like Doctor Who, and the skill to cook like Heston Blumenthal, who would you like to invite around to your place to enjoy a meal and chin wag with?

4BR started it all off a few days before Christmas with our 10 dinner guests, so we thought we had better ask a few more brass band personalities who would be on their all time dinner list too...
This time it's Dr Roy Newsome, legendary conductor, composer, arranger, multiple major contest winner, author and brass band historian.

We've been fairly generous with our criteria too: The 10 people can come from any time in history, but must have some link, in however tenuous a form, to the brass band movement.
The budget for the meal and drinks comes out of their own pockets though...
---
1. Harry Mortimer

is certainly doing well out of all these dinner parties! And why not? Not only was he one of the best cornet players of all time, he was witty, friendly, had a story for every occasion (several for some) and his memory for names, faces and places was out of this world.
He'd ensure a lively and constant conversation throughout the meal – and for a long time afterwards! If I were allowed only one guest, it would definitely be HM.
2. John Gladney

John Gladney has been labelled 'The Father of the Brass Band'. I'd like to meet him, see if he knew what he was doing at the time and get his thoughts on where his children have gone.
It would also be interesting to know how he coped with his dual 30 odd year love affair with brass bands and the 2nd clarinet seat in the Halle Orchestra.

3. Alexander Owen

Alexander Owen was a protégé of Gladney's, a brilliant cornettist, a highly successful conductor and an arranger of distinction. He was probably the first of that long line of solo cornet players who graced Black Dyke.
Like me many years later, he broke ranks and left the Queensbury band in favour of Besses, taking them on two world tours. We'd have much talk about concerning the two bands and their respective fortunes during the intervening years.
4. Eric Ball

Eric Ball was an almost exact contemporary of HM's but yet so different. Not that he was ever short of a story, but he was so mild and gentle.
He'd obviously be the one to say Grace before the meal and with a wry smile on his face he'd keep us all in order. No doubt he'd have some words of wisdom to interject between stories and if there were a piano on hand he'd find a few pertinent improvisations.
5. Geoffrey Whitham

Geoffrey Whitham is a walking encyclopaedia where bands in general and Black Dyke in particular are concerned. He's also a very funny man and would ensure we didn't get too serious for too long.
I'd try to keep Geoff and Eric some distance apart from each other.
6. Muriel Newsome

Muriel Newsome would have to be there. There are a few places I've been to without her, but not many. If the topic came round to adjudicating she'd sort things out.
She's definitely the best judge who never entered the box!
7. Walter Hargreaves

Walter Hargreaves – W.B., The Wee Professor, The Mighty Atom. He'd sort everyone out – even Muriel.
The two of them had a thing about pianos, something to do with an unrepeatable story from when we were once all in Dublin. One of the band world's greatest characters.
8. Don Lusher

Don Lusher – now there was a gentleman. A superb performer, a genuinely modest man and a great encourager of the younger generation of players. He could make a youngster feel 10-feet tall, and he never ever saw Muriel or me without asking how our son Martin was doing.
Muriel once had her photo taken with her arms wrapped round a life-sized cardboard cut-out of Don. They were the talk of the town.
9. Philip Wilby

Philip Wilby is, in my view, the best thing that's happened to brass bands for a very long time. He's a great communicator whether he's at the Sibelius, the word processor or the microphone.
He can talk successfully to anyone about anything, and the contribution he's made to brass band repertoire is simply awesome. Definitely one of my living idols.
10. Iwan Fox

Iwan Fox – I'd have to invite Iwan so that we could all keep up with the latest of banding's scandals.
---
Previous dinner guest lists:
Previous guests have included the 4BR selection; Chris Wormald; David Read; Pete Meechan; Alan Jenkins; Derek Broadbent; Philip Harper; Peter Roberts, Frank Renton and James Shepherd.