2008 National Championships of Great Britain - Introduction and prediction
7-Oct-2008
20 of the biggest performers in the UK line up at the Royal Albert Hall to see if they can bag the biggest pot of the banding year.
---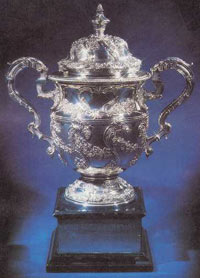 Big bands, big performers, big prize.
Nowhere else in the contesting world does a venue cry out for the biggest, boldest, and at times, brashest bands in the business quite like the Royal Albert Hall. Trying to make an impression here is not for the faint hearted. To win you need cahounas. As big as grapefruits too.
The record books tell you that.
Attitude

A quick glance down the prize list over the years reveals very few lightweights going home with the old silver cooking pot. This is the place for the leviathans, the great beasts of the banding savanah. Only bands and conductors with attitude, survive and prosper.

And none come bigger than Grimethorpe and Allan Withington.
Come Staurday night, Grimethorpe could rule Kensington for a third historic year, whilst their amazing ring master, could be be a seven time winner too. Big band, big performer, big prize.
Hard nosed atmosphere

In such a hard nosed atmosphere as this, Grimethorpe will also have sentiment on their side. It's now twenty years since Desford's hat trick and banding folk like nothing better than an old emotional climax to this contest.

Grimethorpe was the last band to provide that in 1992 on 'The New Jerusalem', and despite the occassional wet hanky win, there hasn't been a real outpouring of genuine heartfelt emotion since. Perhaps 2008 is the time.
Despite only winning the English National, Grimethorpe have been the dominant band of the season. A touch of luck could have seen them win all four contests they have appeared in this year, instead of the one, so they will be keen to redress the balance.
This is the best chance they have ever had of sealing their contesting reputation for posterity and in Allan Withington they have an undoubted Albert Hall genius. He has missed out on a personal hat-trick twice before, so the fires of historic ambition will surely be burning brightly in the pit of his stomach. If the contesting gods are in favour, only a force of nature can deny them both.
Contesting beasts

Other voracious contesting beasts await them though.
Fodens was quite exceptional at the British Open. There they delivered a performance of the rare quality with a sound that could fill the old cake tin here to the brim and still have something to spare. If Garry Cutt and his team can reproduce that form again then the 'double' could be on.
The band have a light run out at Regents Hall the night before, and if they sound a touch run of the mill there then look out. Just like their slightly below par performance at the Northern Brass Festival in Manchester a week before Symphony Hall, it could be the indicator that their sights are set firmly on just one very specific target – a first win here since 1999.
The other major winner of 2008 could also be looking for something of an overdue trip to the winners enclosure too.
Cory peaked brilliantly in Stavanger to take the European, but despite a superb effort at Birmingham they couldn't retain their British Open title.
Their record at London in the Millennium suggests however that they will be there or thereabouts come the announcement of the results once again, and if they can just raise their game to those Norwegian levels, the title may well head back to Wales for the first time since 2000.
Strange

Strange as it may seem, but you can't find too many people betting on a win for Black Dyke at the moment. You would be a fool to write off the chances of the Queensbury band, but after winning the Regional title, they haven't really reproduced that form again – so far.
That could all change at a drop of a well placed baton on Saturday, but they will be hoping that their luck will change after the disappointment of picking out Kelly's eye at Symphony Hall. There can only be one Alpha Male in the banding world, and Black Dyke want to return to that postion after dropping to 4th in the 4BR/World of Brass rankings.
Richter Scale

Remember 2005?
That was the last year when something of a shock result last occured here, when Leyland took the title on 'Eden'. However, fast forward to 2008, and if Jason Katsikaris and his band lift the title again, the pointer won't be shooting off the Richter Scale graph.
The combination of the musical ball of energy from Oz and his band is gathering pace and as was shown by their performance at Symphony Hall, they are now on the coat tails of the big bruisers such as Grimethorpe, Cory, Dyke and Fodens.
If the title is to go anywhere apart from those four then Leyland are the best equipped, and most in form band to do it.
Bookies odds

Other bands who had decent days at the British Open will also head to London full of confidence, atlhough the outcome at Symphony Hall is often a notoriously inaccurate measure of bookies odds for this contest.
The Scots for instance will travel with confidence this year of providing a first win since 1996. Kirkintilloch was excellent at Birmingham, a band restored to almost Lazarus good health by the Norwegian Selmer Simonsen. If they perform like that again then they could well be looking at another possible top six finish.
Whitburn meanwhile will be keen to make a long overdue impression in the Capital. Somehow the Albert Hall hasn't quite suited their approach in recent years, although they seem to have all the right attributes in place to do very well. The partnership with Steven Mead is growing in confidence though and so another top 10 finish or better may be on the cards.

Celtic cousins

Their fellow Celtic cousins in Tredegar and BTM will also travel east along the M4 with high hopes. BTM delivered solidly on their Open debut and with Philip Harper at the helm they will be nothing short of interesting as they look to improve on last year's excellent 7th place.
Tredegar meanwhile could be a bit of a dark horse if they can raise their game to show that there is more about them than just a series of second tier contesting wins. The Masters and Regional showed that it is certainly in them to do that, but winning at Wychavon and Porthcawl is one thing, claiming a top six place here, quite another. Ones to listen out for though.
Home challenge

The home town challenge once again comes from Redbridge and Aveley & Newham; the perennial Stevenage qualifiers.
It may be asking a lot of either of them to claim a top six place this year, but the signs are that both bands are moving once more towards the right end of the results table at major contests. Jeremy Wise has given Redbridge a revitalised feel (as was shown at the Masters), whilst Nigel Taken has been slowly rebuilding Aveley into a solid contesting outfit once more.
There has been slim pickings for the North of England qualifiers over the last few years here, and whilst it would come as a major shock to see one or other of Reg Vardy or EYMS in the prizes this time around, both have shown a return to form in the past season that is more than just encouraging.
Reg Vardy were not too far away from a return to the British Open at Blackpool and were a tad unlucky at the Masters, whilst EYMS has been quietly making solid progress. Any band's chances with Frans Violet at the helm shouldn't be writte off either.
Controversy

The West of England provided the controversy at the Regionals this year, so it will be interesting to see if either Mount Charles or SWT Woodfalls can show that getting here wasn't a freak result, as some uncharitable rivals suggested.
Mount Charles will surely pose a stronger challenge than they did twelve months ago, and the form in coming 4th at the English National showed their true potential. SWT Woodfalls could be an interesting proposition under the experienced Melvin White and have the ability to raise their game to very competitive levels. It's a hard ask though.
Midlands banding is in pretty decent shape if Desford and Virtuosi GUS are anything to go by, and both outfits will be keen to make an impression on the weekend.
Desford have been on wonderful form all year, and were unlucky to have come as low as they did at the British Open, after a trdemark musical interpretation under Nigel Seaman.
Another performance like that may not suit them as well here though (something more akin to the big, bold and sometime brash Desford of the late 1980's would be better), but they are a band to fear.
Dark horse

Virtuosi GUS meanwhile could be a bit of a dark horse. Great at times this year – but only at times, they committed musical hari kiri at the Masters. They will certainly be looking to steer clear of any sharp objects in the final few bars on Downie's work then. If they do they could be in with a top 10 shout at the very least.

Strangely that just leaves the remaining bands from the traditional heavyweight heartlands of the North West and Yorkshire – all three of which will head south champing at the bit after suffering the slings and arrows of contesting misfortune of late.
Fairey was certainly better value than their 15th place at the British Open suggests on paper, and although they are still very much in the rebuilding process under Philip Chalk they tend to enjoy London more than most.
Harvey Smith

Rothwell Temperance meanwhile are still smarting after rather unluckily losing their Open status, so a performance of true Yorkshire grit and determination may be on the cards in what could signal a good old Harvey Smith validictory performance.
That just leaves the returning Carlton Main. We say returning, because you have to go back to 1999 for their last performance here and then back to 1983 before that.
After a a year that promised much and then turned sour, 7th place at the British Open showed a welcome return to top notch form, and a repeat could well see them post a top six finish for the first time since 1979.
Now that's what we call an overdue return.
4BR Prediction:
Big bands, big performers. Hard to see the National Trophy heading anywhere else other than one of the big four this year, and with a touch of romance thrown into the mix it must be Grimethorpe to make it a historic hat trick.
On their day nobody can touch them, and we think Mr Withington doesn't want to make the trip home on the early morning flight to Bergen missing out for a third time either.
Cory and Fodens should be the two bands to push them all the way, with Cory just having the technical edge on this piece. Dyke will surely be in the mix, but are perhaps the outsiders of the four. Leyland could be the band to watch out for if any of them don't play to the top of their form.
The scrap for a top six place should be fascinting, but we go for a battle between Kirkintilloch, Desford and Tredegar, with the Scots just edging it ahead of the Welsh and Midlanders. Top 10 finishes should be on the cards for Whitburn and Carlton Main.

1. Grimethorpe Colliery
2. Cory
3. Fodens
4. Black Dyke
5. Leyland
6. Kirkintilloch
Dark Horse: Tredegar