2008 National Championships of Great Britain - The Adjudicators
7-Oct-2008
These are the three top class men in the box this year.

---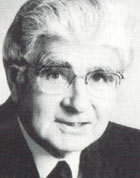 David Read:
David Read made his debut as adjudicator at the National Finals way back in 1985 when he shared the adjudication on "Cloudcatcher Fells" with Bram Gay and Sir David Willcocks. Since then he has been the most regular of judges at the Finals in addition to adjudicating at the British Open (debut 1982), the Masters, the European and many other major brass band contest all over the world.
2007 sees his 18th appearance as adjudicator and his 13th in a row in the box at the Royal Albert Hall.
He is a most highly respected judge, who's written comments are constructive and detailed and who has an acute ear for musical shape as well as technical clarity. More importantly he is seen as a "safe" adjudicator in the eyes of the bandsmen themselves, in that he invariably gets the vast majority of decisions concerning the prize-winners correct.

David Read was born in Wales and did his Military service with the Regimental Band of the Welsh Guards. His playing career came to fruition with the Askern Colliery Band, followed by a spell with Carlton Main Frickley Colliery. He later joined the Munn and Feltons Band (later named GUS) later becoming Principal Cornet. During his time with the band, GUS became National Champions on four occasions and World Champions once.
He was also assistant principal cornet for the Virtuosi Band of Great Britain and Kings of Brass and was three times Champion Cornet Player of Great Britain and once outright Solo Champion. He was also a member of the famous GUS quartet that with John Berryman, John Cobley and Trevor Groom who on a number of occasions were British Quartet Champions.
He has been an educationalist as Senior Instrumental Teacher for Cambridge Area Education Authority, and in 1983 was honoured by the Worshipful Company of Musicians and in 1996 by receiving the English Masters Dedicated Service Award.
National Championships Adjudicating Record: 19 appearances:
1985, 1986, 1987, 1990, 1992, 1995, 1996, 1997, 1998, 1999, 2000, 2001, 2002, 2003, 2004, 2005, 2006, 2007, 2008
---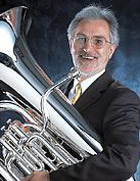 James Gourlay:

James Gourlay was born in Scotland where, at the age of ten, he was 'volunteered' to play in his school brass band. As the tallest in class, he was serendipitously given the tuba, an instrument loves and continues to promote all over the world.
After much success as a solo champion, James Gourlay entered the Royal College of Music but left after a short time, aged 18, to become Principal Tuba of the City of Birmingham Symphony Orchestra. Four years later, he took up the same position with the BBC Symphony Orchestra, with which he performed for ten years before joining the Orchestra of the Zürich Opera, where he remained for ten years.
James Gourlay's career as a chamber musician has been extensive. He has been a member of the Philip Jones and English Brass ensembles, with which he has toured the world. As a soloist, he performs extensively and he has recorded five solo CDs. The latest, British Tuba Concertos, recorded for the Naxos label with the Royal Ballet Sinfonia, has received international critical acclaim.
James Gourlay's work within the Brass Band movement forms a vital component of his creative output. After early success with Brass Band Berneroberland, he became music director of Williams Fairey Band, with which he won the All-English Masters and British Open contests. He has also been Professional Conductor of Grimethorpe Colliery and Brighouse and Rastrick bands.
James Gourlay's commitment to music education is a continuing passion. He has been Head of Wind and Percussion at the Royal Northern College of Music and Deputy Principal and Music Director at the Royal Scottish Academy of Music and Drama, Scotland's International Conservatoire.
He holds a Masters Degree from Leeds University, a Fellowship of the Royal Northern College of Music, a Fellowship of the London College of Music and is a recipient of the Iles Medal, presented by the Worshipful Company of Musicians.
National Championships Adjudicating Record: Debut
---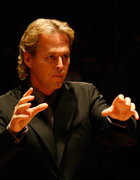 Professor David King:

Australian by birth, David King is regarded as one of the most dynamic figures in the world of brass today. With an enviable record of musical accomplishments and successes both as an instrumentalist and conductor he is at the forefront of music education and is Head of Performance Studies at the University of Salford, the largest music department in the British university sector.
David King studied Trumpet and Cornet at the Sydney Conservatorium of Music and music education at Avondale College, NSW, where he studied choral conducting with Alan Thrift, graduating in 1978. In 1982 as Australian cornet champion he was awarded a scholarship to study band musicianship at Salford College, Manchester, where he graduated with distinction in Performance in 1985.
In Britain David King pursued a distinguished career as a cornet soloist and was 'North of England Solo Champion' on three occasions (1983/84/85). He represented the United Kingdom as 'British Open Solo Champion' and won the prestigious title 'International Brass Musician of the Year' in Auckland, New Zealand in 1992.
In December, 2000 David King graduated from the Institute for Social Research, University of Salford, with a Doctor of Musical Arts degree majoring in Performance and has since been awarded his professorship.
As a conductor Dr David King holds a prominent position in Europe and is revered as one of the most successful conductors on the concert and contest platform in the last decade. He has represented England in the European Brass Band Championships on eight occasions as a conductor and has won the title seven times, twice with Black Dyke Mills Band (1990 & 91) and eight times with the Yorkshire Building Society Band (1996/1997/1999/2000/2001/2002, 2003 and 2004).
At the end of 2006 he announced his decision to end his association with the YBS Band after 13 unprecedented years of success. He continues to work at Salford University.
National Championships Adjudicating Record: 2 appearances:
2007, 2008