2008 Lower Section National Finals - First Section Retrospective
1-Oct-2008
There were two options to ponder over after the First Section on Sunday - one good, one bad, and not forgetting the ugly too...
---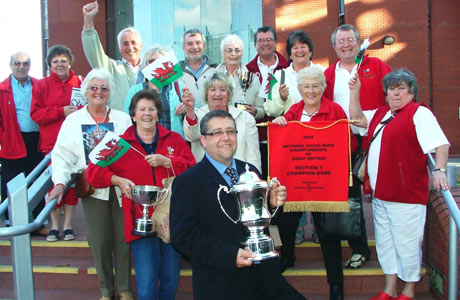 Flying the flag for Wales: Beaumaris's Gwyn Hughes shows off the trophy
Picture: Steve Jack

There are two ways to look at the result of the First Section National Final on the weekend.
The first is to remember two fine performances from the eventual winners Beaumaris and runner up Skelmanthorpe, and congratulate them on their efforts in producing two genuine quality renditions of what was an enjoyable work from the pen of Philip Sparke.
The second is to wonder what on earth is now the purpose of the First Section.
Disappointing

After sitting through an ultimately very disappointing contest on Sunday morning, it was the latter that came to mind more readily.
The First Section is a busted flush. It no longer serves the purpose it was intended. And if you wanted to listen to the evidence to support the argument it was there for all to hear – the top two being real exceptions to the rule.

At times it was a contest of dreadful playing and clueless conducting.
In reality of course it's not the fault of the bands or conductors.
Painfully clear

It has become painfully clear over the last decade that unless somebody returns the structure of the national five sections to something that accurately reflects the musical standards found around the country, this annual display of musical disappointment will continue for years to come.
The standard of playing on display was much closer to a true Second Section than it ever was to being to genuine levels of Championship competition.
Melvin White and Steve Sykes had an easy job in picking the two bands at the top of prize list, but must have had to employ the wisdom of Solomon to try and separate out the varying degrees of poor tuning, ensemble imprecision, solo errors, basic intonation, incoherent tempi and wrong notes that littered the vast majority of efforts on the day.
Meltdown

To justify coming seventh or seventeenth, was as easy to understand as George Bush's take on the credit crunch problem – it was degrees of musical meltdown, some a little more unlucky than others, but meltdown all the same. It was 'Haakon the Good, the Bad and the Ugly' – invariably all in the one performance at times.
If the test piece had been a Philip Sparke tour de force you could understand why so many struggled, but 'The Saga of Haakon the Good' was a piece of Sparke 'lite' as they say in America – the latter part sounding as if it was a Nordic GCSE version of 'Harmony Music'. This piece remember, was written for a Fourth Section Norwegian band.
Depressing

Why so many cornet and euphonium players decided that tuning was relative at the opening (and we mean second cousins twice removed in some cases), whilst also playing with a total lack of warmth or expression was bad enough.
Couple that to the inability to maintain clarity and rhythm in the following Vivo section, then fail to display a return to warmth, expression and ensemble security at low dynamics in the third, and to fail to capture any excitement of in the finale, was both puzzling and depressing in equal measures.
Even some of the vocal war cries would have been more at home in a 3rd form school rugby match rather than a battle to the death on the outskirts of Rastarkalv.
Appropriate

In the end it was perhaps appropriate that the title and the £1,000 first prize found itself a home in North Wales, after a real old ding-dong battle between Beaumaris and their Yorkshire rivals Skelmanthorpe. Both bands have known what it takes to battle it out against the odds in recent years.
These were the only two bands that mastered the technical problems and musical challenges whilst still having that extra touch of quality about themselves through their conductors to actually find the essential character of the music too.
It was Beaumaris's red in tooth and claw approach that won the day from Skelmanthorpe's more cerebral take on the legend, although both bands and their MDs should leave Harrogate with reputations enhanced by their efforts. Others will not.
Gwyn Evans was fortunate to have under this command the one true top class player on the day in Paul Hughes on solo cornet, who deservedly took the Best Instrumentalist Award for his fine playing, whilst his other charges put heart and soul into breathing passion and drama into the performance.
It wasn't without error, but it was always with character and musical shape and understanding of the composer's intentions, and by the thrilling end the stylish reading was a mile ahead and the band to beat.
Closest

The closest anyone came was just four bands later when after a short comfort break, Skelmanthorpe and John Roberts delivered a supremely confident, and very accurate performance that perhaps just lacked a little of that Welsh dragon breath, but more than made up for it with clarity and precision.
They could do no more, and it was left to Melvin and Steve to decide whether to opt for the heartfelt drama and spectacle or just lean towards the cerebral and precise. The red blooded drama won the day by the narrowest of margins.
The rest

Behind these two came the rest.
Third placed Kirbymoorside conducted with sensible understatement by John Woodward were decent value for a performance that was confident and solid, but just perhaps required an extra sheen of class that was so obvious in the top two, whilst Helston Town also went for solidity, although for us (and we hasten to add, for us and perhaps not the judges) there were balance problems in the louder sections with the percussion that bordered on obliteration.
Fifth placed Blackburn & Darwen delivered a big, bold old bruiser of a show that had plenty of muscularity but cried out for refined musicality in the quieter sections, whilst sixth placed Glossop Old were the best of the rest after a performance that seemed to have its moments but was bedevilled by far too many basic problems in ensemble and solo lines.
Pick and mix

Then it was a pick and mix of performances that had moments of quality mixed in with extended periods of poor direction and below standard execution.
Hathern will have been delighted to have come 7th we are sure after a performance that never really caught the Nordic spirit and lacked precision and accuracy, whilst Otterbourne in 8th delivered a non descript account that given that it didn't have too much wrong technically, may have been a touch unfortunate to have come where it did on the day, even if it lacked imagination.
The fancied Newbridge (Celynen) were full of purpose and intent all right, but had a trombone section that at times went AWOL and racked up many of the costly errors in an uneven rendition.
Stannington meanwhile also had the intent, but were undone with too many basic errors and flaws in the musical structure to have come any higher than they did in 10th.
Showboating

Phoenix West Midlands meanwhile opted for the brave course of trying to create the atmosphere and Nordic drama, but came unstuck with a very high error count, not helped it must be said by the MD taking the opportunity to showboat when it wasn't needed. Talented bloke Mr Maplestone, but not even the London Symphony Orchestra can cope for too long unattended if the conductor decides to stand with his arms at his side.
Roberts Bakery in 12th, opted for the safety first option of playing everything in the comfort zone, but when Plan A failed there was no Plan B to fall back on and 12th place was a bit generous perhaps.
Unlucky

Bo'ness on the other hand can count themselves a little unlucky that they didn't feature much higher, as Mike Marzella was one of very few MDs to understand the limitations of his band and match them accordingly to the score in a coherent fashion. It may have lacked for a bit of fire in the belly at times, but 13th was a little harsh.
Fellow Scots, Clackmannan & District, rounded off the contest very much in the way it started, with Ipswich & Norwich Co-op some hours earlier. Both bands failed to really capture the feeling of impending drama as the music unfolded, and both lacked security in too many places to have come higher than they eventually did. They were musically monochrome in delivery, although compared to some X rated shows they may count themselves a tad unlucky they didn't come a bit higher.
Musical intentions

That left the bottom two on the day, with Jersey Premier Brass finding that their execution never quite matched the musical intentions in a performance that had plenty to enjoy but was fatally flawed by basic errors.
Finally, someone had to come last, and it was Wansbeck's Ashington, with a rendition from the number 4 slot that was in reality no better or worse than a whole handful of bands that finished above them.
Matter of urgency

A contest that should have shown that there were a host of bands here more than capable of making the step up in class to Championship banding, ended up showing that there were just two – and perhaps just two in the whole country on this evidence.
Beaumaris and Skelmanthorpe fully deserved the plaudits and the promotions that will come their way, whilst others should look with a matter of urgency to see why the rest of the contenders were simply not up to the mark – and we are not talking about the bands themselves.
Nobody wants to have to sit through a contest like this again next year, and with the prospect of a very difficult regional set work next March, those prospects are not looking too great before we even return here.
Iwan Fox