2008 Lower Section National Finals - Second Section Retrospective
1-Oct-2008
Picking a winner is one thing, picking a test piece that was totally inappropriate was another in the Second Section...
---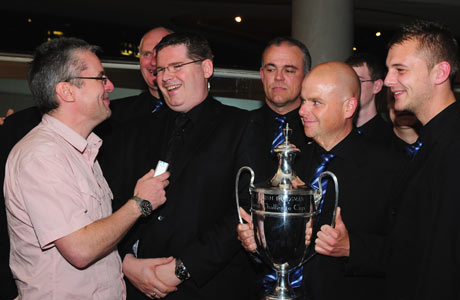 Point of hairs: Point of Ayr players enjoy the winning moment with 4BR
Picture: Ian Clowes

One of the most significant developments in recent banding history was the decision of the Salvation Army to make its music accessible to its colleagues in the secular brass band movement.
Here was an exceptionally rich resource of music for bands to utilize, and as a result the relationship between the Salvation Army and its counterparts has grown with enormous respect for each other's music.
Rich resource

It doesn't matter whether you're from a Salvationist background or not, there is a great deal of music from their back catalogue in particular that is immensely enjoyable to play and listen to, whilst the religious inspiration often challenges the mind.
Sir Dean Goffin was one of the finest Salvation Army composers who also took the opportunity to compose for non SA bands. His 'Rhapsody in Brass' was used at the British Open in 1949 and his music is held in the highest regard with 'Rhapsodic Variations: My Strength, My Tower', considered to be his finest work.
Finest selection?

However, the one thing that can be said about the contest on Sunday is that the piece is definitely not one of the finest selections to have been given to bands at this level to declare a National Champion.
To decide such a contest, every band deserves to have a fair crack at the whip, but that unfortunately, through no fault of their own, was not the case here.
Daunting

Based on a theme and variations, the work starts with two powerful opening chords, developing in the first variation with grace and elegance. The Scherzo in contrast is playful and fiery, before the music takes a lyrical direction with the daunting Lento with its extended solos for cornet and euphonium. Having survived that, the Passacaglia rounds off the work in thrilling fashion.
Some coped better than others, its as simple as that.
All the bands on the day started with good intentions, but the crux came when they reached the central Lento, where it became, a quite unnecessarily cruel musical experience far too often.
Soldierd on

Bands soldiered on and deserve immense praise for doing so, but the writing was simply too difficult. No soloist should beat themselves up over their performance because Championship Section standard principals would have had their work cut out with this piece. For the Second Section it was wholly misplaced.
The bands that survived the ordeal of the Lento still had a great deal of work to do in handling the Passacaglia. Some recovered poise and clarity and went on to finish strongly, whilst others lost focus and concentration, opted for speed and ran out of steam before the finish. For many it seemed a relief to get it over and done with.
As one band representative (who obviously didn't want to be named) told 4BR during the contest, it was perfectly acceptable for the Music Panel to select a piece that would test, but not one that would make bands struggle just to play the notes.
Sympathy

Adjudicator Jim Davies (who did a fine job with Peter Roberts) told the audience prior to the results that it had been a great test piece to play, but also carefully made the point that there wasn't a band that actually got to grips with it, however well they played. He complimented the bands for their efforts but there was sympathy for the cornet and euphonium soloists.
Now when perhaps one of the finest post war cornet players says that then you know all too clearly that he wasn't just being kind. It wasn't misplaced or patronising in anyway shape or form either.
When taking a look at the results, five of the top six awarded podium places played in the first seven bands. However, it was the very last band to play on the weekend that finally claimed the National title.
Taking the spoils

Point of Ayr took the spoils with a quality interpretation under the energetic Michael Fowles - and it really was a case of saving the best till last.
The opening chords were deep and balanced and it led into a delightfully musical opening section with the intricate detail clearly exposed. The Scherzo was playful and fiery, whilst Keith Jones and Ian Roberts on cornet and euphonium complemented each other in the solo lines in the central Lento with only the occasional moment or two of difficulty.
With a vibrant Passaciglia and fine close, it was game, set and match to the lads and lasses from North Wales, but as Michael Fowles confirmed afterwards, he'd had to work the band very hard for this victory.
Having come back into the contesting arena for the first time in seven years, promotion beckons for the Welsh outfit and with further development they will be a match for anybody. This was a fine Second Section performance from a fine Second Section band.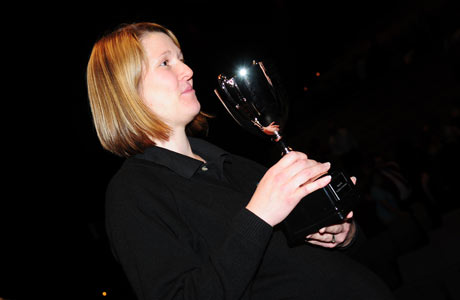 Butterworth brilliance: Susan Butterworth takes the Bset Soloist Award
Picture: Ian Clowes

Very nearly

You've got to feel just a little bit sorry for Wardle and District Anderson Brass and MD Sean Conway. Twelve months ago in the same section, they played number two and finished sixth, whilst this year, they reversed the numbers, playing sixth and finishing second. It was a deserved winning performance right up to that very last band to play.
They really did give it their all too, with a well thought out approach by the MD complimented by the fine delivery of his players.
Principal cornet, Susan Butterworth was in exceptional form and was rewarded for her efforts with the Best Instrumentalist prize for her sterling solo work in the Lento section. (All this and she can't be too far off having a baby either – what a girl!)
If the band can maintain this form (and qualify next March) they could make it third time lucky.
Colourful

Barton Town and Richard Evans from the early number two draw was another band that just about delivered the musical and technical goods with a colourful performance that paid dividends.
Richard allowed the music to flow (sometimes with the odd interruption it must be said) and whilst those little clips and blips were noticeable they never robbed the coherent musical structure of the piece.
Very nearly delivered

YBS Concert Brass and Ian Craddock certainly led the charge for glory for Yorkshire on the weekend with a performance that very nearly delivered in spades. There was quality from start to finish, but there were also a few uncomfortable moments in the solo passages within the Lento that meant that any realistic chance of taking the title just fell through their hands.
The only Midland contender to break into the top six was City of Coventry led by Stephen Cooper. Unfortunately the opening wasn't delivered with clarity but it soon settled down and they found their feet with some excellent ensemble and solo work, even if the detail didn't come through towards the end.
The final podium place went to the other Welsh contender, Tylorstown. They produced a well structured account from the number 1 slot that perhaps may have come higher if it had been drawn later in the day.
The opening was purposeful with plenty of thought from the MD as to how he wanted to lay out the music, and although they tired appreciably towards the end, their Lento duet from cornet and euphonium was one of the best of the day.
Potenital

Haslingden and Helmshore whilst finishing seventh will probably have been a touch disappointed, after a performance that didn't quite live up to its potential.
The opening suffered somewhat from tuning issues and they just couldn't find a sense of security thereafter, despite a well shaped interpretation from the MD. The Passacaglia finale was their strongest part of the piece, but by then they had found their true form a little too late.
Roy Curran did a terrific job with Bristol East and Kingswood in getting them to Harrogate, and he did another fine job here too in getting them into the top ten.
They started very well but like many others it was the Lento that proved to be their Achilles heel. They did recover with some aplomb in the final section but by then any hope of finishing higher was gone. It was another encouraging contest performance though.
Accomplished

West Yorkshire outfit Slaithwaite played late in the day (number 15) and they delivered one of the most accomplished accounts of the piece that was perhaps a touch unfortunate not to have finished higher
They didn't have the overall quality of the prize winners but they were not too far way either, with a well thought out interpretation from the MD and some bravura playing from his charges, especially on solo cornet and euphonium.
Scots contender, Johnstone Silver were very much in the same musical vein as Slaithwaite. Theirs too had plenty of brave delivery, sometimes a little ragged, but never unmusical or strained, with Ray Tennant's light approach giving the music a subtle sense of character.
Standard falling away

These were the best bands without a doubt and from eleventh place down the standard did fall away, at times appreciably. Getting to the end of the work having given it everything was the objective.
It was hard work for both bands and listeners at times and you did feel sorry for a number of the contenders who really did give it their all and more, but still came up short on a piece that was patently too hard.
Roger Burke has a vast amount of experience, and he had to employ every last bit of it with Alder Valley.
The sensible approach to tempi and dynamics kept things simple, if a little colourless, and despite the obvious problems in the Lento section the piece retained its musical character right to the end. It was an intelligent bit of conducting that made the most of musical resources.
Rubbing shoulders

Campbletown played early and were rubbing shoulders with the prizewinners up until the Lento section. There really were some fine moments, but the Lento section was crippling and confidence waned somewhat as they tried to get things back on track with a powerful end.
You have to have enormous respect for Shrewton Silver and their performance. Whilst we spent an enjoyable time having a beer or two with them in their hotel on Sunday night, it was a real credit for them to compete at the Nationals at all.
They may have left Harrogate for the long journey home disappointed in coming 13th, but given the circumstances it was a performance of character and emotion. They will return we are sure.
Bottom three

That just left the bottom three bands of Harborough, Murton Colliery and Epsom and Ewell.
Harborough delivered one of those performances that was very much of the 'hit and miss' variety. Sadly they just never seemed comfortable with the piece, and sounded nervous from the word go. By the time they did find their contesting feet (the dead acoustic does take time to get used to here) it was too late and despite some brave playing they can't complain about where they finally ended up.
Meanwhile, Murton Colliery's middle sections of the piece was where they faired best, but the outer sections just didn't gel and were too ragged to make anymore of an impression on the men in the box.
It had its moments like so many around them, but they were not enough and in the end it sounded as if they were relieved to get through what was a testing experience.
Finally, well done to Epsom and Ewell – this was one heck of a struggle for them and we take our hat off to you.
This really tested the band to the full and beyond, but MD Ted Howard kept things ticking along, encouraged his players with little nods and winks and never allowed the piece to get the better of them – it was close though.
Winners?

At the conclusion of the contest the winners were unquestionably Point of Ayr (few would disagree we think), but the test piece beat all of the bands.
There were plenty of commendable accounts in this contest, but to give a performance that a band could be proud off at the National finals was an impossible task for some – and that can't be right.
The Music Panel will have plenty to think about as they ponder choices for next year and beyond at this level.
Malcolm Wood