2008 Lower Section National Finals - Third Section Retrospective
1-Oct-2008
Easy listening music, well played. It was a bit of a rare thing on the weekend as the Third Section bands did themselves proud.
---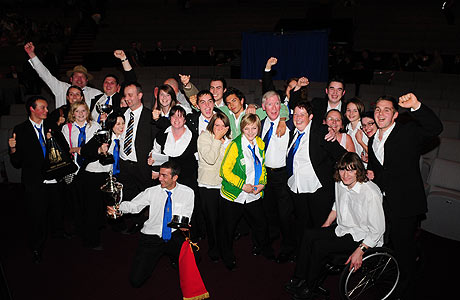 Telford triumph: Wellington (Telford) celebrate their victory
Picture: Ian Clowes

For those familiar with the output of BBC Radio2, it predominantly features music of the easy listening variety – stuff that doesn't strain the mind too much; something to listen to in the background whilst driving in the car, doing the housework or working on the laptop.
Something for everyone

From Terry Wogan to Steve Wright and Desmond Carrington at night, the choice is varied, but there is something for everyone, and a key ingredient on a Sunday for years has been the programme Melodies for You, associated for a long time with Richard Baker, and now in the capable hands of housewives favourite, Alan Titchmarch.
And if you are the type of person that does listen to Melodies for You, John Rutter's 'Suite for Strings' is the type of music you will hear - easy going enjoyable fayre with tunes in it that you can sing along to and enjoy.
Enjoyed

The bands that played Sandy Smith's arrangement of Rutter's work (in effect given the new title, 'Suite for Brass') will have certainly enjoyed rehearsing the work and even perhaps singing all those folk tunes, as this was a piece that Alan Titchmarsh himself would have found a delight.
However, that is not to say this was an easy piece of music to play, and there will be many mightily relieved performers and conductors now that the contest is over, as this was a piece that whilst easy on the ear, was also a very tough nut to crack.
Best in business

The arrangement itself came from one of the best in the business, Sandy Smith, and it proved to be a cracking, but very fair, test. It may not be the usual kind of test piece you get to hear too often at contests, but it certainly did the job.
Originally written for strings in 1973, the work is based around, A-Rovin'; I have a Bonnet trimmed with Blue; O Waly, Waly and Dashing Away with the Smoothing Iron. Familiar tunes with the key getting everything to gel together, with just the right lightness of style, shape and colour.
Bedfellows

Strings and brass are not the most comfortable of musical bedfellows, but Sandy Smith had given the bands plenty of opportunity to use their imaginations and intelligence – and thankfully on the day, the performers and MDs were not found short.
The opening rather jaunty tune, 'A Rovin' balanced 'I saw the seed of love' and set the essential style that had to be encouraged and developed as the piece progressed.
The second movement, using, 'I have a Bonnet trimmed with Blue' was much more flirtatious in nature and the use of the soprano cornet in what could be imagined was the young lady egging on her suitors was particularly effective – and well played by the vast majority of players too.
It was the slow movement based around the folk tune, 'O Waly, Waly', which provided the musical core of the test piece however, and here was the chance for the bands to really produce a broad, lyrical warmth to their playing – and many, thankfully did, although some did it better than others.
Finally, there was the fun to be had in the final section, 'Dashing away with the Smoothing Iron' where some bands made the ironing an ordeal, and others a brisk and workmanlike experience.
Reaped reward

Where the bands that did well reaped reward was in that stylistic approach. Basses had to sound like double basses, especially with pizzicato playing, whilst soprano players had to deliver with a sweet tone.
Adjudicator Kevin Wadsworth (with Stan Lippeatt in fine support) gave a superb assessment of the piece on stage and made the telling point that at first glance the score looked quite simple, but when studied in detail, bands will have realised how difficult the piece was going to be.
With a score so clearly marked in terms of tempi, dynamic and approach the best did what Kevin and Stan were looking for – "playing what was written on the tin".
Talking to 4BR later in the day, Stan Lippeatt said there was five or six very reasonable performances with the first movement separating the top two.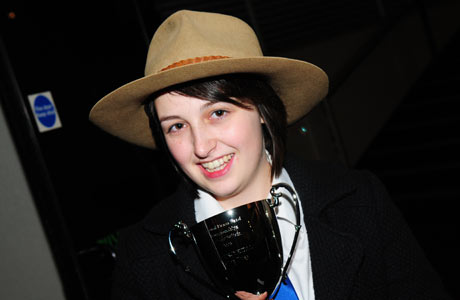 Best hat of the day: Melanie Whyle tops off her individual award
Picture: Ian Clowes

Dividends

Stephen Curtis led (Wellington) Telford to the National title, and in conversation afterwards he made the point that he'd been meticulous in his preparation and was determined not to leave any stone unturned. It was an approach that certainly paid dividends.
The band played early and with the first two bands producing fair performances they raised the contesting bar to a level that eventually couldn't be matched. It wasn't an unbeatable performance, but it was a very competent and enjoyable one that sought out the style of the music with intelligence and consistent execution.
It also benefited from some lovely soprano cornet playing too from young Melanie Whyle, who is just starting her studies at the RNCM in Manchester. She had an absolute blinder and was royally rewarded with the Best Instrumentalist prize.
With the band due to compete at Pontins in a few weeks they could round off the year with another major trophy to their name if they play like this again.
Runner up

Running Wellington very close was Verwood Concert, and from the relatively late draw of 14, can consider themselves a touch unlucky not to have taken the title itself.
Prior to taking to the stage there had been a bit of a lull in the standard of performances, but David Johnson's band soon stopped that and really delivered the goods.
The opening was solid in its execution, with energy and drive from the middle of the band, whilst this good form was maintained throughout with accurate dynamics, lots of musical shape and thought given to the music, and a lyrical third movement that was perhaps the best of the day. We had it as our winner, but it wasn't to be.
Young star

Mellingriffith City of Cardiff, had waited a long time to play (they were drawn number 18), but produced an absolute cracker of a performance, memorable for the soprano playing of 11 year old, Alexander Rees.
The Finals have a habit of unearthing young stars and this young man's performance won him many admirers. His control, technique and almost nerveless approach in the exposed passages was exemplary, and it certainly played a major part in lifting the band into the frame.
Favourites

Oldham (Lees) was tipped by many as the contest favourite, and playing from the number 5 draw they delivered a solid show with excellent ensemble complimented by fine soloists. Ben Hirons, a young man who is better known as a Bb cornet player did a fine job on soprano but overall, John Collins and his band left the door open – and so it proved.
Warmest congratulations go to Simon Hogg and the University of Warwick for fifth place, after an excellent performance that was put together in just a week.
Unlike the other contenders, this group of musicians have only just returned to university and must have worked their socks off to get the performance to this standard. Another week perhaps would have given them the title, but then again, it wouldn't have possibly been so much fun. The bar did a roaring trade after they came off stage.
Flookburgh was drawn sixth and eventually ended up in sixth place with a performance that wasn't blemish free and just lacked for overall consistency. They certainly opened well and survived a few glitches, whilst John Iveson was another MD who opted for a common sense approach with his tempos, dynamics and style. That little touch of unevenness though just cost them valuable points.
Consistency

It was consistency that did for Dalkeith and Monktonhall conducted by Whitburn stalwart, Jim Chamberlain.
Here was a performance that contained lots to admire, with a fine stylistic approach. Principal Cornet, Anna Conway led the band superbly but the lack of security in the ensemble too often muddied the musical picture and just took the gloss off what had the real potential to have battled it out at the top end of the prize list.
North West outfit, Pemberton Old JJB can consider themselves unlucky to have been drawn in the middle of Wellington (Telford) and Oldham (Lees), but they too produced a performance of style and energy, directed with confidence by Peter Ashley.
Martin Halliwell on soprano was another soprano star on a day when so many shined, but not even his heroic efforts could drag the band further up the results table.
Grew in confidence

Bath Spa from the West Country played early on at number two, and theirs was performance that grew in confidence as it went along. There were a few noticeable nerves around the stand, and uncertain moments that won't have materialised in rehearsal, but the bright lights and a stage that makes the player feel like they are on their own, meant that things took time to settle. When they did, the quality came through – just a little too late.
Scots contender Annan didn't have its greatest contesting day, and considering they never really seemed to settle down, finishing tenth was a good return. That was a bit of a shame because when they did find their feet there was plenty to admire about the approach and the execution.
Fully committed

Meanwhile, Brighton and Hove gave a fully committed performance that had its moments, but also lost its way somewhat too. MD Matthew Hackett signalled his intent right from the off with a purposeful opening, but the good playing and stylistic intentions didn't really materialise as they would have hoped as the piece developed.
It was the same for Littleport, who took time to settle with nerves around the stand. That perhaps led to them coming where they did in 12th place as Ryan Goodall on principal cornet was one of the best of the day and provided a focal point of quality from start to finish.
Hangleton struggled to take off and as a result any thoughts of featuring higher up the results table were over after the first couple of movements.
Another case of nerves and some loose playing at the start cost them dearly as the stylistic approach was good and the third movement (O Waly, Waly) was a little gem. Another case of 'if only' perhaps.
Unlucky

Eagley from Bolton in the North West were a touch unlucky. Gareth Westwood engineered an account full of character and style, but there were clips and unforced errors that in the end just became too noticeable and took the gloss off what was a performance of promise. There is more to come from this band we feel by the end of the year.
That just left the bands placed in the bottom five, where overall, they found the piece just a little bit too taxing.
Too taxing

Billingham Silver took to the stage after the comfort break and was another to suffer with nervousness at the start that critically undermined their chances. By the time of 'O Waly, Waly' there was real optimism that things could be built upon, but sadly the errors and uncertainties returned and it just fell away to end.
Yorkshire contender, Garforth drew number one and in fairness gave a good account of themselves and of the piece. Full of committed playing, colour and texture, it had a few too many annoying clips and structural uncertainties, but there was plenty of evidence of a band moving in the right direction.
Welsh outfit, Blaenavon settled well and promised much to start, with a neat and tidy opening, but were unable to maintain their form as the piece developed. They suffered in the second movement somewhat, recovered in the third, but fell away again towards the end in a performance that had its obvious ups and downs.
Roger Jepson and Matlock opted for a steady approach that had a nice feel to it, and at times it made for really enjoyable listening. This was the one performance that perhaps didn't find stylistic favour in the box as there was plenty of good execution from all around the stands. A little unlucky perhaps.
That just left Rockingham, and whilst there was optimism, they suffered from too much loose playing and unforced errors which not only proved to be very costly, but also put pay to them coming any higher than they eventually did.
Interesting

This was certainly an interesting contest. The piece proved to be a real challenge, but one that brought out the musicianship of both players and conductors alike.
Some bands as expected at this level just couldn't maintain their form consistently enough through the movements to really make an impression, but not one band found life too tough – and on this weekend that was saying something.
Malcolm Wood