2008 Lower Section National Finals - Fourth Section Retrospective
1-Oct-2008
Testing times for the Fourth Section bands at Harrogate where a poor choice of set work meant too mnay had to search for the musical life boats.
---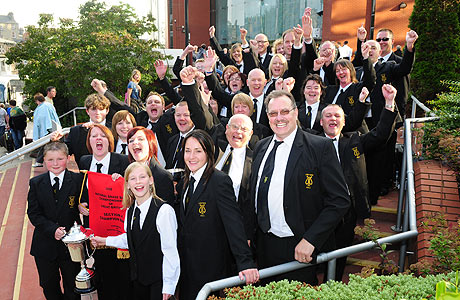 Best crew and passengers: Lostock Hall Memorial claim the Fourth Section title
Picture: Ian Clowes
Hard to imagine, but there was a time when Britain ruled the waves – both ocean and radio.
We are talking a long while ago mind you – the days of shipbuilding on the Tyne and Clyde and midnight stops on the crystal set dials at exotic Luxembourg now belong to a very different age – an age of the early 1960's, given the revival this year for the Fourth Section National Finals of Peter Yorke's classic 'The Shipbuilders' Suite.
Too difficult

Time can play funny tricks on the memory banks too, and even though it is now nearly 50 years old, the piece of pre-Gilbert Vinter lightness and character remains too difficult for bands at this level.
Age can rust the hulls of many a great ocean going liner and the progress of time dull the musical senses so that 'light music' has been replaced by soft rock on Radio2. It also results in choices such as this proving too hard for the competing bands.
Mea Culpa

Fair play to Richard Evans, who was in the box with Chris Wormald on the day. He put his hands up and declared Mea Culpa for the decision this year, after the evidence laid out in front of him with 20 performances confirmed that the Music Panel of which he is a part, had got it wrong.
Brave bands here played with all their might to try and overcome the technical challenges the four movement work placed upon them, but with the exception of the top four, and the top two in particular, it was a day when the performances understandably lacked consistency in execution.
Kernel

The kernel of the musical problems lay in the second and third movements – 'The Launching' and 'All Hands at Work', both of which demanded a degree of technical clarity that players in the Third and eve Second Section would have had difficulty maintaining.
Before they even reached these movements however the first piece of musical flotsam that caught in the propeller was to be found in the first four bars.
After the usual well played opening ensemble statement, there invariable followed a poor trombone response. From then on it was hard yakker for far too many bands, despite their undoubted desire, enthusiasm and confidence.
Unlike the First Section, here the bands were not undone by poor conducting, inept playing or even misplaced endeavour – they were undone by an over ambitious choice of music by a Panel that should have known better.
With that in mind there was still plenty of enjoy with bands giving it their all in trying to portray life on the ocean waves – some more successfully than others in not losing too many crew members over board on the journey from dry dock to maiden voyage home port.
Winners

The best without a doubt was the eventual winners, Lostock Hall Memorial, conducted in splendid fashion by John Wood. Full of vibrant life, tight ensemble precision, sensible tempos (especially in the third movement which allowed for clarity of execution) and a real feel for the serenity of the final journey to port, it was a performance that fully deserved to be crowned champion.
With a host of cracking young players in the ranks (especially the tremendous little nippers in the percussion team) it proved to be the marker off the number 11 slot that couldn't be beaten, despite some fine efforts.
The best of these was also undoubtedly Uppermill, their North-West rivals.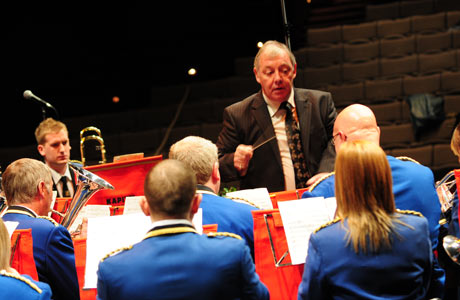 Strong challenge: Uppermill and Alan Widdop stake their claim
Picture: Ian Clowes

War ship

Where as Lostock's winning performance resembled a musical cruise liner such as the QE2 sailing serenely on the ocean waves, Uppermill's combative rendition seemed to be forged in the naval dockyards of Portsmouth.
Alan Widdop and his crew literally came out all guns blazing with a performance of strength and purpose that just perhaps needed a touch more luxury finesse in some cabins of the band to have pipped their rivals. It did however provide ample evidence of the different approaches to interpretation that were to be found on the day and gave euphonium player Trevor Hughes the Best Instrumentalist Award for his fine contribution.
Exotic ports

Meanwhile, third placed Amington's performance certainly contained a few exotic ports of call on its way to claiming the final podium place in a colourful interpretation that seemed to be heading in one direction and then changed tack and ended up in a joyful old romp to port with a superb final section of playing.
Fourth placed Brunel Brass certainly evoked strong memories of the man they take their contesting name from with a performance old Isambard Kingdom himself would have been proud of. It was also an impressive account that had many in the hall tipping them for a podium finish, but perhaps the two men in the box did manage to detect that the admirable Paul Richards on soprano was undertaking more extra work than regular duty called for.
On a weekend when there wasn't much to shout about from the crow's nest, for Scottish or London & Southern Counties bands, Renfrew Burgh and Hemel Hempstead did themselves proud by coming fifth and sixth.
Solidity

The Scots do know a thing or two about building fine sea going vessels and this performance had its moments with a real sense of solidity from start to finish and only the occasional bit of rustiness in the ensemble spoiling what was a well directed performance.
So too Hemel Hempstead, who we suspect couldn't call upon historical nautical inspiration from their area, but produced a slightly uneven performance that veered a course between the great and the slightly unseaworthy in places, but still emerged with considerable credit.
Unscathed

With the top six announced from the stage, there would have been a great amount of interest to find out who came where with the remaining 14 contenders. Many of these performances did have structural flaws, especially in those all important second and third movements, but overall they gave it their best and emerged relatively unscathed by journey's end.
South Milford for example produced one of the most stylish performances of the day, full of life and with a rollicking old feel for the sea under MD Richard Wilton. It did have quite a few old holes in the hull, but they could count themselves a touch unlucky their efforts didn't quite get them a mention higher up the prize list.
So too Crosskeys who eventually ended 7th, with a strong old performance off the number 1 slot that just about held its own right to the bitter end. Once again there were a few too many little scratches here and there to push it possibly into the top six, but overall the Welsh returned home proud of their achievement.
Hard working

Totnes on the other hand may well think that they left their best contest performance in the bandroom, after they delivered a hard working account that never quite felt at ease from start to finish, despite some workmanlike contributions from around the stands.
The final top 10 place was taken by Wincanton Silver after they delivered a slightly difficult performance that certainly had the feel of the excitement of construction but just needed a touch more relaxed feel once it got to the final journey home to port.
Little to choose

There was little to choose between the bands that ended up in 11th to 15th place – something that Richard Evans himself told 4BR in his post contest interview.
Irvine & Dreghorn from Scotland produced a solid account off the number 2 draw that had the odd moment of unease, but also contained plenty of spirited playing in all four sections of the work to come a slightly unlucky 11th.
Meanwhile, Lofthouse 2000 recovered from a poor start in the 'Web of Steel' to build what became an impressive account. Those early problems though cost them dearly and 12th place could have been a lot higher if they had just conquered those early nerves.
Grew in stature

Skelmanthorpe B found themselves very much in the same boat as their Yorkshire rivals, with a performance that grew in stature the longer it went along. It was untidy to start, but as soon as they found their sea legs their true form came to the fore and by the end they were storming along. Unfortunately it proved to be a little too late and they had to settle for 13th place, despite the obvious delight of their supporters after the final note.
The second Welsh band, Severn Tunnel perhaps took their musical inspiration from a more updated version of a sea going vessel rather than the stately liners of yesteryear and the quick tempos in each of the movements perhaps undermined what was an enjoyable and interesting performance under Andrea Ayres.
Choppy moments

The same could also be said of Tarleton too in 15th place, although they did set off at a more leisurely pace to produce an enjoyable performance that had its choppy moments in places but still ended up safely home in port. Their third movement in particular was one of the best of the day, so coming home in 15th place may have been a touch disappointing.

Bottom five

The bottom five did find the test piece hard work according to Richard Evans, with Tadley Concert Brass finding the contesting journey fairly difficult despite the hard graft and bravura playing from everyone around the stands.
Kirkby Lonsdale meanwhile produced the obligatory 4BR Curate's Egg of a performance late in the day and even the four trombone line up couldn't quite help the cause consistently enough to push them any higher than their eventual 17th place.
Thoresby Youth rounded off the whole contest with a decent performance that perhaps had enough about it to have come higher than it eventually did in 18th place. The two later movements in particular were their best, but the opening section may have cost them valuable points as they did take a little while to settle.
That left the bottom two, with Cold Ash certainly enjoying the experience despite the high error count and the basic flaws undermining their chances of coming higher than they did. It was great to see smiling faces from start to finish too and although they must have known they were not going to feature, the sense of pride in playing on the finals stage was more than obvious.
Finally then Croft Silver under the direction of Ian Needham, which wasn't a bad performance but was one that needed a few extra knots in it to coast through the problems it encountered by setting out at such a slow speed. The lack of musical flow cost them dearly, but there are surely better days ahead.
All in all then a contest to enjoy despite the fact that the bands on this occasion were not helped by a choice that was too difficult for even the best of them to master with comfort.
Lostock Hall though will enjoy every moment of being Fourth Section National Champions, and you can't help but admire them for that.
Iwan Fox