2008 Lower Section National Finals: Test piece review - The Saga of Haakon the Good
23-Sep-2008
Paul Hindmarsh takes a close look at Philip Sparke's musical portrait of a Nordic King with a strange old name...
---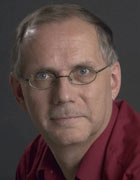 First Section: The Saga of Haakon the Good by Philip Sparke

The simple modal tune with which Philip Sparke's suite starts seems to be saying to me – 'I'm going to tell you the story of a King of the northland long ago'.

Perhaps that's fanciful on my part, but the way the melody unfolds and expands is certainly prescient of adventures ahead.

Haakon the Good (c.920 – 961) was brought up in England, a Christian by King Athlestan. When Haakon's father died, the English King provided him with ships and men to return to his native Norway and claim the throne from his half-brother Erik Bloodaxe.

Adventures

The Saga of Haakon the Good, commissioned by Frei Hornmusikk to celebrate the joining of the Frei and Kristiansund in January this year, traces the key adventures in King Haakon's rise to power with music of vivid character and typical craftsmanship.

The Future King: This is the prelude, setting the scene for the tales to come. Philip introduces the Hymn to Frei as an anthem of celebration – heard first on euphoniums and then, as if in the distance, on muted cornets and trombones – but which also seems to serve as a theme for Haakon himself.

The Journey to Trondheim: A stirring movement, full of contrast. The ominous tread of tuba quavers – there is intent in Haakon's return! – underpins a more expansive fugato opening. There is a confidence in the way the music unfolds, confirmed by the spirited solo interjections that Sparke introduces. Haakon and his men men were victorious in all they undertook and the regal fanfares with which the movement ends would confirm this.

The Missionary King: However, Haakon was unsuccessful in converted his people to Christianity. Philip's beautifully scored slow movement capture the regret through a series of haunting lyrical paragraphs featuring solo euphonium, then the horns and finally the full band, with solo cornet and ending with a duet cadenza from the two soloists – beautiful!

The Battle of Rastarkalv: One of Haakon's most famous victories occurred near Frei. In music has something of the flavour of the ending of Harmony Music about it, Philip begins with music of purpose and confidence. Out of the battle, Haakon and his men emerge victorious, with blazing fanfares, the Hymn to Frei and shouts of joy (heard on the Black Dyke recording but not printed in the published score).
Paul Hindmarsh