2008 British Open Championships - Retrospective
16-Sep-2008
Different sounds highlighted the day at Symphony - with Fodens producing liquid gold to take the title back to Sandbach under Garry Cutt.
---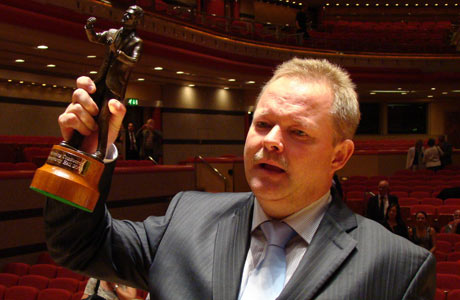 Open Maestro: Garry Cutt holds aloft his fourth British Open Mortimer Trophy

The viscosity of sound. If there is one characteristic more than any other that separates the very best bands from the rest at major contests then that is surely it.
And on Saturday at Symphony Hall one band more than any other had it pouring out of every musical pore of their collective musical body like liquid gold. Garry Cutt was the King Midas of the British Open.
The general consensus is that the perfect structure of band tonality is a pyramid; everything built from a bass foundation with tapered sides of balanced sections topped off by a soprano apex.
Dyke and Grimethorpe have constructed the biggest, Cory the most technically perfect. Brighouse are in the process of doing a bit of DIY work on theirs, whilst others simply can't get the dimensions right at all.
Totally different

Fodens on the other hand have built something totally different.
The problem with a pyramid is that however big it is, it still has sharp edges – sharp and at times very hard. Fodens however have built their sound like an upturned ice cream cornet – a huge rounded cone of tone, tapered without an edge to be seen or heard. On Saturday it became the perfect construction of sound, filled with that glorious viscous gold.
In what was a very high class contest from the word go, Fodens delivered a winning performance that had an alchemy of technical clarity and musical intelligence that stood out for the three judges in the box – and it must be said, the vast majority of people listening in the hall. Mixed together by Garry Cutt to a recipe that he uses to such telling effect at this contest over the years, it proved to be unbeatable.
Grimethorpe gave it their best shot, Cory bravely defended their title, Leyland and Kirkintilloch were inspired and Black Dyke tried to deliver a knock out punch at the opening bell. None though could match the band from Sandbach off the number 10 draw or that fabulous sound.
Mortimer quartet

Garry Cutt now has a quartet of Mortimer Maestro Trophies on his mantelpiece and with a band such as this under his command there is time (and hopefully space) to fill it up with more.
The day unfolded with its usual touch of drama and controversy.
The drama was provided by Black Dyke's representative picking out the dreaded number 1 from the velvet bag (the last time was back in 1996), whilst the controversy surrounded the Scots and the question of player registration – an argument in brass band devolution that will surely see a heated discussion of the clans north of the border in the next few weeks.
Draw

The draw had spaced the contenders out intriguingly, with the fancied pre contest runners of Dyke at 1, Desford at 3, Leyland 4, Grimethorpe 6, Fodens at 10, Cory 11 and Brighouse at 16. In between there was plenty to keep a large audience happy too, and with the added bonus of a mid point break of around 15 minutes what turned out to be a long day (starting at 11.00am with the last band finishing around 6.00pm) was managed deftly by the organisers.
The hall was in fact over three quarters full for the first competitor – not surprising since it was Black Dyke, although a healthy number stayed too right up to the comfort break.
Black Dyke tried manfully to become the first band to win off the number 1 draw since Stanley Boddington and Munn & Felton did it in 1954.
Deep in their hearts though they must have known that it was a near impossibility and despite a performance that had such a high degree of technical execution and musical security (with a special mention for Paul Duffy's contribution on soprano) it was always going to be beaten.
And it was, although their eventual 6th place did seem a little harsh. Would it have really have come there if they played later in the day?
With the audience catching their breath and forming their initial opinions about Edward Gregson's 'Rococo Variations', Dyke were followed onto the stage by another band who must have felt the contesting gods were against them too.
Cursed

Rothwell Temperance is seemingly cursed at the draw at the moment, and after last year's number 1 this time it was another outing in dead man's territory. Too many little errors and a poor Lament section killed them off and condemned them by the narrowest of margins to return to the Grand Shield at Blackpool next May. They were unlucky to say the least.
Desford meanwhile came to Birmingham looking to add a fourth title to their impressive CV this season, and under the direction of Nigel Seaman they provided a great deal of food for thought both in and out of the box.
A reading of rich character and style was never quite as secure in execution, but despite the odd moment of unease it was still a performance that made a very satisfactory musical impression. Not in the box though and whilst others had them in the frame (including 4BR) Mr Read, Mr Parkes and Mr Ball felt it only warranted 14th spot.
Electric eel

Leyland immediately followed on stage under that electric eel of a conductor, Jason Katsikaris. Once more the live wire Australian grabbed at the emotional core of the music and wrung every last ounce of life out of it. It was a heady mix of heart on sleeve and heart in mouth on occasions, but it certainly struck a chord in the box and 4th place was their reward. They are never boring to listen too that's for sure.
There is a feeling that Leyland is not far away from claiming a very big prize sooner or later – and London is just a few weeks away.
YBS meanwhile won't be at London and can concentrate all their efforts on Brass in Concert. It needs to be time well spent.
Here they produced a solid if rather colourless performance that had the feeling that it was set out to do enough to hold its own no more, no less and secure another appearance at Symphony Hall. It did, but only by the skin of its teeth.
Morgan Griffiths is a talented MD, but not even he can work wonders with a band that sounded like a disparate collection of playing parts in need of time together to musically gel. They had the Grand Shield hangman's noose around their necks only to be reprieved by a hairsbreadth of good fortune.
No consolation

The result of posting their best result at the British Open since 1991 will be of no consolation to Grimethorpe.
A performance that touched the very heights at times also had moments of scrappiness too, and whilst the wow factor at the end raised the hairs on the back of your neck, there were risks taken by Allan Withington in terms of style and tempi that may just have left the door open for it to be beaten.
So it proved, although Kevin Crockford again showed why he is now the undisputed 'King of the Sopranos' by taken that 'Best Soprano' award. It was a performance of huge stature that just lacked for that rounded finish. The wait for another Open victory continues.
Mass evacuation

Unfortunately for BTM, Grimethorpe's performance also signalled a mass evacuation of the audience from the hall, leaving a small crowd of diehards and Welsh supporters to listen to their understandably nervous debut.
The opening two movements cost the band any chance of coming any higher than they eventually did, but an admirable recovery with some fine solo playing based on a controlled interpretation from Nigel Boddice saw them finish with ever growing confidence. The experience will have been invaluable for next year.
That just left Fairey, but where as last week in Manchester they were out of form from the word go, here they opened with perhaps the best theme and toccata of the entire day.
That they couldn't quite maintain the form through the Lament and final Scherzo was a pity as it was a performance of substantial merit that deserved much better than its eventual 15th place. Fairey continue to take three steps forward and one step back in their long term rebuilding process. It was unlucky that the judges decided on the one step back here in terms of the result.
Halfway point

With the halfway point reached it was time for a well earned break, and the discussions about the merits of the test piece and the performances heard.
Edward Gregson's work seemed to be universally liked and enjoyed – 'mature writing' as one leading MD told us. The lack of trick pyrotechnics and ear catching effects was a bonus too – this was ensemble writing that placed an emphasis on tonal balance, musical interpretation and intelligence.
It demanded respect and got it from the bands and their conductors, who may have been a little sceptical of the piece at first glance. And it got it from the audience too.
Decent old show

It was a pity that so many people decided that 15 minutes wasn't enough time to enjoy the delights of the cafeteria and bars at Symphony Hall, because they missed a decent old show from Whitburn.
Steven Mead's interpretation was one of the most satisfying of the day and if they could have negotiated the opening theme and toccata with a greater degree of security they would have been closer to a top six finish than their eventual 10th place.
Golden moment

Now came the golden moment.
Fodens didn't put a foot wrong and the musical footprint they left certainly had the stamp of winners written into its sole. The level of solo and ensemble security was of the very highest order, the reading crafted and paced to perfection by the MD. The bedrock though was that sound – the balance, the context and the delivery in each movement illuminating the characteristics and quirks of the composer's musical portraits.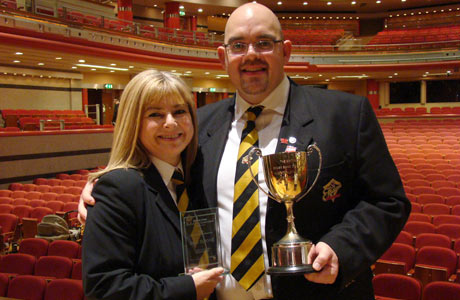 Winning duo: Mr & Mrs Williams celebrate another fantastic day together

Then there was that viscosity. That flow of uninterrupted quality; pure, clean, cultured. Even at full tilt and with the finishing post in sight it never lost its focus and structure – not a hint of a sharp edge, all rounded and warm, mature and huge.
Glyn Williams on euphonium was superb, and deservedly took the Stanley Wainwright Best Soloist Award, whilst the other stable of leading voices were just as good. They must have known as soon as the final note was played that their rivals had to prize their hands off the famous old shield with claw hammers.
Intensity of purpose

The only band in many peoples opinion that could do that followed them onto the stage. Cory. And they set about their task with a performance of frightening intensity of purpose - perhaps on this occasion too purposeful.
This was a performance where you could see all the intricate parts of its construction laid out like the Lloyds Insurance Building in London – the one with all the plumbing and gubbings on the outside.
Fodens on the other hand were like one of those Apple Mac computer monitors – you could see all the working parts through the transparent cover and it was still beautiful to look at.
This was classic Cory - each part was there to be seen and heard, but it perhaps just lacked that final veneer coating of transparency to encase it on this occasion. The viscosity of sound was there too, but at times it was laced with the odd sharp iron filing. We thought it still just did enough to win, but the three men in the box thought otherwise and placed it 3rd.
With Cory's challenge repelled the contest lost something of its intensity over the next few bands, although there were quality performances from each of Carlton Main, Scottish Co-op and Flowers.
Anonymous?

Perhaps knowing that his usual emotive approach may not find favour in the box, Russell Gray opted for a much more neutral interpretation with Carlton Main – a performance that seemed almost anonymous by their usual standards.
As a result there wasn't much wrong with it in terms of execution and the solidity of approach was rewarded with 7th place. A percentage performance so to speak.
Percentage

Scottish Co-op also played the percentage game too setting out to do a very specific job to ensure their survival at the contest after a year in which they have endured many an up and down.
Aided by some top class contributions from soprano and solo cornet in particular and a sensible approach to the tempos and dynamics by the MD, it did just that too. It was a bit bland maybe, but it was solid enough to just push far enough up the results table to ensure their continued survival.
Trap door

Not so Flowers, despite a committed approach under David Hirst that was just in need of a touch more character in it at times to have added a few extra points to the solid execution. With some of the tempos in the comfort zone they couldn't quite do enough to ensure their safety and the trap door opened to send them back to Blackpool.
Liberation

Whereas the spectre of relegation seemed to strangle the ambitions of some of the bands, for Kirkintilloch it was liberation.
Under the impressive Selmer Simonsen they threw caution to the wind and produced a late contest cracker. Solid, secure and unpretentious in approach there was a great deal to admire about the playing from the word go, with excellent solo contributions backed up with an ensemble sound built out of Scottish granite.
It just faded a touch from the Fugue to the end, but by then they were flying high and a 5th place finish more than secured their place for another year. If they play as well as this in London then look out.
Second wind

Somehow Kirky's performance gave the contest a second wind to finish off, and although Brighouse & Rastrick couldn't quite do enough to end their 30 year wait for seventh Open victory, they once again showed that they are getting closer to the very top end of the prize list here.
It was very nearly a corker, and although the execution couldn't quite match the musical intentions of the MD Alan Morrison it was very close and they could be a touch disappointed at eventually coming home in 8th place.
Execution

That just left the final band, Hepworth (Cookson Homes) under Ian Porthouse. They too are on the up again and further confirmation of that return to form was there to be heard in a performance that only just failed to be a real contender by virtue of a few sloppy moments in the ensemble that took the gloss off the well laid out execution. 9th place was a good return though.
So the 156th British Open was over and all that was left was the results – ones that were announced with a sharp intake of breath with Dyke in 6th place.
There was unbridled joy for Kirkintilloch, immense satisfaction for Leyland, disappointment for Cory and Grimethorpe.
Then came Fodens and a sense of satisfaction around the hall that the judges had got it right and a primeval cry from the bar area as the players from the band finally made it onto the stage to start their celebrations.
The viscosity of the sound of victory was heard long into the Birmingham night.
Iwan Fox