2008 British Open Championships - Postcard from Birmingham
16-Sep-2008
Plenty to enjoy in Brum on the weekend, but it was two small men with huge musical statures who left the happiest.
---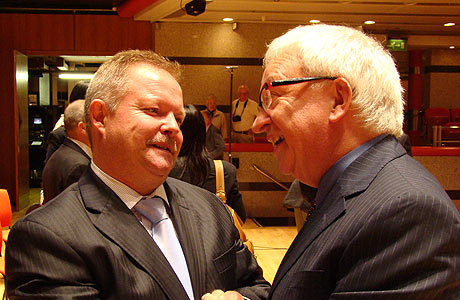 Small men, huge stature: Garry Cutt and Edward Gregson meet up on the Symphony Hall stage

There was a brilliantly unintentional choreographed moment at the conclusion of the British Open this year on the stage of Symphony Hall, as two rather diminutive men of music shook hands with each other in what seemed a display of mutual congratulation and appreciation.
Garry Cutt and Edward Gregson had plenty to celebrate, as well as be particularly proud about too. The man from Glossop had just bagged himself a fourth Mortimer Maestro Trophy to go with the ones that he had won in 1989, 1996 and 2004, whilst the composer had just enjoyed a long overdue return to writing a test piece for the world's premier contest.
Mixed feelings

However there must have been mixed feelings about what they had achieved too.
It was revealed that Garry had to overcome the intense emotions of the death of his brother on the weekend. He admirably held things together just long enough before he allowed himself a brief show of deep emotion before joining his band in the celebrations on stage.
Thankfully for Edward Gregson the weekend was both a musical and personal joy. Birmingham was a chance for him to meet up with his extended family as well as show the banding world what we have been missing for the past decade or more since 'Of Men and Mountains' was turned down as being 'too long' for the Nationals – a decision that left a very proud man rather disillusioned with the banding movement.
It says a great deal for both men that their contrasting emotions were kept in such professional check.
Persuasive qualities

It also says a great deal for the persuasive qualities of Karyn and Martin Mortimer too in getting Gregson to write such a fine work and to possibly reinvigorate the composer to write again for a major contest.
He seemed genuinely delighted to back and he was particularly delighted at the way Garry Cutt had delivered his work too. No wonder the look on both their faces was a joy to behold.
Moved with the times

It has also to be noted that the 2008 British Open has moved with the times.
17 bands seem to be close to the ideal number, the mid point break a welcome addition (even if it could have been a little longer) and the organisation of a long day was slick and highly professional as always.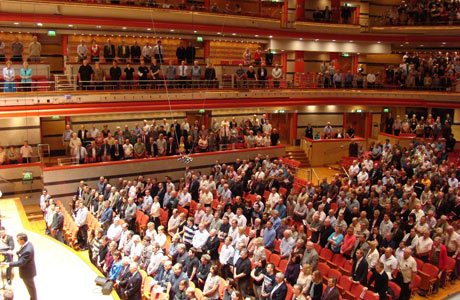 Standing room only? A fullish hall for Dyke off number 1

Controversy

No contest can be completely free of controversy (and the Scots provided it this time) but apart from that there was little for just about anyone to complain about.
The programme this year was excellent - £4.00 (no increase in price) and well worth every penny, although the study score was a bit expensive at £10.00 a shot. Tickets were as hard to come by as in years gone by, but the modern phenomenon of a hall just three quarters full even for the top bands continues. Listening habits at the British Open have changed and it is highly unlikely that they will ever return to the packed out rafters of the King Hall ever again.
Significant

The test piece itself was a significant contribution too. Mature in outlook it combined lyricism and musicality to technique and structure, testing the bands abilities to produce extended playing of darker hued tones and MDs abilities to tap genuine emotive rather than cheap Pavlovian responses. It deserves to be heard again and again.
As always Jury's Hotel provided the focal point of pre and post contest celebrations and commiserations, with the usual mix of players and supporters soaking up the atmosphere as well as the alcohol.
Odd moments

The day also had its odd little moments too, from a juggling mute player with Carlton Main to both Black Dyke's Nicholas Childs and Kirkintilloch's Selmer Simonsen taking to the stage with what looked like space age mini ghetto blasters as metronomes.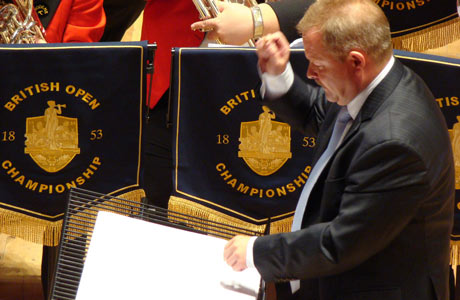 The winning score is... Garry Cutt turns the big pages to victory

It was left to Garry Cutt however to come armed with what looked like the largest ever conductors score to be used at the British Open. We know the MD is no giant, but this one seemed to be printed on pages from the Doomsday Book.
Solo prizes

The main solo prizes went to two very fine players this year, although there is a strong argument for another means of deciding who wins them. There were many fine efforts from performers with bands that came way down the prize list this year.
Perhaps there were none any better than both Kevin Crockford and Glyn Williams on this occasion, but it does tend to make the decision process very narrow when left in the hands of the judges who already have the more important business of sorting out the winners.
Quality

Still, the 156th British Open was an encouraging success once more. With the additional bonus of the Sunday concerts, which were also well attended this year there seems to be an increasing appetite for high quality (not mediocre quantity) brass banding in this part of the world.
And on this weekend none came more high quality than the two men who enjoyed a very personal moment of combined joy on hat British Open stage - Garry Cutt and Edward Gregson.
Iwan Fox