2008 British Open Championships - The Crying of the Celts
16-Sep-2008
The Scots have yet to take the famous Open trophy back over Hadrian's Wall, and they will have to wait another 12 months to go back and try again.
---
The Welsh, New Zealanders and even the Aussies have won the British Open, but not the Scots. Would 2008 be the year they finally did it?
It's one of those quiz questions in the pub after band rehearsal - "When was the last time a Scottish band won the British Open?" The answer of course, is never.
Bizarre

It's also one of those bizarre statistics that gets you scurrying for the record books (the 4BR archive) when you've come home from the pub because you want to tell your repiano player he was talking cobblers, only to discover the answer is true.
For this year's Open 4BR decided to pay particular attention to the three competing bands from north of Hadrian's Wall and not just see how they fared, but perhaps find the reason why as yet the famous Gold Trophy hasn't made the trip north of Carlisle.
Of course, if you speak to players involved in Scottish bands as to why they've never got their hands on that coveted shield, you get the most predictable of answers. "We've deserved it, but that's contesting for you. Played a blinder and came 13th." Others are more realistic – "Never quite been a good enough band to do it," whilst others are just one eyed patriots – "They just don't like us here."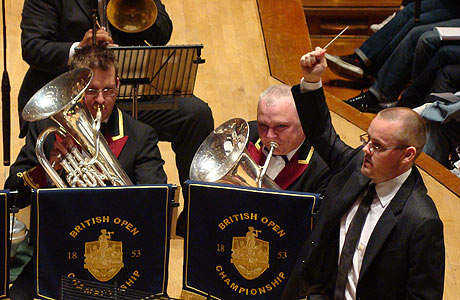 Kirkintilloch head for the top six under Selmer Simonsen

Nail on the head
Since 1997, only Faireys have stopped Black Dyke, Cory, Fodens and YBS from picking up the Open crown, but a look back through the record books shows that the Scots contingent has a decent record here.
With the exception of 1992, 1993 and 1994, from 1991-2000 only CWS Glasgow (now Scottish Co-op) and Whitburn competed at the contest, with CWS continuing to finish ahead of their rivals with third place in 1997 being the most eye catching finish.
From 2001 onwards though, 'The Co' and Whitburn have been joined by Kirkintilloch, and the bragging rights have changed somewhat as well; Whitburn and Kirky have stopped the Co-op's dominance from being the number one band in their own little "private contest".
Whitburn in fact have come closest to actually winning the title itself, and apart from has finishing ahead of their rivals four times: 2001 (5th); 2002 (10th); 2001 (2nd) and 2006 (6th). That 2001 performance also saw soprano player Gordon Jenkins in exceptional form, picking up the Best Soloist award.
Best Year
Without question though, 2004 has so far been Scottish bands best collective year at contest, with Scottish Co-op finishing 3rd and Kirkintilloch in 4th place. Since 2001, only twice has a Scottish band not featured in the top six, so they are always there or thereabouts it seems.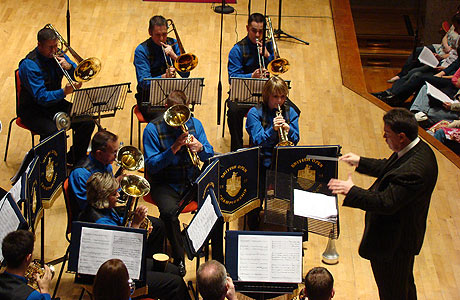 Co-op dividend: Andrew Duncan leads Scottish Co-op to Open safety

This year
So what about 2008 then?
Well, 4BR started off its "Scottish watch" weekend by attending Whitburn's rehearsal on Friday evening at the invitation of this most friendly of bands.
MD, Steven Mead put the finishing touches to an intense week's preparation and everybody seemed happy with their lot as they completed their final run through 'Rococo Variations.' They were confident of doing very well indeed.
Kirkintilloch meanwhile was also staying in 4BR's hotel and on the morning of the contest, conductor, Selmer Simonson was extremely upbeat about the band's chances. A series of good rehearsals had the band in upbeat spirits that not only could they make another mark at the contest, but more than do enough to rid themselves of the spectre of relegation to the Grand Shield.
As for Scottish Co-op, they too were of a similar mind and confident of putting on a good show. Andrew Duncan had drawn together a band of many talents and despite the rumblings and rumours flying around the hotel foyer about registration problems, they were the last things on their minds as they prepared to take to the stage later in the day.

Whitburn 's horns help land a top 10 place

The performances
The quirks of the draw meant all three contenders featured in the second half of the contest. Whitburn drew 9, Scottish Co-op, 13 and Kirkintilloch, 15.
Whitburn set the marker for their rivals to follow although as we said in our live comments it was a performance that just didn't quite have enough about it to feature at the very top end of the prize list. "A performance that didn't quite match its musical intent and ambition. If it had it could have featured. May just miss out". We were right it seems.
Meanwhile Scottish Co-op performed with real character. There was some fine individual performances throughout and although they knew that it wasn't good enough to feature in the top 10, they also knew that it would have been touch and go to be good enough to enable them to survive the dreaded trap door exit to the wastelands of the Grand Shield in Blackpool. Survive they did.
Kirkintilloch was the last of the trio to take to the stage off the number 15 draw and were terrific. They also needed a very good result to stay at the contest having finished bottom last year and they delivered the goods in fine style. It would have been a fairy story to end all fairy stories of they had actually won, but to come 5th was some achievement in itself.
Kirkintilloch will have been thrilled with their placing, Whitburn perhaps a touch disappointed with theirs, whilst Co-op would have been mightily pleased. No winner for the Scots once again, but three results that showed that Scottish banding is in pretty good health.
Stranglehold

Despite the stranglehold of the contest by the heavyweights in recent years, the bands competing from Scotland can be more than optimistic it seems of mounting an even stronger challenge for the title in the years to come.
Kirkintilloch and Whitburn are perhaps the best bet on the basis of this weekend but much will depend on whether they can retain the services of both of their conductors, Steven Mead and Selmer Simonsen. Scottish Co-op have work to do they know, but they too seem to be linking up nicely with Andrew Duncan too.
Kirkintilloch and Whitburn will lock horns together in London next month and then these three will aim for domestic glory on 'St Magnus' in the Scottish Open.
By the time they return to Birmingham in twelve months time, it will be interesting to see just what progress has been made and whether they can finally get rid of it being said, 'A Scottish band has never won the Open".
The Scots at the Open:
2008: Kirkintilloch- 5th; Whitburn – 10th; Scottish Co-op – 11th
2007: Whitburn – 6th; Scottish Co-op – 14th; Kirkintilloch – 18th
2006: Scottish Co-op – 4th; Kirkintilloch – 7th; Whitburn – 10th
2005: Scottish Co-op – 10th; Whitburn – 11th; Kirkintilloch – 13th
2004: Scottish Co-op – 3rd; Kirkintiloch – 4th; Whitburn – 13th
2003: Whitburn – 2nd; Kirkintilloch – 11th; Scottish Co-op – 13th
2002: Whitburn – 10th; Kirkintilloch – 12th; Scottish Co-op – 16th
2001: Whitburn – 5th; CWS Glasgow – 15th; Kirkintilloch – 16th
2000: CWS Glasgow – 11th; Whitburn – 17th
1999: CWS Glasgow – 9th; Whitburn – 11th
1998: CWS Glasgow – 12th; Whitburn – 20th
1997: CWS Glasgow – 3rd; Whitburn – 13th
1996: CWS Glasgow – 8th; Whitburn – 17th
1995: CWS Glasgow – 10th; Whitburn – 12th
1994: CWS Glasgow – 14th
1993: CWS Glasgow – 3rd
1992: CWS Glasgow – 10th
1991: CWS Glasgow – 17th; Whitburn – 20th
1990: No bands
1989: CWS Glasgow, unplaced
1988: CWS Glasgow - 8th
Malcolm Wood