4BR Interview - Leigh Baker
12-Sep-2008
4BR talks to the man behind some of the most popular and entertaining music being played in the banding world at the moment.
---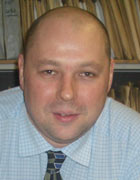 Leigh Baker might just be the walking definition of a busy man. Ever present in Brighouse's euph/bari section and one of the band's most loyal members with eighteen years service behind him, recent years have also seen him emerge and become increasingly in demand as one of the most talented arrangers and composers on the scene.
Impressive talent

It's a talent that has seen him walk off with an impressive and growing number of accolades including the best new arrangement at Brass in Concert for two years in succession.

His test piece for the Fourth Section National Championship Final in 2007, 'Roman Triptych', met with universal praise and he currently holds the position of Composer in Residence with Brighouse.
Day job

As if that wasn't enough his "day job" sees him as Head of Music at a busy Comprehensive school in Huddersfield where his pupils nominated him for the Classic FM Teacher of the Year Award, a nomination that ultimately resulted in him being awarded the runner up position.
4BR's Chris Thomas managed to catch up with him shortly before the British Open as thoughts turned towards a new contesting season with another Brass in Concert on the horizon.
Chris Thomas: It's now over twenty years since we first met as members of the Ancient Order of Foresters Band. You have come a long way since your schooldays when your dad used to bring you to band in Leicester from your home in Melton Mowbray?!
Leigh Baker: Yes…I was a shy, curly haired Euph player of svelte build and you were a slim, dark haired Bass Trombonist!
Chris Thomas: Ah yes…the days when we both had hair! Back then Geoff Whitham was the Musical Director at Foresters. To what degree was Geoff a mentor and encouragement to you in those early days?
Leigh Baker: Geoff was very influential to my progress. He took me under his wing at Foresters and I remember getting the train to Yorkshire to stay with Geoff and Joyce.

I studied at Huddersfield and one of the big pulls was having Geoff as a tutor. He is a great character builder as well as a great teacher.
Chris Thomas: You currently hold the position of head of music at Honley High School in Huddersfield. Was a career in education always your plan following completion of your studies at Huddersfield Polytechnic?
Leigh Baker: It wasn't something I intended to do from an early age but I love the job. I think many bandsmen follow the teacher training route after "Uni" as there are limited options for non-orchestral instrumentalists and many go on to be superb teachers.

I think banding gives you good people skills, a sense of humour and a thick skin - all ideal teacher attributes! I enjoy teaching and seem to be making a good fist of it (Classic FM Teacher of the Year runner up etc!)
Chris Thomas: What was it that got you started as an arranger and composer?
Leigh Baker: I started at school initially. At middle school I arranged parts for me to be able to join in the school orchestra on my Tenor Horn and it developed from there.

I have never really had lessons in arranging and if I'm honest I didn't take composition that seriously at University. Over the last 15 years I have developed my arranging and composition work and Brighouse has been a superb vehicle for me to try things out and showcase my work.
Chris Thomas: So you spend hours slaving away on Sibelius at the computer as seems to be the norm these days?
Leigh Baker: No, I'm afraid I'm still working in the dark ages! I compose at the piano with manuscript and pencil and the score is then put into Sibelius by one of my students. It has its pros and cons; I think we are in danger of "cut and paste" fever at times and some pieces for band seem to be written by people who can use Sibelius rather than people who can compose or arrange!

I will learn how to use Sibelius one day (I have Sibelius 5!) but the old fashioned process is still attractive to me.
Chris Thomas: So, baritone player, composer, arranger, head of music at a busy school and more recently proud father…how do you manage to fit it all in?
Leigh Baker: I'm not sure really! I'm lucky that I compose and arrange quickly (a lot quicker than I type!) and I use school holidays to the fullest. I'm also doing some conducting work.
Chris Thomas: 'Roman Triptych', your piece for the Fourth Section of the National Championship Final last year, was seen as a breath of fresh air by many of the bands involved and was a tremendous success with both competitors and audience alike. What drew you to the Respighi and Ben Hur dominated territory of Rome for your inspiration?
Leigh Baker: I love writing descriptive music and I think bands and audiences also like both sides of the brain stimulating. I'm a big film music buff and enjoy dramatic orchestral music so it was a good stimulus to use.
Chris Thomas: So do you harbour any ambitions to write a piece to test bands at the highest level?
Leigh Baker: I would like to write something technically difficult but it isn't a top priority…I just like writing music that will be enjoyed.
Chris Thomas: Your appointment as Composer in Residence at Brighouse must have been a particular pleasure given your close involvement with the band as a player for so many years?
Leigh Baker: 18 years is a long time with any organisation but Brighouse is an important part of my life. Composing and arranging music for them and then performing it is still a real thrill and I particularly appreciate the support of conductors (especially Alan Morrison, Dick Evans and David Hirst) who have championed my work.
Chris Thomas: Picking up the award for best new arrangement at Brass in Concert has become almost customary for you with 'Bare Necessities' and 'Mr Sandman' scooping the prize for the last two years. Do you have anything up your sleeve for this year's contest?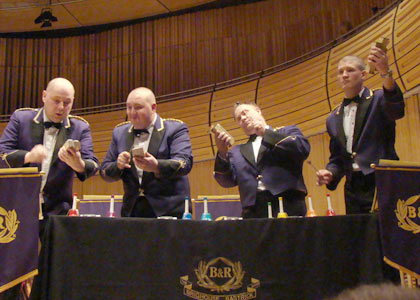 Mr Sandmen: Leigh and pals take to the bells and blocks at Brass in Concert in 2007

Leigh Baker: Of course! But it's obviously hush-hush at the minute! I hope I can continue tapping into what people enjoy. There is still an immense amount of music that will work for band (especially as bands are so versatile) and I enjoy using my imagination to add to the repertoire.
Chris Thomas: Looking back over eighteen years with Brighouse, what have been the highlights of your time with the band so far?
Leigh Baker: Brighouse is a band where camaraderie and friendship is as important as the playing and this has always been important to me.

Musically my highlights would include National, European, Masters and BIC wins (no Open yet!), the buzz on Whit Friday when B&R appear and perform (and usually win!), performing to full halls throughout the UK and abroad and recording, broadcasting and performing my own music.

Chris Thomas: Who do you most admire amongst other composers for brass band and what are your own personal favourites amongst the band repertoire?
Leigh Baker: I enjoy Gregson, Wilby and Bourgeois pieces for the sheer excitement of the "big" stuff and love the slow, emotive music of Eric Ball. My favourite band pieces are probably Dances and Arias and Journey into Freedom.
Chris Thomas: Do you see yourself carrying on playing for many years or is composing and arranging likely to take over in time?
Leigh Baker: I don't really know….I enjoy both and will try to combine the two. Playing may eventually give way to conducting which I enjoy immensely but the "balancing act" seems to work well at the minute!
Chris Thomas: One of your most recent projects has been an education based commission for Anglian Water resulting in the intriguingly titled "H2-Overture". Can you tell us a little about the project and the piece?
Leigh Baker: I was commissioned to write a piece for hybrid brass instruments (half brass/half water pipe!) to promote saving water. The quintet (two trumpets, horn, euphonium and bass) was great fun to write for and made an interesting sound!

I had a go on the euphonium and it wasn't easy to play with more resistance than a normal instrument and some unusual tuning! H2Overture is a showcase for the instruments with catchy melodies and some fleeting references to water titled pieces as well as rhythmic and riff sections for workshop and participation opportunities.

Anglian Water and Collegiate Brass were great to work with and the project has had some excellent coverage in the Media.
Chris Thomas: So what can we expect to hear from you in terms of your composing in the near future and do you have any particular plans you can tell us about?
Leigh Baker: I'm obviously busy with the BIC stuff at the minute but I'm also working on some exciting projects for other bands.

I have just completed a composition commission for Desford Band for their Regent Hall Gala Concert on Finals Day. It's entitled "On Bosworth Field" and depicts the Battle of Bosworth which ended the War of the Roses and the life of Richard III.

Shakespeare fans will be familiar with the inspiration (a number of quotes being included in the score) and the piece features 8 fanfare trumpets, tenor drums and plenty of blood and gore! Bosworth Field is only a few miles from Desford's bandroom so the ghosts aren't far away!

There are plenty of other projects in the pipeline and another big work is my next goal.
Chris Thomas: Thanks for finding the time to talk to us.