Gizmos & Gadgets - September 2008
9-Sep-2008
From the latest high wonder products to the simplest little bits and bobs and a few that are truly weird and wonderful. 4BR has been out shopping and testing out what's on offer this September.

---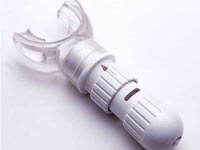 Ultrabreathe
Price: £17.41

By all accounts this is the one thing Steven Mead uses everyday to help him stop wheezing like an old Welsh coalminer with emphysema.
And breathing properly is absolutely essential to any brass player – just ask any soprano player who gets it wrong and starts to sees more small stars than a paparazzi photographer on a 'Nuts' magazine photoshoot.
Used at least once a day to improve the intake of air just before playing, the benefits are said to be almost immediate. The process seems to be fairly simple to understand and the benefits are reported to be lasting and long term.
It may need to be started in the privacy of your own bedroom though as it looks at first glance that you have either coughed up your oesophagus or that you should be hooked up to the nearest life support machine.
Very well put together, sturdy and hygienic it should last as long as your lungs, and according to the great euph star, the effects will be apparent pretty soon after you start using it. "Use it every day and you'll notice a positive improvement with your playing within a week," he says.
More Information:
http://justforbrass.com/index.php?main
---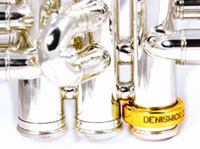 Denis Wick Tone Collar
Trumpet DW4905
Cornet DW4906
Price: See indivdual suppliers

The Denis Wick Tone Collar, has been developed with trumpet technician and builder, Will Spencer to fit most modern makes of trumpet and cornet.
As they say on those hair care product adverts – here's the science bit: The cleverly designed weighted collar fits to the bottom of the third valve casing and is held in place by the bottom cap. By dampening vibrations at this crucial place, the instrument produces a more focused sound, with purer overtones.
A bit like heavy valve caps, the use of one Tone Collar prevents the instrument from becoming unnecessarily heavy, whilst maximising its tonal response.

It is fitted by simply removing the second and third bottom valve caps, putting the Tone Collar in place, and then replacing the caps. It comes in two designs to fit most trumpets and cornets and is finished in the trademark Denis Wick gold.
The makers say the initial reports from performers have been very positive whilst the Tone Collar is supplied in a clear bag backed with an illustrated instruction card suitable for presentation on a peg-board type display.
It shouldn't be used as a cheap alternative to a engagement ring for a slightly drunk girlfriend though…

More Information:
http://www.deniswick.com/tonecollars.cfm
---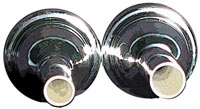 Back Bores for trumpet mouthpieces
Price: N/A

This fantastic explanation from the lads at Woodwind & Brass is of a world of almost theoretical, stupefying boring (excuse the pun) intricacy that would make understanding the CERN hydro particle machine in Switzerland seem like a Sun newspaper headline in comparison.
By all accounts backbores vary in size and taper, and can help adjust tone and pitch depending on how these combine, and what sort of cup and throat the mouthpiece possesses.
If the backbore of a mouthpiece is too small, the higher registers may be flat; if too large, the mouthpiece will make the player suffer and exhaust their embouchure. Size alone is not a very accurate way of gauging backbore, as taper and shape also change.
And this is just the easy stuff.
In a strange way it immensely interesting though, and will keep a certain type of person (those into computer games, grunge music and fantasy sci fi novels most probably) quiet for hours on end.
In the end it all makes perfect sense and is a fantastic bit of research.
To everyone else, the picture used to illustrate the article looks like a kinky bra Madonna once used…

More Information:
http://www.woodwindandbrass.co.uk/acatalog/more_mouthpieces.html
---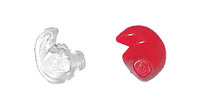 Docs Pro plugs
Price: £12.99 (inc vat) in clear or black
Just what any 2nd baritone sat in front of a particularly gruesome sounding bass trombone player, or a principal cornet who has to endure the screaming banshee impressions from a mad soprano player needs.
Doc Pros earplugs are comfortable, cheap and easy to use – you just stick them in your ear 'oles.
Although not guaranteed to stop premature deafness, they will certainly help, even if you may get the odd mischievous person miming like Lionel Blair on 'Give us a Clue' when they speak to you.
By all accounts they reduce the volume without distorting the clarity of the sound (unlike foam ones or by sticking your grubby fingers in your ears) and come in various sizes to fit those with small shell like openings in the side of the head, or those with lug'oles of the Dumbo variety.

They will also come in particularly handy for those men with nagging wives, those who wish to try and claim disability benefits on the sly by acting a bit 'mutt and jeff' and those players who usually try and cock a deaf 'un when its their round at the bar…

More Information:
http://www.dennistoddmusic.com/drumAccessories.html
---
Educational Aids LS45A Totally Secure Band Wagon
Price: £403.21

Just the thing you need to keep the space at the back of the band neat and tidy.
All that expensive ephemera of exotic percussion equipment can now be safely locked away from prying eyes and mischievous little hands.

Made primarily for the storage of percussion equipment in schools and youth bands, the secure trolley does offer just the right place to put everything away in place at the end of a long day at the chalk face for hard working teachers.
There's enough room too for just about everything under the sun, with the exception of the odd timp and a full scale set of tubular bells, and the whole thing can then be wheeled off under the stairs or in the cupboard until the next set of kids come out to play.

Made to last too, it shouldn't however be used to store particularly naughty children for the duration of a lesson under lock and key. Amnesty International may well be on your case if you try that…

More Information:
http://www.normans.co.uk/Items/ls45a?