2008 British Open Championships - The Composer
3-Sep-2008
Edward Gregson is the man who brings us his Rococo Variations this year.

---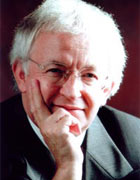 Edward Gregson:

Edward Gregson (born 1945) is a composer of international standing, whose music has been performed, broadcast, and commercially recorded worldwide. He studied composition (with Alan Bush) and piano at the Royal Academy of Music from 1963 - 1967 winning five prizes for composition.

Since then he has worked solely to commission and has written orchestral, chamber, instrumental and choral music as well as music for the theatre, film and television.

His commissions have included orchestral music for the English Chamber Orchestra, the Bournemouth Symphony Orchestra, the Royal Liverpool Philharmonic, the BBC Philharmonic (Clarinet Concerto), the Hallé (Violin Concerto), with performances by many other orchestras and ensembles around the world.

His most recent commission was for Manchester Camerata (A Song for Chris — a concerto for cello and chamber orchestra), which was premiered at the 2007 RNCM Manchester International Cello Festival. He is also internationally renowned for his contributions to the wind and brass repertoire.

In 1988 he was nominated for an Ivor Novello Award for his title music for BBC Television's Young Musician of the Year programmes and in the same year he was commissioned by the Royal Shakespeare Company to write the music for a major cycle of the Shakespeare history plays.

In 2002 a major retrospective of his music was held in Manchester which also coincided with the release of a CD of his orchestral music (including the clarinet and violin concertos) on the Chandos label.

A second volume of his concertos (those for trumpet, piano and saxophone) was released in July 2008 on the same label.

He retired from an academic career in music in the summer of 2008, latterly as Principal of the Royal Northern College of Music in Manchester, a post he held for 12 years.

He still serves on a number of important boards relating to music education and the music profession and holds eight honorary Doctorates and Fellowships from English universities and conservatoires.

Full details of the composer and his works can be found at: http://edwardgregson.com/en/home/
Rococo Variations
Rococo Variations was commissioned by the British Open Championships for their 2008 contest in Symphony Hall, Birmingham, and co-commissioned by the Norwegian Band Federation, for their National Championship in Bergen in 2009.
The title of the work has been used before, of course, most notably by Tchaikovsky in his work for cello and orchestra. My set of variations follows the Tchaikovskian model in that it is based on a quasi-Baroque original theme, and has certain 'dance-like' characteristics in the variations, but beyond that all comparisons end.
There are six variations: Toccata, Siciliana, Waltz, Moto Perpetuo, Lament, and Fugal Scherzo, followed by a triumphant re-statement of the theme. Throughout, there is considerable contrast in the music, with the fast variations being rather virtuoso in character, sometimes with constantly changing time patterns, whilst the two slow variations (Siciliana and Lament) are in turn lyrical and pensive in mood with prominent solos and duets for a number of instruments.
Although the work overall is dedicated by my brother, each of the six variations pays tribute to a different composer whose contribution to the brass band repertoire during the second half of the twentieth century has been of great significance.

To this end, all six composers have their own 'musical signature' embraced within the particular variation, a process which reaches its zenith, contrapuntally speaking, during the final variation and reprise of the theme.