Band under the spotlight - The Fairey Band
3-Sep-2008
4BR puts the British Open contender under the spotlight to find out more about them and whether or not we think they can be successful in Birmingham and for the rest of the contesting season.
---
Band: The Fairey Band
Website: http://www.faireyband.com
Region: North West
Major Honours:
Champion Band of Europe: 1994
Champion Band of Great Britain: 1945, 1952, 1954, 1956, 1965, 1986, 1993, 2002, 2003
British Open Champion: 1941, 1942, 1944, 1945, 1947, 1949, 1950, 1956, 1961, 1962, 1963, 1965, 1979, 1987, 1993, 1998
All England Masters Champion: 1996, 1997
North West Regional Champions: 1947, 1951, 1954, 1959, 1963, 1978, 1980, 1984, 1986, 1992, 1996, 1997, 2001
Brass in Concert Champion: 1996
BBC Television Champion Brass winners: 1976, 1977, 1979
BBC Best of Brass winners: 1978
Granada Band of the Year: 1979, 1980
BBC Radio Band of the Year: 1987, 1988
---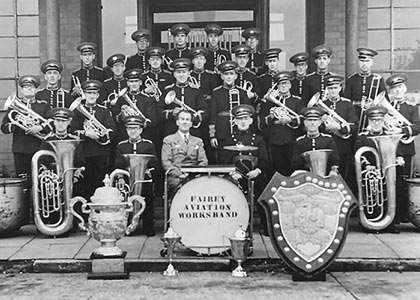 Fairey Aviation Works Band and Harry Mortimer in 1945 with the Open and National trophies

Band History:
Founded in 1937 by a group of employees at the Fairey Aviation Works in Stockport, Fairey achieved numerous musical successes under the direction of Harry Mortimer, their Musical Director for over thirty years.
Fairey has been 16 times British Open Champion and National Champions of Great Britain on 9 occasions. They have also won the now defunct BBC 'Best of Brass' and Granada 'Band of the Year' titles as well as being awarded the BBC Radio Band of the Year titles twice.
The early-mid 1990's saw probably the most successful period in the band's history, winning both the British Open and National titles in 1993, before going on to complete a unique 'treble' when they were crowned European Champions in 1994.
The Band has a fine record at the annual Whit Friday marches – most notably in 1997 when they achieved 10 first prizes, 2 second prizes and a third prize of the 13 contests that they attended.
Since its formation the band has seen an illustrious line-up of conductors including Harry Mortimer, Leonard Lamb, Kenneth Dennison, Richard Evans, Walter Hargreaves, Geoffrey Brand, Major Peter Parkes, Roy Newsome, James Gourlay, Howard Snell and Allan Withington.
Overseas tours have included performances in Canada, Hong Kong, Switzerland, Sweden, Germany, Holland, Belgium and Luxembourg.
In recent years, Fairey has enjoyed further recognition outside the confines of the banding movement, with its involvement in the 'Acid Brass' project. Under this banner, they have been able to display its flexibility in adapting to a totally different musical concept and consequently and have performed in rock/pop festivals in the UK and overseas.
The Band has always maintained its association with the 'Fairey' company, which provided sponsorship until 2002, and still rehearses at the factory in Heaton Chapel.
Having survived various name changes, as the company changed hands over the years – Williams Fairey and Williams Holdings among others – these days they are proud to revert to its roots and be known as The Fairey Band – or, as is more commonly used in banding circles – 'Faireys'.
---
Statistics:

Current 4BR Ranking: 13

2007 Contesting Record:
Regionals - 5th (North West)
All England Masters - 8th
English Nationals - 9th
Whit Friday - Tameside runners up
British Open - 7th
National Finals - DNQ
Brass in Concert - 4th
2007 Prize Money won: £3,650 approx


2008 Contesting Record:
North West Regional Contest – 3rd
All England Masters – 9th
English Nationals – 9th
Whit Friday - Tameside runners up
British Open -
National Finals -
Brass in Concert -

2008 Prize Money won: £3,375 approx
---
4BR Seven Year Ranking Progress: (World of Brass/4BR Ranking to July 2008)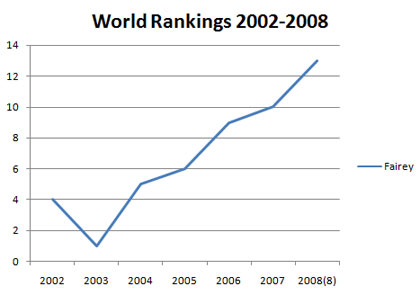 When the 4BR rankings started Fairey ended 2001 ranked 5th and following wins at the National Championships that ranking culminated in them reaching the number 1 ranking spot at the end of 2003.
Since that peak their ranking has fallen somewhat, ending 2004 in 5th place, 2006 in 6th an 2006 in 9th.
They ended 2007 ranked 10th but that fell further to their current standing of 13th, the first time they have been outside the top 10 ranked bands in the Millennium.
---
Personnel:


Professional Conductor: Philip Chalk

Phil first became associated with The Fairey Band in 1981, aged 15, when he joined the band on third cornet. After five years he then went on to play assistant principal cornet at Carlton Main, Brighouse and Rastrick, principal cornet with Brodsworth Colliery and GUS bands before returning to The Fairey Band on assistant Principal in 1987.
After some 12 years working with some of the finest conductors, players and enjoying an unprecedented period of success with the band, Phil relinquished his position in 2001 to focus on developing his animation studio, producing animated television shows and commercials for broadcasters throughout the world.
In 2003, Phil was asked by The Ashton Band to conduct them and, somewhat reluctantly at the time agreed to take them in competition. After a number of note-able contest and concert successes, Ashton qualified for the British Open Championships at the first attempt after placing second at The Grand Shield in 2005; one of the few occasions in history that a nationally ranked first section band had qualified for The Open.
In 2006 Phil began studying for his MA in Music Performance and Conducting at Salford University with David King, graduating with distinction in the same year.
In 2007 the opportunity to conduct his old band 'Fairies' represented itself and Phil made his debut with the band at The Northern Brass Festival at The Bridgewater Hall, followed a week later at The British Open Championships.

Phil is proud to be associated with an organisation that has such a tremendous heritage and tradition of excellence, and looks forward to a musically rewarding future with the band.

Current Players:
Principal Cornet: Mike Eccles
Solo Cornets: Brian Taylor, Matt Gilbert, Gary Parker
Soprano: Mark Harrison
Repiano: Laura Hirst
2nd Cornets: Julia Moseley, Rebekah Caldwell
3rd Cornets: Jimmy Leggat, Jo Landon
Flugel: Lucy Murphy
Solo Horn: Chris Pannell
1st Horn: Andrew Oetegenn
2nd Horn: Ian Howarth
Euphoniums: Mark Bousie, David Mallett
Baritones: Mike Wells, Jayne Sadler
Trombones: Lisa Sarasini, Paul Coupe, Paul Warder
Eb Basses: Richard Evans, Reuben Crowther
Bb Basses: Jonny Shaw, Owen Garbutt
Percussion: Ian Bowd, Sarah Gage, Will Renwick
---
2008 Aims and objectives: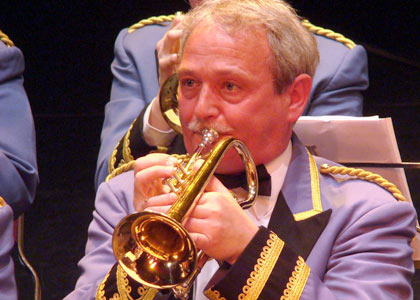 Face of experience: Long time servant Brian Taylor

Contests:
MD Phil Chalk: "We are now looking to take the next step forward in the band's development on the contest stage. We have rebuilt, consolidated and become settled with a good mix of youth and experience and now we feel we are ready to mount serious challenges at the major contests.
"The British Open offers an opportunity to show how far we have come and how much work we have still to do, whilst London should be a further stepping stone. We are looking towards Brass in Concert to try something more radical with our entertainment programming.
"We have realistic goals for this year and next year too, but we don't think we are that far off making a real mark when we compete."

Tip top Fairey - Flugel star Lucy Murphy
Picture: Steve Jack

Non contesting front:
MD Phil Chalk: "Since the band lost its sponsorship we have concentrated on becoming much more proactive with our promotion as a concert outfit. We have worked closely with Phil Beck who has been great – we have a very busy calendar of concerts and projects such as Acid Brass.
"In the next few weeks we will be appearing at The Lourve in Paris where we will be playing in front of its famous glass pyramid with an hour programme of Acid Brass music. We are also off to the Isle of Wight as well as appearing at the Bridgewater Northern Arts Brass Festival and Lincolnshire Music Festival.
"There is now a great atmosphere in the band, a great attitude towards rehearsals, and the band is benefiting from having other conductors come and help out too, such as Roy Newsome and Garry Cutt. Our base in Stockport is safe and the outlook is good for the band and its future."
---
4BR Predictions:

Fairey could have easily become a sad but predictable footnote in the banding obituary columns after losing its long tern sponsorship with their parent company a few years back.
There were moments when things didn't look too great, but it says a great deal about the older players and supporters in particular that they managed to regroup, then consolidate and finally rebuild.

The appointment of Phil Chalk as MD has brought a sense of optimism and vibrancy back to the band and in the last year in particular they have sounded on the cusp of becoming a real contender again at the major contests.

They have been realistic about their position and realistic about the amount of hard work they have had to put in to become truly competitive again. It seems to be paying off.
A return to winning major titles may just be beyond them at present, but a return to regular mentions off the stage come the prizes are not. They were a touch unlucky at both Cambridge and Preston and they have a fine record at the British Open, so a top 10 finish or even better may be on the cards.

A good result at Symphony Hall may well set them up for an even stronger return at London, where another top 10 is well within their grasp, whilst Brass in Concert could see a top six finish if they really go for broke and thrill the crowd with something truly radical.
The good times are just about back it seems, and the very good times could well be just around the corner.