Time Team - September 9th 1978
2-Sep-2008
Brighouse & Rastrick win the British Open after a gap of 42 years

---
30 years have now passed since Brighouse last won the British Open, but by heck it was a memorable win under Geoffrey Brand's command…

Our Time Team feature for the British Open this year shows Brighouse & Rastrick ending 42 years of hurt by taking the 126th British Open title for the sixth time in their illustrious history under the baton of Geoffrey Brand.
Sweet taste

Not only was the 1978 triumph well worth the wait of course, but the victory must have tasted even sweeter as they denied their great rivals Black Dyke achieving an unprecedented double hat trick of wins themselves.
The day at Belle Vue was full of drama both on and off the stage too, with a bomb alert before band number 19 causing the hall to be evacuated, and the first woman, Betty Anderson conducted at the contest too.

Dyke had laid down their marker off the number 11 draw under the baton of Peter Parkes, earlier in the day in a field of 20 contenders.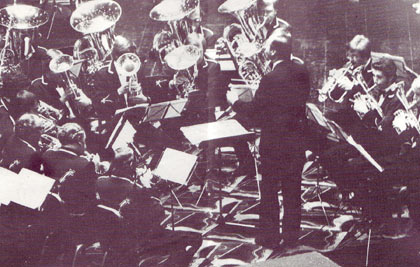 Geoffrey Brand leads Brighouse & Rastrick to the Open title.

Take some beating...

Brighouse was drawn number 14, and under the former Black Dyke and Grimethorpe MD produced a thrilling performance of 'Benvenuto Cellini' that one of the adjudicator's, Stanley Boddington, described as 'A wonderful sound'.

Fellow judge Vivian Dunn was even more emphatic: "This performance will take some beating" he wrote in his florid remarks. Eric Bravington was a little more circumspect however and ended his written remarks be saying, "A good ending to an interesting performance."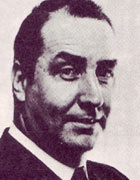 Brand himself had little time for immediate celebration over the performance as he had to take the stage two bands later to conduct Ever Ready.
In the end there was denying the lads from West Riding though, and the nearest a band came to denying them the title was Yorkshire Imps who followed on immediately after them to come home in fourth spot.
The announcement of the results saw Fairey in sixth, City of Coventry, fifth and Yorkshire Imps fourth.
The top three were Ransome, Hoffman & Pollard conducted by Stephen Shimwell, Black Dyke, and by a two point winning margin, Brighouse & Rastrick.
The band took home with them the splendid Gold Trophy and £500 in cash, plus an executive briefcase to the winning conductor!

What happened to them all? Interestingly, two further player awards were made on the day to the youngest principal cornet and principal trombone. Those prizes went to Brian Taylor of Fairey and Ian Bousfield of Yorkshire Imps – aged just 14.
The winning band



The Champions: The official Brighouse photo of their 1978 triumph

The winning Brighouse & Rastrick Band that day was:
Conductor: Geoffrey Brand
Principal Cornet: Tony Whitaker
Solo Cornets: Peter Teal; Bob Platt; Steven Greenwood
Repiano: Martin McHale
2nd Cornets: Martin Fowler; Michael Trickett
3rd Cornets: Glen Crisp; Tony Hindley
Flugel; John Hinckley
Horns: Stephen Howes; Andrew Wagstaff; Peter Lyons
Baritones: Sheridan Fryer; John Clough
Euphoniums: Steven Lord; Trevor Horton
Trombones: Chris Garfitt; Graham Hutchinson; Brian Cherry
Eb Basses: Sandy Blair; David Badham
Bb Basses: Les Beevers; John Gillam
Percussion: Dave Hewitt; Mike Hocking
What the judges said:

The winning remarks from the judges were as follows:
A splendid opening. Largetto – good basses. Nice troms 4 before 1. 2 – Good playing with expression. 3 – Troms good – goof tune from basses, but top cors not happy. 4 – Fair, a good build up. Allegro – good playing here. 7 – A good sound. Horns and sopranos are very good, with neat accents. 9 – Tune comes well in all sections.
11 – Splendid solo cornet and chords. Good playing from 12 to 19. Good build up at 15. 16 – a little quick for all the notes to be heard here, but playing has reached a high level and I have really enjoyed this. A wonderful sound.

Stanley Boddington

Opening impressive – it was given time to speak and establish the sound and rhythm. Larghetto played with satisfying degree of freedom of expression. Accompanying passages fitted well. Tone so well sustained and controlled. Fig 7 very well done, even allowing for some minor slips.
Allegro given excellent impetus but rhythm always dynamic in its consistency. The top solos had an air of finesse and well able to make musicianly effects by virtue of capable technique.

The playing always had an air of authority. The interpretation was lucid and always had meaning and the band had unanimity and flair to bring the excitement and bravura to this splendid Berlioz. This performance will take some beating.

F. Vivian Dunn

A very good opening. Larghetto. Pizz quite well portrayed. 1-2 safely played. All well in control. Allegro Deciso – Clean band playing and overdone tonally. Tasteful playing before 8.
8 onwards, excitement is added and technically the band is well equipped to mount the difficulties. A good endig to an interesting performance.
Eric Bravington


Result:
1. Brighouse & Rastrick (Geoffrey Brand) – 192pts
2. Black Dyke (Peter Parkes) – 190pts
3. Ransome, Hoffman & Pollard (Stephen Shimwell) – 189pts
4. Yorkshire Imperial (Denis Carr) – 188pts
5. City of Coventry (Kenneth Dennison) – 187pts
6. Fairey Engineering (Walter Hargreaves) – 186pts
For full details go to 4BR Results archive:

Thanks to Derek Rawlinson for providing the picture and player information.