Dinner Guests - Jim Shepherd's ultimate brass band dinner guest list
2-Sep-2008
Jim Shepherd tells us who he would like to invite to come to dinner...dead or alive.
---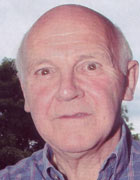 Given the opportunity, the wish list, the ability to mess about with the Space-Time Continuam like Doctor Who, and the skill to cook like Heston Blumenthal, who would you like to invite around to your place to enjoy a meal and chin wag with?

4BR started it all off a few days before Christmas with our 10 dinner guests, so we thought we had better ask a few more brass band personalities who would be on their all time dinner list too...
This time it's James Shepherd, legendary cornet player, founder of the famous Versatile Brass, teacher, conductor and all round legend…

We've been fairly generous with our criteria too: The 10 people can come from any time in history, but must have some link, in however tenuous a form, to the brass band movement.
The budget for the meal and drinks comes out of their own pockets though...

Jim told 4BR that he found it tough going though: "I have found it very difficult to choose my guests, as there are many more I would have liked to invite. However, 10 it is, so here are my chosen few."
---
1. Maurice Murphy
My first guest would have to be Maurice Murphy. I followed Maurice to the Black Dyke Mills Band as principal cornet and I felt under great pressure following such a renowned artiste.
However, I met Maurice on a couple of occasions before he moved on to become principal trumpet in the BBC Northern Orchestra and he very quickly put my mind to rest regarding me being able to cope with the Dyke job.
For me, Maurice was the benchmark I always tried to set my standards by. It would be my pleasure to have some time during the dinner to get to know him a little better.
There will never be another Maurice, but I'm sure, like me, would be cornetists have had great fun trying to analyse his unique style and trying to achieve the truly great standards he set.


2. Jack Mackintosh
My next guest would be another great of the cornet /trumpet tradition. Jack Macintosh was a terrific player and I can recall my father telling me about this tall, distinguished gentleman, who toured the music halls of the North East of England.
My first recollection of Mr Macintosh was an old recording belonging to my uncle. On one side he played the Arban variations to 'Carnival de Venice' and on the other 'Zelda'. I must have played this record hundreds of times and this was way before I ever thought of playing the cornet myself.
One of the biggest regrets I have, is that I did not sign on in the Army for another two years as this would have qualified me for to attend Kneller Hall as a cornet student where Mr Mackintosh was the cornet Professor. At least my dinner would afford me the opportunity of meeting the great man.


3. Jack Charlton
My next guest might surprise one or two people as he isn't a musician but a footballer.
Jack Charlton is a great brass band fan and when he played for Leeds United in the 1960's he regularly attended Black Dyke Concerts. Over the years he often told me that he would love to attend a Last Night of the Proms concert.
So during his testimonial year, Dyke put on a concert in Leeds Town Hall and the second half of the concert consisted of a Last Night of the Proms theme. Jack was over the moon with the concert and it probably was the icing on the cake of his testimonial year.
Jack is never beaten for words and would be able to give us a rest from the banding banter and entertain us with tales of his football experiences. I have been a lifelong supporter of Newcastle United so it would be interesting to hear Jacks opinion of why they have not been doing so well in recent seasons.

4. Wilfred Heaton
I first met Wilfred when I joined the West Riding Schools Orchestra in 1963. He was playing French Horn in the orchestra and being in the brass section I got to know him very well.
When Roy Newsome gave up the resident conductors job at Black Dyke, I recommended Wilfred for the post. He accepted the position and spent the following eight months conducting Dyke which was a great experience for everyone as he had some very radical ideas as to what kind of repertoire we should be playing.
During this period, he was commissioned to compose the test- piece for the National Championships that turned out to be "Contest Music". Although not used as the test piece that particular year, it is regarded as one of the finest works ever.
It was a great privilege to have known such a talented musician and a true gentleman. I would feel very honoured to have him as my guest.

5. David Pogson
My next guest would be my friend and banding colleague for many years, David Pogson.
He sat next to me at Black Dyke as assistant principal cornet and then moved on to flugel horn during that wonderful era the band had with Major Peter Parks in the 1970's.
David is godfather to my son James and even though we lost contact with each other after I left Black Dyke, he never ever forgot his duties as godfather. He was also very kind to my two daughters Helen and Claire.
My wife Anne and I have always appreciated David's commitment to our family. All the fine qualities he has as a bandsman are also evident as a friend. It will be a great pleasure to have David sit alongside me once again.

6. Colin Aspinall
Colin and I have been banding colleagues for over thirty years, both at Versatile Brass and at Black Dyke. In all my years of banding, he is one of the best bandsmen I have ever known.
Fiercely loyal and 100% reliable Colin, is a great character to have around when things are both good and bad. It will be great to reminisce about the ups and downs we have endured over the years.


7. Ray Woodfield
I first met Ray when he had retired from the Royal Marines and he came to the West Riding of Yorkshire to take up a post as a peripatetic music teacher.
When Dennis Wilby left Versatile Brass, I persuaded Ray to take the conductors post and also to arrange for the group. In a short space of time, Ray had enlarged our repertoire and apart from his arranging skills, he was a very good conductor and an ideal front man for the group.
This was a partnership that I feel was the turning point of VB becoming so popular and enhanced our reputation considerably. The dinner will be a good opportunity to let Ray know, once again, how much we all appreciated the input he put into Versatile Brass.


8. Geoffrey Whitham
When I moved to the Black Dyke Mills Band in 1963, I lodged with Geoff and Rose Whitham for some four or five months. They had not been married very long and I often think that not many people would have wanted their space invaded by a stranger in the interest of a brass band.
For this alone, I would want Geoff as a guest, but of course there are many other reasons.
We were together when he was principal euphonium and then resident conductor at Dyke and for many years we worked together for Bradford Metropolitan Education Department. He also conducted Versatile Brass for a year or so and last, but not least, we were both involved with Kings of Brass, so we go back a long way.
As most people know, Geoff can talk for hours about banding matters and is a great orator of corny jokes, so there will be no fear of the conversation drying up.


9. Jack Atherton
It was 1960 when Jack Atherton called at my home at Newbiggin-by-the-Sea to audition me for the principal-cornet position in the Carlton Main Frickley Colliery Band.
The band were on their way to fulfil a weeks engagement at the Princess Street Gardens in Edinburgh and Mr Atherton had come on ahead of the band to interview me and to persuade me to join the band. I had just been promoted to assistant manager at the local Co-op and was quite happy with life and prepared to stay in the North East.
However I can always remember Mr Atherton's final words of the interview: "You are at the crossroads in your life where you must decide to become the local grocer or come to Yorkshire and make a name for yourself in banding".
The following day I went to see the area manager of the Co-op and told him of the offer which I'd had, to which he replied; " Jim, you take the offer and if after 6 months you don't like it, your job will still be here for you". The following week the band picked me up on the way back from Edinburgh and the rest is history.
In the following two years or so, I had invaluable tuition from Mr Atherton for which I will always be grateful.


10. Michael Hopkinson
Michael and I met when he took on the secretarial role of Versatile Brass.
Apart from administrative duties, Michael also composed and arranged many pieces for the group that enhanced our repertoire considerably. Michael also assisted me in forming the Jayess Queensbury Band and his input into the band was instrumental in the great success they achieved, gaining promotion from the 4th to the 1st section in just over six years.
I haven't seen Michael for a number of years, so it would be my pleasure to meet up with him once again on this special occasion.
---
Previous dinner guest lists:
Previous guests have included the 4BR selection; Chris Wormald; David Read; Pete Meechan; Alan Jenkins; Derek Broadbent; Philip Harper; Peter Roberts and Frank Renton.