Gizmos & Gadgets - August 2008
6-Aug-2008
From the latest high wonder products to the simplest little bits and bobs and a few that are truly weird and wonderful. 4BR has been out shopping and testing out what's on offer this August.
---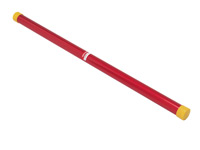 Percussion Plus PP030 Raintube
Price: £52.45 (Inc VAT)
Just the thing you need for those concerts on a long, hot, balmy evenings in Hunslet or Rhyl, when you need to transport your audience on a musical journey into the exotic depths of the Amazonian Rainforest.
It's a Raintube – the percussion world's version of a cut off piece of Osama down-piping from the local DIY shop, filled with Leo dried peas (without the little white salt tablet of course).
All you have to do is pick it up and turn it from one end to another to make it sound as if its either chucking it down in a Force 8 gale off the Outer Hebrides, or more gently so that it evokes the delicate patter of silver droplets of H2O through the bamboo canopy of Central Indonesia.
All this and you get a free 30-day on-line tuition course from www.icanplayit.com.
Choose from a selection of courses including Guitar, Keyboard, Clarinet and Theory. After making your purchase you will receive an automated e-mail with instructions on how to enrol should you wish.
It comes packaged appropriately to your front door (tell Postman Pat not to try and force it through the letter box though).
For bands in Wales however, they may as well leave the bandroom window open and listen to the rain peeing down outside from September to March, as it normally does…
More Information:
http://www.normans.co.uk/raintube
---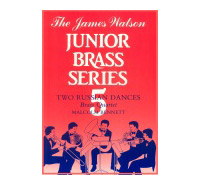 James Watson Junior Brass Series – Number 5
Two Russian Dances – Parts & Scores
Price £9.95
Remember Jim Watson? You know, the big bloke who used to conduct Black Dyke and Desford to all the big contest prizes and then decided he had enough and was never seen of again near a brass band test piece.
Well, instead of putting his feet up and enjoying a well earned rest, he's been busy for some time now with this cracking little series.
Over 20 titles to choose from, all aimed at small ensembles of different standards and instrumentation, there is something for everyone to enjoy for all sorts of different occasions too. Prices vary to around £20.00, but none are expensive.
Looking for some music to help sooth the fears of a nervous bridegroom, then why not play the neat selection of 'Wedding Hymns'?
Something a little more Latin in flavour perhaps? Then try out the 'Carmen Selection', or for those looking for something a bit more traditional, why not a touch of Purcell or Bennett or even the ubiquitous 'Carnival of Venice'.
We didn't wish to find out what 'Stranglin' the Pangolin' was all about but it may have been a euphemism of sorts…
The layouts are easy to follow and the instrumentation varies to include parts for trumpet, trombone, tuba, euphonium and horns (of the French and English brass band variety).
This particular one is for those who wish to inject something a little 'red' into proceedings, with two neat arrangements of music with a Soviet flavour.
Neatly done, they will either get you dancing around like a Cossack on a Vodka bender or be inclined to invade Czechoslovakia on a whim…
More Information:
http://www.justmusicuk.com/spweb/details.php?catno=JM35101
---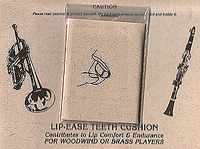 Lip-Ease Cushion - for Woodwind & Brass Players
Price: £4.49 (Inc VAT)
Don't ask. We don't know how it can work either, but you never know.
Quack remedies for tired lips, bruised teeth and gingivitis have been around for years now, but this little bit of wizardry comes fully tried and tested and with plenty of anecdotal evidence that it actually works – honest!
A protective, flexible cushion fits over the lower or upper teeth to minimise discomfort and irritation resulting from extended playing periods.
The makers claim it doesn't interfere with the embouchure, even if there is the potential there for you to look as if you are wearing the type of gumshield usually sported by rugby league players.
It can also be cut to any size of thickness for those with mouths that range in size from a Peruvian whistling shrew to Cherie Blair.
Full instructions are included! Good luck – and don't be put off by the stares you will inevitably get from people in band practise or those on the number 22 bus.
More Information:
http://www.woodwindandbrass.co.uk/acatalog/mpc_patches.html
---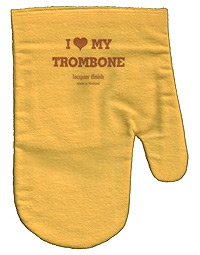 Trombone Polishing Lacquer Cloth Mitten
Price: £4.99 (Inc VAT)

Trombone players are a strange breed.
No others in the banding world take the loving care and pride in the purchase of their instruments quite like them, only to bore you to death at the first opportunity with a complete analysis of the minutia of its technical abilities.
In fact bore size has a correlation: The bigger and more expensive the instrument, the bigger and more inexhaustible the boredom becomes of hearing them talk about it forever and a day.
Still, it is a world that has its own particular foibles and eccentricities we suppose. We would advise however not to get into conversation with anyone wielding one of these though.
The trombone polishing mitten is the latest 'must have' accessory for any budding trombonist worth his salt. Now they can sit in practice and lovingly polish the lacquer on their latest expensive piece of kit to their hearts content whilst looking as if they are just about to put their hand in the oven to pull out a tray of delicately baked fairy cakes.
The polishing mitten is made especially for lacquer finish trombones out of soft cotton, impregnated with chemicals and with a white cotton lining. It looks a bit like one of those Kenny Everett 'big hands' – minus a few fingers…
The makers claim that using this kind of polishing cloth prevents potential damage from lacquer liquids being applied to sensitive parts of the instrument including pads and action mechanisms.

The one major drawback is that it comes with the logo – 'I Love my Trombone' emblazoned upon it and should not be used in any cake making process, just in case you may end up poisoned like a victim of Doctor Crippen…

Thankfully it doesn't come in a matching pair either…

More Information:
http://tinyurl.com/6r5cyj
---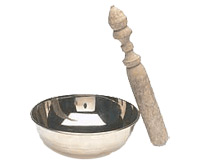 Tibetan Singing Bowl
Price: £17.60
The ultimate piece of percussion – a bowl that can sing!
By all accounts these were all the rage in Tibet for budding young percussionists before the Chinese came rampaging in and Western backpackers brought the delights of the Fender Stratocaster electric guitar.
It works by holding the bowl in the flat of your palm and rubbing the stick slowly around the outside of the rim to produce a singing, violin - like tone.
It's a bit like a violin then…
15cm in diameter, it should make for an ideal addition to any incomplete percussion section (surely some composer will include a part for one in the next British Open test piece).
When not in use it can be used in baking, catching rainwater through leaky bandroom roofs or for a water bowl for the conductor's dog.
Those percussionists who wish to use it to get in touch with their more spiritual side may want to start shaving their heads, dressing up in orange bedsheets and start walking down the streets doing Hari Krishna chants.
Strange but wonderful…
More Information:
http://www.dennistoddmusic.com/drumPercussion.html